The Rangers made a significant bullpen addition Friday evening, announcing the acquisition of Aroldis Chapman from the Royals. Left-hander Cole Ragans and rookie ball outfielder Roni Cabrera are going to Kansas City.
Chapman had a strong few months in Royal blue. Kansas City signed the seven-time All-Star to a $3.75MM free agent guarantee, buying low after a rough final season in the Bronx. Chapman had posted a 4.46 ERA in his final year with the Yankees and was left off their playoff roster after missing a team workout. He returned to quality high-leverage work after the change of scenery.
The hard-throwing southpaw owns a 2.45 ERA over 29 1/3 innings in 31 appearances. He's striking out an eye-popping 43.4% of opponents, his highest rate since 2020. Among relievers with 20+ frames, only Orioles closer Félix Bautista is fanning hitters at a better clip. Chapman ranks eighth among that group in whiffs, picking up swinging strikes on 17.8% of his offerings.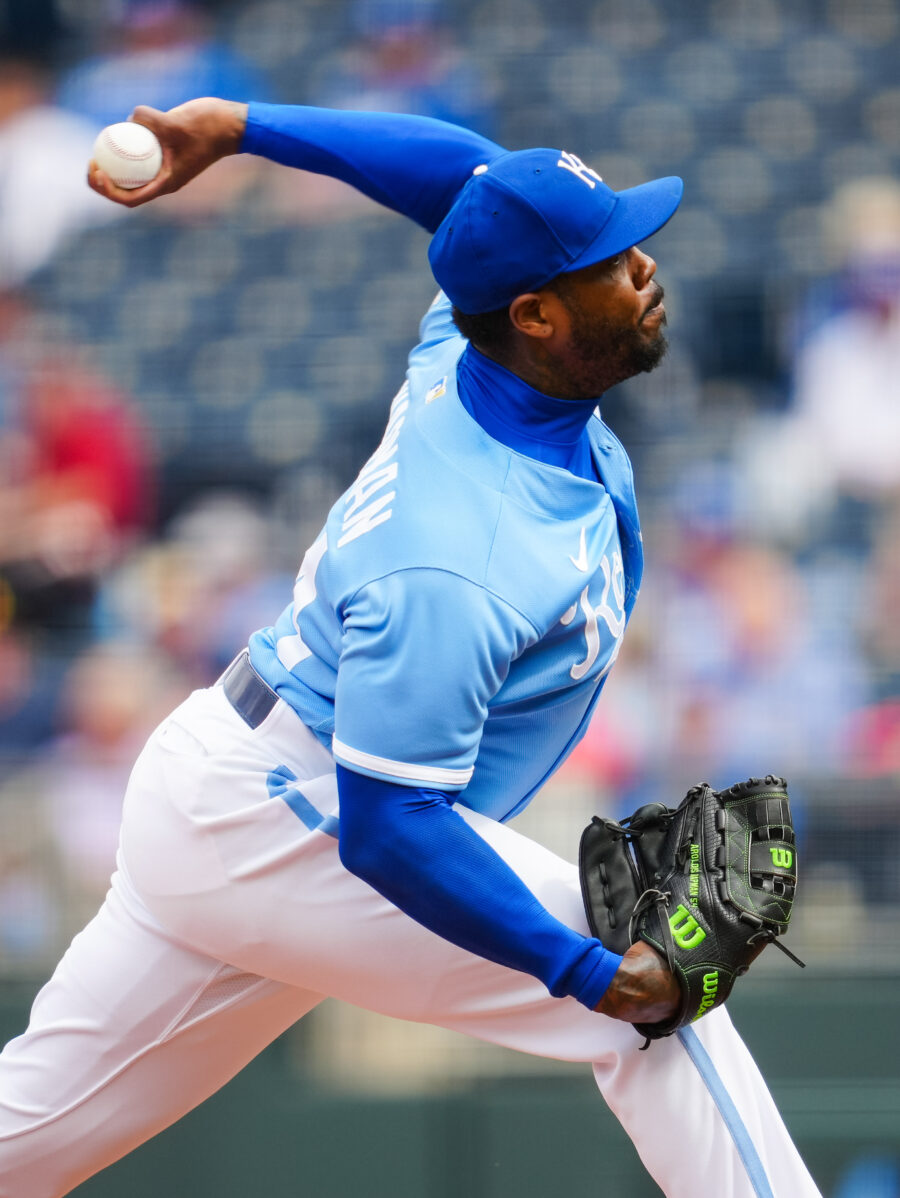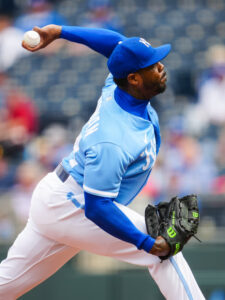 Chapman doesn't throw quite as hard as he had during his days with the Reds, but he's still the hardest-throwing southpaw in the sport. He's averaging 99.4 MPH on his four-seam fastball and throwing his slider at an 88.2 MPH clip. Both are up a couple ticks relative to last season's level, explaining his bounceback in whiffs. Chapman has overpowered hitters from both sides of the plate, holding lefties to a .211 batting average without an extra-base hit and right-handers to a .146 average and .183 slugging mark.
The sole concern with Chapman's production this season is inconsistent strike-throwing. He has walked 16.4% of opponents, a rate topped by only five relievers with at least 20 innings. It has been a boom-or-bust profile, with nearly three-fifths of hitters going down on strikes or taking a free pass.
Texas rolls the dice on the scattershot control to inject some needed swing-and-miss to the relief corps. Rangers relievers enter play Friday ranked 19th in MLB with a 23.1% strikeout percentage. They're 24th with a 4.37 ERA. Texas ranks second in rotation ERA and leads the majors in run-scoring. The bullpen stood out as the obvious priority for GM Chris Young and his staff entering trade season, and they've started by landing one of the best relievers available.
Chapman joins Will Smith, Josh Sborz and Brock Burke in the high-leverage mix. Sborz and Smith have been excellent, while rookie Grant Anderson is off to a nice start to his MLB career. There's still room for another addition at the back end, particularly a right-hander.
Texas will certainly further add to the roster over the coming weeks. As an impending free agent reliever, Chapman was never going to require them to dip deep into the farm system. He's also an affordable pickup; the Rangers assume just under $2MM in remaining salary.
They'll add a little more in incentives, as Chapman will receive $312,500 for every fifth appearance between 35 and 55 outings. Triggering all those bonuses, as he's on pace to do, would tack on another $1.563MM. He'd land a matching $312,500 for every fourth game finished between 12 and 40; he has finished nine games thus far.
Those are relatively small margins for an aggressive Texas club. The Rangers are spending just under $201MM on player payroll, as calculated by Roster Resource. They're up to around $224MM in luxury tax obligations, placing them roughly $9MM south of the $233MM base threshold. The Rangers have never paid the competitive balance tax, but owner Ray Davis has signed off on aggressive spending sprees in each of the past two winters to quickly push the club to the top of the AL West.
The Royals are at the opposite end of the spectrum, one of a handful of teams that are certain to miss the postseason. Kansas City has shown a willingness to sell off pieces early if they're out of contention. They dealt Carlos Santana to the Mariners around this time last season. Chapman was rumored to be available by early June.
In Ragans, Kansas City got a pitcher they like enough to jump on a Chapman deal a few weeks early. The 25-year-old is an upper level arm who could factor into the rotation this year. The 30th overall pick in the 2016 draft, he has appeared in the big leagues in each of the past two seasons.
Ragans made nine starts last year, working to a 4.95 ERA in 40 innings. He has pitched in relief this season, tallying 24 1/3 frames of 5.92 ERA ball out of the bullpen. Anne Rogers of MLB.com tweets that K.C. will send Ragans to Triple-A to build back up as a starter with an eye towards a second-half return to the big leagues.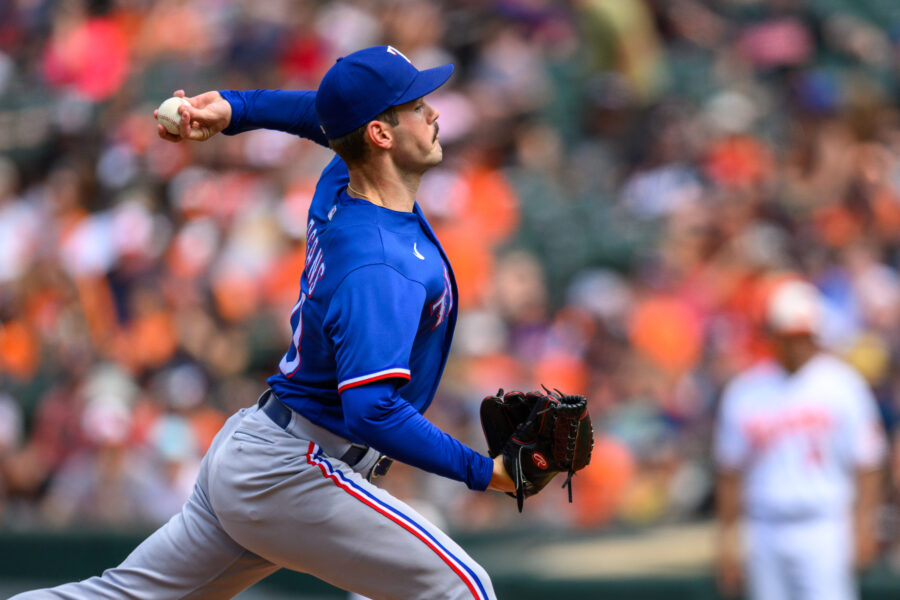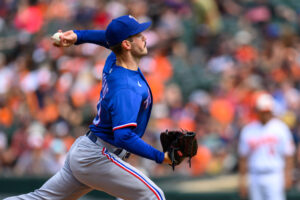 The 6'4″ southpaw has yet to find MLB success. Alongside the mediocre ERA, he has a below-average 18.2% strikeout rate and slightly elevated 10.7% walk percentage. He owns a solid 3.64 ERA in five minor league seasons, though, striking out 29.6% of opponents along the way. His fastball has averaged a little north of 96 MPH in short stints — well above last year's 92.1 MPH average speed out of the rotation — and prospect evaluators have long credited him with a potential plus changeup.
Whether Ragans will stick as a starter remains to be seen. Kansas City can give him some runway. The Royals' rotation ranks 27th with a 5.43 ERA. Ragans is in his first of three minor league option seasons and won't be eligible for arbitration until the 2025-26 offseason at the earliest. If he develops as hoped, he could work as an affordable back-end starter at Kauffman Stadium in the near future.
Cabrera is much further off. A native of the Dominican Republic, he's a right-handed hitting outfielder who has spent the past two seasons in the Dominican Summer League. He turns 18 next month and won't be eligible for the Rule 5 draft until after the 2026 season. Keith Law of the Athletic writes that Cabrera has some power potential and projects as a corner outfielder.
This evening's swap is the start of what'll likely be multiple moves of this ilk from both teams. Texas could add more bullpen help and perhaps augment the corner outfield or rotation depth. Kansas City figures to listen to offers on closer Scott Barlow and could take calls on rentals like Zack Greinke and Matt Duffy.
Images courtesy of USA Today Sports.