The Angels have continued their early-offseason activity, announcing the signing of reliever Carlos Estévez to a two-year, $13.5MM deal. The former Rockie receives $6.75MM in each of the next two seasons, the team disclosed.
Ken Rosenthal of the Athletic suggested earlier this afternoon the Halos were hoping to add to their late-inning mix. Within a few hours, they've finalized an agreement to add a power arm to Phil Nevin's bullpen. Estévez is among the hardest throwers in the sport, and he's coming off the best season of what has been an up-and-down MLB career.
Estévez began with a pair of seasons with an ERA north of 5.00. He took a step forward in 2019, working to a 3.75 ERA across 72 frames while striking out an above-average 26.3% of opponents. The native of the Dominican Republic looked like a potential high-leverage arm for the Rockies, but he stumbled to a 7.50 ERA during the abbreviated 2020 campaign thanks to massive home run issues.
The right-hander has gotten the longball in check over the past two seasons and performed at a generally solid level for skipper Bud Black. He worked to a 4.38 mark across 61 2/3 innings in 2021, then posted a career-low 3.47 ERA this past season. He's struck out opponents at a roughly average clip in both seasons, although his swing-and-miss rate took a step back this year. Estévez generated swinging strikes on only 9% of his offerings in 2022, down almost two percentage points from the year prior and well below his 13.9% personal high in 2019.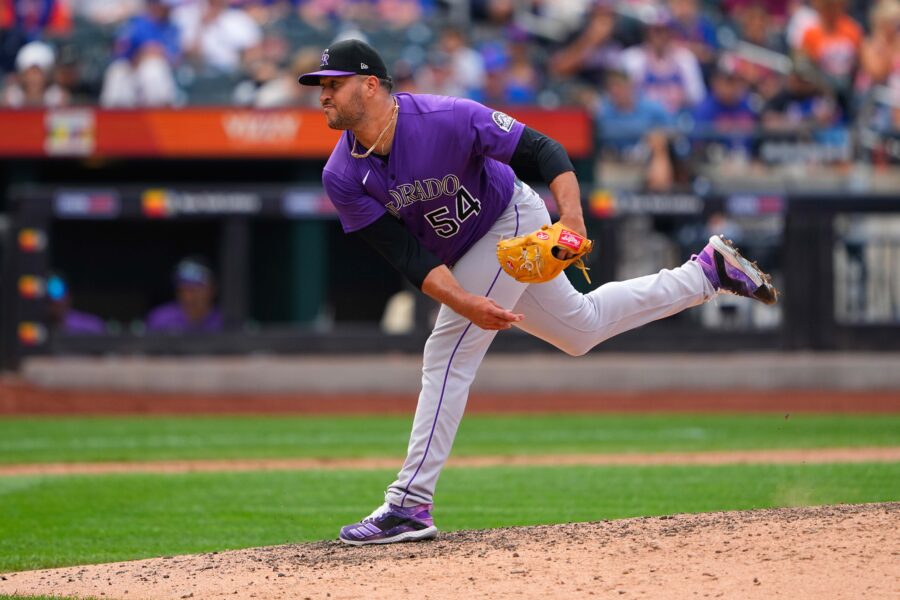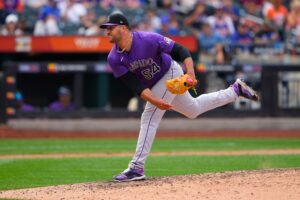 Despite the dip in swinging strikes, the Halos will roll the dice on his high-octane arsenal. He averaged a blistering 97.5 MPH on his four-seam fastball, pushing into triple digits on occasion. Estévez has sat in the 97-98 MPH range every year of his major league career, and he's relied heavily on that heater. He turned to his fastball just over 70% of the time, mixing in a changeup against left-handers and a slider to same-handed opponents.
That slider had excellent results in 2022, helping Estévez stifle right-handed hitters more generally. He held righties to a .204/.292/.306 line through 113 plate appearances. Left-handers only managed a .216/.287/.432 slash themselves, although that success was more built off an unsustainable .222 batting average on balls in play. Estévez had a below-average 19.7% strikeout rate against southpaws, but he punched out an impressive 26.5% of righties.
With his success against right-handers, Estévez should at least profile as a hard-throwing matchup option in the middle innings for Nevin. He'll join Ryan Tepera and Jimmy Herget as the club's top right-handed options, while Aaron Loup profiles as their best matchup southpaw. Tepera and Herget have more pedestrian velocity, and Estévez could take over the uncertain ninth inning mix in Orange County. Estévez only has 25 career saves, including just two this past season, but reports this offseason have suggested teams viewed him as a potential closer outside of the league's most hitter-friendly home ballpark.
Estévez turns 30 later this month, so he was one of the younger free agent relief options available. He'll strengthen a Halo bullpen that ranked 18th in ERA (3.97) and 22nd in strikeout percentage (22.2%) this past season. It's certainly possible general manager Perry Minasian and his staff continue to look for ways to strengthen their late-inning mix. They've been active in an attempt to snap an eight-year postseason drought. They signed Tyler Anderson to a three-year, $39MM guarantee to bolster the rotation while swinging deals for Gio Urshela and Hunter Renfroe to strengthen the infield and outfield, respectively. Estévez becomes the latest in their pattern of acquisitions — a shorter-term investment for a notable but hardly overwhelming salary to build depth which their recent rosters have lacked.
MLBTR predicted a three-year, $21MM deal for Estévez at the start of the offseason. He lands a salary in that range annually, but the Halos keep their commitment to two seasons. Anaheim's payroll now sits around $198MM, in the estimation of Roster Resource. That's already above this past season's $189MM Opening Day figure, which was a franchise-record outlay. Anaheim is also looking into ways to upgrade the middle infield, so it seems likely they'll wind up above $200MM by the time the 2023 season rolls around. Their luxury tax commitments are now around $212MM, per Roster Resource, leaving approximately $21MM in breathing room before next year's base tax threshold.
Ken Rosenthal of the Athletic first reported the Angels and Estévez were in agreement on a deal. Jon Heyman of the New York Post was first to report it was a two-year guarantee worth around $14MM.
Image courtesy of USA Today Sports.