The Pirates are next in our Offseason In Review series.
Major League Signings
Notable Minor League Signings
Joe Beimel, Jose Veras, Andy Marte, Josh Fields, Garrett Atkins, Justin Thomas, Dusty Brown, Fernando Nieve, Donald Veal, Tyler Yates, Brian Burres, Jorge Julio, Wyatt Toregas


Trades and Claims
Notable Losses
Summary
The Pirates ramped up their free agent spending this offseason, adding three significant big league contracts and plenty of interesting players on minor league deals for new manager Clint Hurdle.  GM Neal Huntington also cut ties with a trio of disappointing arbitration eligible players in Duke, Milledge, and LaRoche.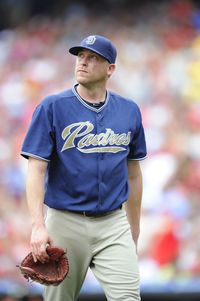 Though the signing did not generate national headlines, the Correia deal was significant for the Pirates franchise.  It had been 12 years since the Bucs signed a domestic free agent pitcher to a multiyear deal.  Why take this leap for 2011?  Correia is a sleeper, a relatively young righty who can get groundballs and hopefully supply 200 innings.  If he can regain his '09 form, he'll step in as the staff leader as Paul Maholm's Pirates tenure winds down.
The Pirates' 2011 rotation could feature Correia, Olsen, and James McDonald, all recent additions.  Duke is gone, and while Maholm is penciled in he's probably trade bait.  Huntington took over as Pirates GM in September of 2007, and for all his machinations over the last three-plus years he hasn't brought in any decent Major League starting pitching aside from Ross Ohlendorf.  Plus, the Pirates overestimated what they had by giving multiyear deals to Maholm and Ian Snell.  The next two waves of starting pitching must transform the Pirates, with McDonald, Bryan Morris, Rudy Owens, and Jeff Locke in the near-term and Jameson Taillon, Stetson Allie, and Luis Heredia further down the road.
The Pirates had to overpay a bit to secure Overbay and Diaz, though both veterans have limited upside.  In the best case Overbay hits like he did over the season's final four months (.261/.351/.458) and a Diaz/Garrett Jones right field platoon plays to each player's strength.  I can't envision either Overbay or Diaz being flipped for anything significant, so these might be respectability signings.  Those types of acquisitions haven't worked out well for the Pirates, with Akinori Iwamura and Ramon Vazquez coming to mind.
I'm more intrigued by the Pirates' minor deals.  Beimel and Veras should augment the bullpen at minimal commitments, while Marte, Fields, and Atkins were all highly-regarded third basemen in years past.  The Pirates didn't have success trying to upgrade over Ronny Cedeno at shortstop, though they reportedly checked in on J.J. Hardy, Jason Bartlett, and Brendan Ryan.  Rule 5 pick Rodriguez should have a big league future, whether at shortstop or second base.  Anything Valdez provides is a plus, since the Bucs were set to non-tender Duke anyway.
The Pirates have yet to top 67 wins in a season during Huntington's tenure, and have an active streak of 18 consecutive losing seasons.  Milledge and LaRoche were supposed to become solid regulars, but both have already been cut loose.  Formerly extended players Ryan Doumit and Paul Maholm are nearing the end of their Pirates careers as well.  Pirates fans are probably in for two or three more years of stopgap veterans, though position player talent is on the rise with Andrew McCutchen, Jose Tabata, Pedro Alvarez, and Neil Walker.  If Huntington is to last to see Taillon's big league debut, he'll need the aforementioned second wave of starting pitching to break through to some extent in 2011.
Photo courtesy of Icon SMI.