Brett Anderson and Trevor Cahill were born four weeks apart, went in the same round of the same draft and made their MLB debuts the same week. The similarities extend to their stats, their service time and their place in Oakland's long term plans.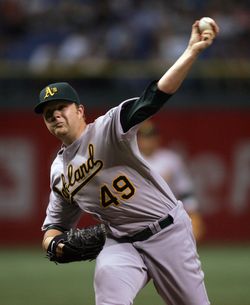 Examine their respective extensions, however, and the parallels aren't as strong. Anderson signed a year ago this week for a guaranteed $12.5MM over four years. If the A's exercise both of their club options, Anderson (pictured) will become a free agent after the 2015 season with $31.4MM in career earnings.
Cahill signed a record deal earlier this afternoon that guarantees him $30.5MM over five years. If the A's exercise both of their club options, Cahill will become a free agent after the 2017 season with $57.5MM in career earnings.
At a glance, it appears that Cahill got a decisively better contract by waiting a year, both in terms of guaranteed money and potential earnings over the course of the deal.
There's another way to look at the extensions, though. Anderson will be a free agent by the 2015-16 offseason at the latest, potentially two years earlier than his rotation-mate. Given the scarcity of top starters on the free agent market, Anderson and his representatives at Legacy Sports Group will be in an enviable position when his contract expires, assuming he pitches well; his age 28 and 29 seasons could be worth $40MM total on the open market. 
If the A's exercise both of their options for both pitchers, Anderson will have to earn $26.1MM for 2016-17 to match Cahill's career earnings, an achievable goal given the asking price for the few top starters who do reach free agency. Cahill won't earn more than $26.5MM for his age 28-29 seasons, a trade-off for the security he obtains with substantial guaranteed salaries in 2014-15.
The 2016-17 seasons seem distant now and injuries or poor performance could limit Anderson's marketability between now and then. There's no question that he doesn't have the same security as Cahill, but in surrendering fewer years of team control, he'll appear on the open market sooner. That could be a good thing for Anderson, since the market is a profitable place to be for elite free agent starters who have yet to turn 30.
Photo courtesy Icon SMI.