The Rangers are next in our Offseason In Review series.
Major League Signings
International Signings
Rougned Odor, Alberto Triunfel
Notable Minor League Signings
Extensions
Trades and Claims
Notable Losses
Cliff Lee (Rangers received #33 pick from Phillies and also get #37 pick), Vladimir Guerrero, Matt Treanor, Bengie Molina, Max Ramirez, Jeff Francoeur, Cristian Guzman, Rich Harden, Dustin Nippert, Frank Francisco, Doug Mathis, John Whittleman, Marcus Lemon, Guillermo Moscoso
Summary
The Rangers didn't sign Cliff Lee, Jim Thome, or Vladimir Guerrero, trade Michael Young, acquire Zack Greinke or Matt Garza, or move Neftali Feliz to the rotation, though those topics provided plenty of fodder for MLBTR this offseason.  Instead, GM Jon Daniels gave Beltre a huge contract and tinkered at a few positions, capping his winter by signing an extension himself.  For an added dose of drama, managing partner and CEO Chuck Greenberg was ousted for reasons unknown.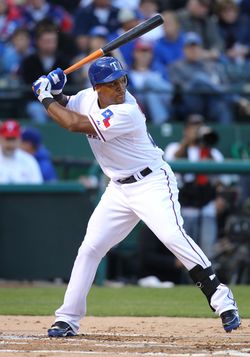 The Rangers were Lee's second choice, and they extended themselves to a reported six-year, $138MM offer that included major deferrals.  Lee's eventual contract with the Phillies includes big-time deferrals in its own right, with a low first-year salary and a $12.5MM buyout at the end.  Based on the information we have, the Rangers' offer appears better, and it was fair for Texas to balk at a seventh year.
Regarding alternatives to Lee, Daniels continued big-game hunting.  We didn't hear about the Rangers bidding on the Carl Pavanos of the world; instead, they inquired on Greinke, Garza, Francisco Liriano, and even Bobby Jenks as a starter.  We don't know the prices for Greinke and Garza exactly, though Derek Holland and Engel Beltre would have been involved.  Holland might be close enough to his own big league success that abstaining was the right move.  The Rangers ultimately signed a pitcher with ace potential in Webb, but I liked the move more when I thought 30 starts was a possibility.  Now we're left wondering if he can provide half that, a reminder that Webb is nothing more than a $3MM wild card for Texas.
The Rangers seriously considered putting Feliz in the rotation, a move I supported.  Better foresight might have involved signing Jenks or J.J. Putz to close early in the offseason, protecting against the possible need to use Feliz as a starter.  Daniels shipped out a closer candidate in Frank Francisco, but betting against his health seems like the right move for the team that knows his medical records best.
After failing to sign Lee, Daniels shifted to another top free agent in Adrian Beltre.  Beltre (pictured) and Young are both solid hitters, though Beltre has a touch more power.  The bigger upgrade is defensively, where replacing Young with Beltre should net the team at least a couple of additional wins.  The contract for Beltre was bigger than I expected, especially since signing him came with the significant cost of a first-round draft pick.  The argument is that the Rangers received two good picks when Lee signed with the Phillies, but that doesn't nullify giving up #26 for Beltre.  Daniels' other free agent touches – Torrealba and Rhodes – just filled a couple of needs at market prices.
Young must have an amazing P.R. team, having twice created a distraction in recent years by demanding a trade but still being generally regarded as the ultimate professional.  This time he was "misled and manipulated" by Daniels, perhaps because the Rangers tried to trade him after telling him they wouldn't.  The Rangers seemingly did their due diligence after Young's request, but the attempt to move him was half-hearted if their reported demand for top prospects was accurate.  Young is paid about double what he'd get on the open market, and the Rangers are best-served using him at DH and other spots rather than agreeing to a lopsided trade favoring the other team.
The Rangers pondered multiple DH options aside from Young, making the best offer to Jim Thome but getting turned down.  Once Napoli was acquired, further improvement of the offense became a luxury.  If healthy, this team can hit.
The Rangers' rotation remains questionable on paper, though it was a year ago as well.  If C.J. Wilson and Colby Lewis can approximate last year's performance and Holland takes a step forward, they'll have enough to win the division.  If the rotation looks suspect in June, expect the Rangers to once again battle the Yankees to acquire anything resembling a front-end starter.
Photo courtesy Icon SMI.