Brandon Wood seems like he's been an Angels prospect forever.  However, at this point he's 26 years old with 494 career big league plate appearances and a .168/.197/.259 line to his name.  The Halos designated him for assignment last night, and a trade or claim seems likely.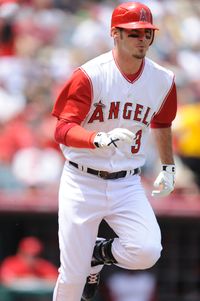 Since Wood is out of options, any team giving up a prospect of value for him will have to be able to keep him in the Majors rather than risk exposing him to waivers.  Wood can probably play an acceptable shortstop or third base.  This scouting report is three years old, but before the '08 season Baseball America said Wood had unexceptional range but could "handle shortstop just fine," and he was "solid if unspectacular at third base."  He's never played second base, but he might be passable there as well.
I'd like to see a non-contending team install Wood as the starting shortstop and just let him rip for 500 plate appearances.  That plan might be unfair to players who don't have the "advantage" of being out of options.  But the Pirates might as well try him over Ronny Cedeno.  The Mets could be a fit, if they're thinking of trading Jose Reyes in a few months.  Wood could man a middle infield position for the Astros, though they might consider themselves booked between Clint Barmes, Bill Hall, Angel Sanchez, and Jeff Keppinger.  Likewise, the Mariners aren't contenders but would have to do some shuffling to get Wood regular at-bats.
Since they sit atop the AL Central at the moment, I won't rule out the Indians and Royals as contenders.  But the Tribe might be able to get Wood some third base at-bats until they deem Lonnie Chisenhall ready.  Wood could also keep the seat warm at the hot corner for Royals prospect Mike Moustakas.
The Twins, Brewers, and Dodgers were regarded as preseason contenders, but haven't been spectacular in the early going.  All three clubs have question marks at shortstop, though Wood is certainly not a clear upgrade.  The Marlins are cobbling together a solution at third base, though it's actually going well overall.
In the end, I expect Wood to land with a non-contending team like the Pirates.  Like the Royals, the Bucs should still be thinking long-term even though they're technically in contention at the moment.  But even in a lower-pressure environment I'm not sure Wood will get regular playing time, given how far his stock has fallen.