Justin Verlander has made 173 regular season starts, pitched in the World Series and appeared in a pair of All-Star Games. Yet he has never felt as sharp as he did yesterday, when he no-hit the Blue Jays. 
"I will say this is probably the best I've felt on a mound in my professional career so far," he said this morning.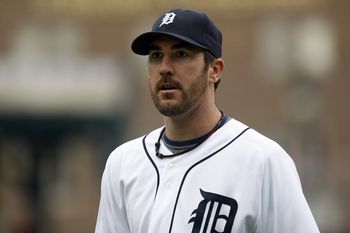 That includes his 2007 no-hitter and the 15 other times he has fanned ten-plus batters in a single game. Verlander, the American League leader with 55 strikeouts, pitched to contact yesterday and finished the game with four strikeouts.
"That was my game plan from the start," he said. "It was to get contact. I wanted to get balls in play. Especially once I realized my curveball wasn't that great."
The result: an efficient outing for the Tigers' ace, who finished the day with a season-low 108 pitches. His fastball reached triple digits repeatedly and remained his go-to pitch. Early in the contest, Verlander concluded that his curve was mediocre and that his slider was better than usual, so he adjusted his game plan with catcher Alex Avila and decided to throw more sliders.
"I commented to Alex after the second or third inning, 'it's pretty good, right?' He said 'Yeah, it's nasty. Keep throwing it 82-83 [mph]. It's got a lot of bite to it.' So I went with what he said and just kept throwing it," Verlander explained.
Avila caught Armando Galarraga's near-perfect game last summer, so he has danced with history before. He says guiding Verlander's 100 mph fastball through nine no-hit frames may have looked harder than it was.
"Yesterday was just amazing," Avila said. "It's an easy day for a catcher and especially to do it on a turf field is pretty impressive also. For a ball not to get through is pretty amazing."
Nolan Ryan (7), Sandy Koufax (4), Bob Feller (3) and Cy Young (3) are the only pitchers with three or more no-hitters since 1900. Now that Verlander has two no-hitters, he has his sights set on making more history. The right-hander jokes that he intends to match Ryan's record of seven no-hitters, but he's serious about his ambition and intends to continue building his resume. At 28, he believes he's entering his prime.
"I really feel like I'm coming into myself as a pitcher," he said. "And I definitely think there will be more opportunities. I think things have to go in your favor to throw a no-hitter. Things just have to work out right. I feel as long as I continue to mature as a pitcher and grow the way I think I am, there'll definitely be some opportunities there. Whether it goes in my favor or not, I don't know."
Verlander started the no-hit bid slowly and methodically and says he impressed himself with his in-game approach. He stayed calm with help from his backstop, who says nerves weren't an issue at all for the battery.
"No, no," Avila said. "When your pitcher is that good, it makes it easy to call the pitches, because you know he's going to make his pitches. It makes for one easy day for me."
If anyone was nervous, it was Verlander's family. They followed the perfect game bid and eventual no-hitter without being able to see what was happening.
"They were following on their phones, which had to be the most nerve-wracking thing. Can you imagine sitting there in the 8th inning, looking at a perfect game, 3-2 count, a bunch of foul balls," Verlander said, alluding to his face-off with J.P. Arencibia, the Blue Jays' lone baserunner.
If Verlander has it his way, Saturday won't be the last time his flirtations with history make his fans, friends and family squirm.
Photo courtesy Icon SMI.