Bartolo Colon didn't pitch an inning in the Major Leagues last year. Neither did Erik Bedard, or Brandon McCarthy, or Ryan Vogelsong. Halfway through the 2011 season, each one of them has already made a difference at the highest level. The quartet of reclamation projects has combined for 309 2/3 innings of 2.88 ERA baseball this year with three times as many strikeouts (257) as walks (77).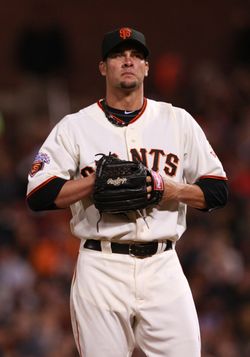 A year after splitting his time between two Triple-A teams, Vogelsong (pictured) is a key contributor on one of baseball's most effective pitching staffs. His 2.09 ERA leads a San Francisco rotation that includes the likes of Tim Lincecum and Matt Cain.
Yet there's no denying that the same issue that kept the others off of MLB mounds in 2010 – health – persists. Colon could return from the disabled list this weekend; the Mariners placed Bedard on the DL today; McCarthy has been on Oakland's disabled list for more than a month.  
But before their respective teams placed them on the disabled list, their contributions surpassed all expectations. It's been six weeks since McCarthy toed the rubber, yet A's fans probably haven't forgotten the 3.39 ERA and 37K/10BB ratio he posted through 63 2/3 innings.
The Yankees will be hoping for more of the same from Colon when he returns from the DL. The former Cy Young Award winner has tremendous numbers in 2011: a 3.10 ERA with a 72K/18BB ratio in 78 1/3 innings.
Two years after Colon won his Cy Young, Bedard posted a 3.16 ERA with 10.9 K/9 and 2.8 BB/9 en route to a top-five finish for the award. If the lefty's 2011 numbers look familiar, it's probably because Bedard was pitching as well as ever before hitting the DL. He has a 3.00 ERA with an 85K/26BB ratio 90 innings into the season.
Don't forget that the Mariners signed Bedard for just $1MM. McCarthy signed with Oakland for the same amount and the Yankees' deal with Colon is worth just $900K in base salary. Like Colon, Vogelsong signed a minor league contract in January.
The pursuit of high-risk, high-reward arms does not guarantee success by any means. Brandon Webb ($3MM) and Rich Harden ($1.5MM) signed for more than any of the pitchers above and neither has thrown a pitch in the majors this year.  
Naturally, that won't stop teams looking to gamble on seemingly injury-prone pitchers this offseason. Someone – Ben Sheets, Jeremy Bonderman or 48-year-old Jamie Moyer perhaps? – will return from the discard pile after a year-long absence and make an impact, whether it's for a handful of starts or an entire season season. It's just a question of who will resurface and which team will sign him.
Photo courtesy Icon SMI.