First baseman Carlos Pena hit just .196/.325/.407 in 2010, and the Scott Boras client signed a one-year, $10MM deal with the Cubs last December in hopes of rebuilding value.  Maybe it's due to switching leagues, but Pena's power has rebounded and now he might be the only 30 home run bat on the trade market.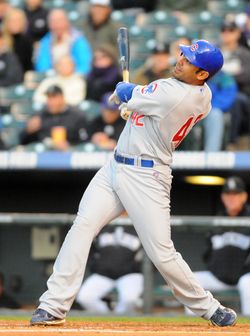 Pena, 33, is hitting .225/.339/.461 with 19 home runs in 340 plate appearances for the Cubs this year.  After a rough April he's produced a more robust .244/.354/.543 line.  If you're a contender looking for big-time power, Pena and Mark Reynolds are probably the best bets.  Both come with big strikeout totals, however.  Carlos Beltran, Ryan Ludwick, and Josh Willingham are other power hitters who might be available this month.
With a $10MM salary, Pena earns more than Reynolds, Ludwick, or Willingham.  But the Cubs were short on payroll space when they signed Pena, and authored a fairly unique one-year deal that deferred half of his salary until January of 2012.  That means an acquiring team would owe Pena around $1.6MM for the remainder of the season if they acquire him at the deadline, but then would have to tack another $5MM for him onto their 2012 payroll.  For a club lacking flexibility this might be a benefit; others could be reluctant to pay Pena after he's already signed with another team.
In terms of draft pick compensation, Pena projects as a Type B free agent.  This might be a minimal factor for the Cubs or any team, as Pena is not a lock to receive an arbitration offer.  And he may not be keen on a handshake agreement to turn down arbitration; he was not one of the Rays who agreed to such an arrangement last year.
Of the 16 current contenders, few are in need of first base help, which should reduce the demand for Pena.  The eight AL contenders generally don't need designated hitters, so that route probably would not help Cubs GM Jim Hendry. 
The Pirates and Diamondbacks strike me as two teams that would benefit from renting the Pena.  The D'Backs would might prefer to turn to Brandon Allen or Paul Goldschmidt at first, leaving the Pirates as the lone suitor if they wish to improve upon Lyle Overbay.  The Bucs make for an interesting match, as typically it's been the Cubs swiping useful players from them.  I also like the fit because the Pirates could avoid giving up any useful young players for Pena, instead offering to relieve the Cubs of most of the slugger's remaining $6.6MM.
Photo courtesy of Icon SMI.