The Athletics will trade Gio Gonzalez to the Nationals in a deal that further depletes Oakland's pitching staff and adds to Washington's potentially dominant rotation. The deal sends Gonzalez and minor league right-hander Robert Gilliam to Washington in exchange for four highly-regarded young players, including three of the Nationals' top ten prospects: right-handers A.J. Cole and Brad Peacock, left-hander Tom Milone and catcher Derek Norris. ESPN.com's Keith Law broke the news on Twitter, with Scott Miller of CBSSports.com reporting Gilliam's inclusion in the deal.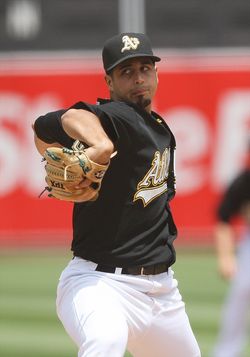 Gonzalez (pictured) will join Stephen Strasburg and Jordan Zimmermann atop an impressive-looking Nationals' rotation that also figures to include Chien-Ming Wang and John Lannan. Gonzalez, 26, is under team control through 2015. He has reached the 200-inning plateau in each of the past two seasons without posting an ERA above 3.23.
However, no MLB pitcher has walked more opponents than Gonzalez in the past two seasons and he's about to get expensive through arbitration (projected 2012 salary of $4.2MM). While most teams –the Nationals included — can stomach a $4.2MM salary for an established, young left-handed starter, the A's haven't resolved their stadium situation and operate under a more limited payroll.
Without Gonzalez and Trevor Cahill, two of the 40 MLB pitchers to throw 200 innings this past season, Oakland's rotation will look considerably different in 2012. Brandon McCarthy, Guillermo Moscoso, Brett Anderson, Dallas Braden, Tyson Ross and Josh Outman are possible starters for the A's, who entered the offseason with a deeper rotation than most.
Gilliam, 24, was an eighth-round draft pick for the A's in the 2009 draft.  The right-hander has a 4.55 ERA, a 3.07 K/BB ratio and has 270 strikeouts in 287 innings of pro ball, with his highest level of advancement being Class A Stockton last season.
Peacock (#3), Cole (#4) and Norris (#9) all rank among the Nationals' top ten prospects, according to Baseball America's latest rankings. Peacock emerged as "one of the most exciting power arms in the high minors" this year, BA reports. The 23-year-old posted a 2.39 ERA with 10.9 K/9 and 2.9 BB/9 in the upper minors before getting called up to the Nationals and appearing in three games.
Cole posted a 4.04 ERA with 10.9 K/9 and 2.4 BB/9 in 89 innings at Class A this past season. The 2010 fourth rounder is just 19 years old and stands 6'4". Milone, 24, made his MLB debut this past season, posting a 3.81 ERA with 5.2 K/9 and 1.4 BB/9 in five starts with the Nationals. He spent most of the season at Triple-A, where he had a 3.22 ERA with 9.4 K/9 and 1.0 BB/9 in 148 1/3 innings.
Norris, 22, entered the 2011 season as the 72nd best prospect in the game, according to Baseball America. He responded by posting a .210/.367/.446 line in his first stint at Double-A, adding 20 homers and 77 walks.
Though Nationals GM Mike Rizzo would no doubt have preferred to acquire Gonzalez for lesser prospects, it was clear from the beginning of the offseason that Gonzalez would require a substantial return. The Red Sox, Rangers, Marlins, Yankees, Blue Jays, Tigers and Mariners were also linked to Gonzalez this winter. Earlier in the offseason, A's GM Billy Beane obtained minor leaguers Jarrod Parker, Collin Cowgill and Ryan Cook for Cahill and Craig Breslow.
Photo courtesy Icon SMI.