The Rockies made changes at catcher, second base, third base, and right field this offseason, and many rotation spots are up for grabs.
Major League Signings
Notable Minor League Signings
Extensions
Trades and Claims
Notable Losses
Chris Iannetta, Ryan Spilborghs, Huston Street, Mark Ellis, Ian Stewart, Casey Weathers, Ty Wigginton, Cole Garner, Daniel Turpen, Greg Reynolds, Brad Emaus, Seth Smith, Clayton Mortensen, Jason Hammel, Matt Lindstrom, Kevin Kouzmanoff, Aaron Cook, Kevin Millwood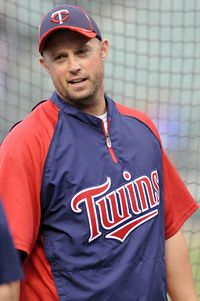 The biggest move of the Rockies' busy offseason was the Cuddyer signing.  Though he's below-average defensively at the position, Cuddyer is penciled in to replace Smith and Spilborghs as the Rockies' right fielder.  Smith is defensively-challenged himself, and as a left-handed hitter he's the inverse of Cuddyer offensively.  Pairing Smith with a better platoon partner like Jonny Gomes, as the A's did, would have equaled or exceeded Cuddyer's production at a fraction of the commitment.  There is an intangible side to the Cuddyer signing, as the Rockies like the leadership he brings.
Smith was fairly popular on the trade market, and Rockies GM Dan O'Dowd eventually pulled the trigger for a pair of back-rotation arms in Moscoso and Outman.  Chatwood, acquired for catcher Chris Iannetta, has more upside than those two but was rushed to the Majors last year by the Angels.  Iannetta had more value to the Rockies than to any other team, because he gained the ability to void his 2013 club option only if traded.  The Rockies controlled Iannetta for two years, but the Angels probably control him for one.  O'Dowd still did well in getting six years of Chatwood for Iannetta, a player of whom he did not seem terribly fond.
Though the Rockies won the Iannetta trade from an actuarial standpoint, they downgraded at catcher in 2012.  Ramon Hernandez is inferior defensively and is probably incapable of catching 100 games in his age 36 season.  Perhaps the Rockies feel the short-term dropoff in their catcher swap is insignificant, and wanted a more experienced backstop for a young pitching staff.  
Some of O'Dowd's intended upgrades required payroll flexibility, so he shipped out unneeded veterans Street and Wigginton.  Unloading $7MM owed to Street was a masterstroke, and ditching $2MM on Wigginton was also a win.  These were O'Dowd's questionable contracts in the first place, but at least he was able to cut his losses.  O'Dowd added a pair of new contracts in the extensions for relievers Betancourt and Belisle.  Each received one extra year at the market rate for a solid setup man, which is favorable to letting both reach free agency after 2012.
The Rockies' newfound payroll flexibility allowed for the acquisition of Scutaro.  The Rockies acquired a quality infielder on a salary dump, and only had to make a one-year commitment.  With an average throwing arm and declining range, Scutaro is better-suited for second base as he enters his age 36 season.  There will be a defensive loss compared to Ellis, but he required a two-year commitment.  An OBP north of .350 from Scutaro would be a big improvement over the .304 mark compiled by the team's second basemen in 2011.  
With a below-midpoint $8.2MM salary, Guthrie will cost less than Hammel and Lindstrom, who are owed $8.55MM in 2012.  Hammel flashed potential in 2009-10, but he's not a 200-inning workhorse like Guthrie.  Prior to the Guthrie acquisition, the closest to a sure thing in Colorado's rotation was 24-year-old Jhoulys Chacin, who led the NL in walks in 2011 and showed up to spring training overweight.
For the remaining rotation spots, the Rockies' options were so numerous that they deemed Slowey expendable.  The Rockies acquired the non-tender candidate from Minnesota in December for reliever Daniel Turpen, and then flipped him to Cleveland about a month later for reliever Zach Putnam and $1.25MM.  It was a middle reliever upgrade for the Rockies, at the cost of $1.25MM.  Juan Nicasio and Drew Pomeranz probably slot into the Rockies' rotation behind Guthrie and Chacin, but there will be heavy competition all year.
Stewart and Weathers were shipped to Chicago in a change of scenery deal.  Weathers' trade value was probably minimal, as he would eventually clear waivers with the Cubs.  The Rockies' third base situation may remain dicey in the short-term, as Blake, Chris Nelson, Wood, and/or Harris will keep the seat warm for top prospect Nolan Arenado.  The Rockies received Colvin and LeMahieu for Stewart, two useful big leaguers who may fall short of everyday duty.
After all the offseason activity, are the Rockies a better team?  Last year's rotation posted a 4.73 ERA, so that bar is set low.  The bar is low at the hot corner as well, and the Rockies definitely improved at second base.  With full seasons from Carlos Gonzalez and Dexter Fowler, the offense could be a powerhouse.  The Rockies must hope a potentially downgraded defense and an inexperienced rotation can keep them in games.
Photo courtesy of Icon SMI.