The Angels stole Winter Meetings headlines by signing the offseason's best free agent hitter and pitcher in the course of a few hours.
Major League Signings
Notable Minor League Signings
Extensions
Trades and Claims
Notable Losses
In August, MLBTR surveyed dozens of baseball people for their GM candidates.  Former big league reliever Jerry Dipoto was mentioned more than anyone else.  After a thorough search, the Angels named Dipoto as Tony Reagins' replacement in late October.  Dipoto came with a great drafting track record, and also had made several excellent trades as Arizona's interim GM in the summer of 2010.
Shortly after his hiring, Dipoto told ESPN's Jim Bowden catcher was one of multiple positions for which he wanted to improve the Angels' on-base percentage.  Several weeks later, Dipoto backed up his words by acquiring Iannetta for Chatwood.  Iannetta has a .357 career OBP, and The Fielding Bible considers him a "terrific defensive catcher."  Though the Rockies may not have appreciated Iannetta, they extracted a solid bounty in Chatwood, who Baseball America ranked the 76th best prospect in baseball prior to the 2011 season.  Given Iannetta's ability to void a $5MM club option for 2013 because of the trade, the Halos may have acquired only one year of control in exchange for six of Chatwood.  This was the first sign the Angels were embarking on a win-now offseason.  The Iannetta acquisition made non-tender candidate Jeff Mathis expendable, so Dipoto picked up Mills to essentially replace Chatwood down the rotation depth chart. 
Even in November, Dipoto warned Bowden not to assume the Angels had no interest in Prince Fielder or Albert Pujols.  However, many assumed Angels owner Arte Moreno would continue to drop out of the bidding on top free agents, and that Moreno's expected $130-140MM payroll precluded signing multiple impact players.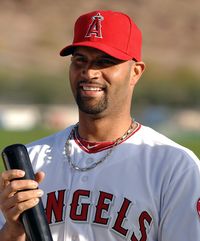 The Marlins had shocked baseball by committing $191MM to free agents Jose Reyes, Mark Buehrle, and Heath Bell during the 2011 Winter Meetings, and they were in play for Pujols as well.  The Rule 5 draft typically signals the conclusion of the Meetings, but just as it began Yahoo's Tim Brown posted a tweet that required a double-take: the Angels had signed Pujols to a ten-year deal.  The contract was worth $240MM, a figure that rose to $246.8MM once the present-day value of ten-year, $10MM personal services contract was considered.  In baseball history, only Alex Rodriguez has signed for more.
With a .421 career OBP, Pujols was the best fit for Dipoto's OBP mandate.  One concern, however, is that Pujols' unintentional walk rate dropped to 7.1% in 2011, after staying above 9% in almost every other season.  The Angels are betting that at age 32, Pujols has many more elite, durable seasons ahead of him.  Pujols is about four years older than Fielder, but is probably the game's best defensive first baseman while Fielder might be the worst, according to The Fielding Bible.  The Angels signed the better player for 2012, but will Pujols still be a superstar in 2015?  His backloaded contract averages a $27MM salary over the last seven years.  Pujols will likely be a $30MM designated hitter by 2021, but the Angels are planning on celebrating milestones in his final playing years.  Even if Pujols' contract becomes burdensome, an unceremonious breakup seems unlikely given the personal services commitment.
The Pujols signing had a ripple effect on the Angels' depth chart.  First basemen Kendrys Morales and Mark Trumbo will move to designated hitter, reducing Bobby Abreu's playing time.  Trumbo is also an option at third base.  Vernon Wells, a below-average defensive left fielder, cannot be pushed to the DH spot to clear a starting outfield position for top prospect Mike Trout.  Dipoto told Bowden in November Wells "deserves a chance to bounce back," but since that trade was Reagins' mistake, I expect a short leash.  Torii Hunter is 36, Wells is 33, Abreu is 38, and Morales is coming off a broken ankle, so it's possible an injury will help sort out this logjam.  If not, I think Dipoto will have the authority to release or bench Wells and/or Abreu to ensure the best possible lineup is on the field.  If $2-4MM of Abreu's $9MM commitment can be cleared via trade, that route should be pursued aggressively.
Shortly after the Pujols signing, the Angels continued their spending spree by signing top free agent starter C.J. Wilson to a five-year deal.  At $15.5MM per year, Wilson gave the Angels an irresistible hometown discount.  With a front four of Jered Weaver, Dan Haren, Wilson, and Ervin Santana, they continue to boast one of the best rotations in baseball.
Dipoto allocated the least resources toward the bullpen, grabbing serviceable free agent Hawkins and taking a flyer on Isringhausen on a minor league deal.  With minimal losses and quality arms in Jordan Walden, Scott Downs, Hisanori Takahashi, and Rich Thompson, the need never seemed dire.
Dipoto a finishing touch on his offseason by signing second baseman Kendrick to a four-year extension, months before the player entered his contract year.  With arbitration savings and three free agent years at $9.2MM each, Kendrick's extension provides good value to the Angels.  The Angels have been unable to find common ground with another impending free agent, shortstop Erick Aybar.  The Fielding Bible suggests Aybar has never been Gold Glove-worthy despite his 2011 win, and maybe the best course of action is to try prospect Jean Segura in 2013 if he has all-around success in the minors this year.
The Angels' heavy spending makes them a 2012 contender, in what might be a two-horse AL West race.  They have a fantastic rotation backed by strong defense, and the league's tenth-best 2011 offense will be on the rise.
Photo courtesy of Icon SMI.