The Nationals could contend for the first time since moving to Washington after obtaining two above-average starting pitchers this offseason.
Major League Signings
Notable Minor League Signings
Mark Teahen, Rick Ankiel, Chad Durbin, Xavier Paul, Mike Cameron, Jeff Fulchino, Jason Michaels, Waldis Joaquin, Brett Carroll, Andres Blanco.
Trades and Claims
Extensions
Notable Losses
Livan Hernandez, Laynce Nix, Alex Cora, Ivan Rodriguez, Jonny Gomes, Cole, Norris, Peacock, Milone, Balester.
The Nationals began their offseason by making Davey Johnson their permanent manager. Now that Opening Day's nearly upon us, it has become clear that the Nationals have legitimate hope of contending in 2012.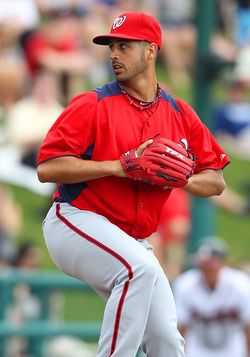 They added a pair of hard-throwing pitchers to a rotation that already includes Stephen Strasburg and Jordan Zimmermann. First, they sent a group of highly-regarded prospects to the Athletics for left-hander Gio Gonzalez (pictured). Brad Peacock and Tom Milone both showed promise in their 2011 debuts and could contribute in Oakland's rotation this year. Gonzalez, who has reached the 200-inning plateau in each of the past two seasons, provides the Nationals with more certainty than Peacock or Milone would have. The Nationals are getting Gonzalez just as he's becoming expensive and his low ERA is likely slightly deceptive based on his peripheral stats, but they can afford the salary and some regression in terms of ERA. 
The club also signed Edwin Jackson to a terrific one-year, $11MM deal. He has averaged 200 innings and a 4.06 ERA since 2008 and seems capable of more. He turned down multiyear offers to sign with the Nationals, who deserve credit for one of the bargain signings of the offseason. They also brought back Chien-Ming Wang on a one-year deal in the hopes that he can build on last season's 11-start showing. The rotation has lots of upside, and its depth is already proving useful with Wang temporarily sidelined. Potential trade candidate John Lannan and Ross Detwiler provide options in case one of the top five starters misses time.
GM Mike Rizzo has spoken for a while about his interest in finding a long-term solution in center field, but the Nationals didn't strike a deal for one this offseason. They'll rely on internal candidates such as Roger Bernadina, Rick Ankiel and Brett Carroll at the position for now and continue monitoring the market for upgrades. They showed interest in Adam Jones, Gerardo Parra, Jason Bourgeois, Peter Bourjos and B.J. Upton this offseason without acquiring anyone. Perhaps they'll complete a deal next year when the free agent market could feature Upton, Shane Victorino and Michael Bourn.
The Nationals figured prominently in the offseason's Prince Fielder rumors, even though they don't appear to have been a finalist for the powerful first baseman. They ranked 24th in MLB in runs scored a year ago and Fielder would've provided some welcome offense. However, a $200MM commitment is never easy to justify, even when ownership has raised payroll in recent years.
Offense could be a concern in 2012. Though the Nationals scored just 624 runs in 2011, they chose to rely on improvements from within instead of signing free agents or trading for position players. Jayson Werth should provide more offense during his second season in D.C., and it's hard to imagine that Adam LaRoche will produce less than he did in 2011. Plus, top prospect Bryce Harper figures to join the team midseason (good sense prevailed and they're having him start the season in the minors). Perhaps Wilson Ramos — safe again after being kidnapped in Venezuela — can build on his impressive 2011 numbers.
The Nationals signed three players to extensions: Morse, Gonzalez and Zimmerman. Morse's two-year deal will save the Nationals money if he comes close to replicating the numbers he posted during his breakout 2011 campaign, but the upside is limited. It's hard to endorse the deal from the Nationals' perspective since they didn't extend their control over Morse. They did obtain the rights to three of Gonzalez's free agent seasons by locking him up to a contract that includes two team options. It's a win for the left-hander, who obtains considerable security before accumulating three years of service time, but there's real upside for the Nationals on this deal. The Zimmerman extension – $100MM for a player who's missed approximately one month per season since 2008 — carries risk. Still, I like this deal for the team because Zimmerman's worth more than an average annual value of $16.7MM when he's at his best.
The Nationals added longtime closer Brad Lidge and hard-throwing right-hander Ryan Perry to the bullpen this offseason. Lidge, now 35, showed flashes of dominance in 25 outings with the Phillies last year and if his slider resembles its former self, he'll be well-worth the $1MM commitment.
The Nationals are poised to contend for the first time since moving to Washington, especially since an extra Wild Card spot is now in play. They've got an electrifying rotation and a strong bullpen. If their offense rebounds the way they expect it to, this club promises to finish above .500 and make a run at the postseason.
Photo courtesy Icon SMI.