There's a market for left-handed relief pitching every summer, and the 13-20 Royals are once again expected to be sellers at this year's trade deadline, so Jose Mijares could interest general managers around the league if his rebound season continues in the coming weeks.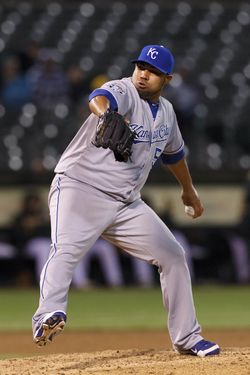 The Twins non-tendered Mijares last offseason following a difficult 2011 campaign in which his average fastball velocity dropped and he walked as many batters as he struck out (30). The 27-year-old signed a one-year, $925K contract with the Royals in December and the results have been promising to this point. He has a 2.45 ERA with 8.6 K/9 and 1.8 BB/9 in 14 2/3 innings, an indication that last year's struggles may be behind him.
Mijares has returned to his career norms so far in 2012 and his fastball has regained its zip (90.9 mph on average). Against left-handed hitters he has impressive career rates of 8.1 K/9 and 2.4 BB/9. When lefty hitters face Mijares fewer fly balls become home runs and fewer batted balls become hits or line drives.
But he is a true 'loogy' in that his managers need to limit his exposure to right-handed hitters (they hit .271/.357/.434 against him). He's best used as a specialist, and his managers know it. He has averaged less than one inning per appearance and faced nearly as many left-handers as right-handers in his five MLB seasons. 
The Royals aren't under pressure to move Mijares, who's affordable and under team control through 2014. But GM Dayton Moore won't necessarily need Mijares for the next three seasons, as Tim Collins can neutralize tough left-handed hitters and the Royals have other potentially useful left-handed relievers in the minors. If the Royals can obtain a reasonably interesting prospect for Mijares while his value remains high, his tenure in Kansas City may be brief. 
Photo courtesy of US Presswire.