When the Nationals signed Edwin Jackson to a one-year, $11MM contract a few days before the start of Spring Training, it was widely considered to be one of the best free agent deals of the offseason. They had just added a workhorse starter with a 3.96 ERA from 2009-2011 to a staff that already included Stephen Strasburg, Gio Gonzalez, and Jordan Zimmermann. The pitching rich got richer.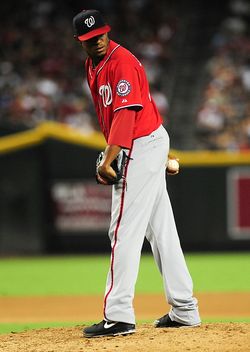 Jackson, 29, is now scheduled to hit the free agent market for the second time in as many years. He dumped Scott Boras in favor of the Legacy Agency in July, perhaps an indication that he was unhappy with only getting a one-year contract. Jackson passed on a lucrative three-year offer from the Pirates to join a club that many believed was poised to break through and become a contender, a belief that proved to be true. But still, he didn't get a long-term deal.
This season has been similar to the last three for Jackson. He's pitched to a 4.13 ERA in 30 starts and 183 innings while keeping his walk rate down (2.8 BB/9), his ground ball rate up (47.2%), and enjoying a boost to his strikeout rate (8.0 K/9) after a full year in the NL. Jackson is limping to the finish though, as his ERA has jumped exactly half-a-run this month. He allowed nine runs (eight earned) in 1 1/3 innings last night, and has allowed at least four runs in four of his five September starts. His fastball velocity, which averaged 94-95 mph from 2007-2011, is suddenly more 92-94 these days.
One bad month usually isn't enough to sabotage a player's free agent stock, and Jackson will have the postseason to prove that September is just a poorly-timed slump. The free agent pitching market will be headlined by Zack Greinke, but Jackson leads a group of second-tier arms that will include Ryan Dempster, Hiroki Kuroda, Kyle Lohse, Shaun Marcum, and Anibal Sanchez. More than 3,500 MLBTR readers say the Nationals should make Jackson a qualifying offer (in the $13MM range) after the season, a move that frankly feels like a no-brainer. It'll entitle them to draft pick compensation if he signs elsewhere, and in the worst case they get him back for another year.
Jackson is almost certainly going to seek the multi-year contract he was unable to land last offseason, and he should have no trouble finding suitors. Big market teams like the Red Sox, Tigers, Dodgers, and Yankees could turn to him to supplement their rotations while smaller payroll clubs like the Pirates, Royals, Blue Jays, Indians, and Orioles figure to show interest as well. Pitching is always in high demand, especially when you're talking about a just turned 29-year-old who is right smack in the prime of his career.
Photo courtesy of US Presswire.