The Astros announced that they sent shortstop Jed Lowrie to the Athletics in a five-player trade. The Astros acquire first baseman Chris Carter, starting pitcher Brad Peacock and catching prospect Max Stassi from the A's in the deal, which sends right-handed reliever Fernando Rodriguez to Oakland along with Lowrie.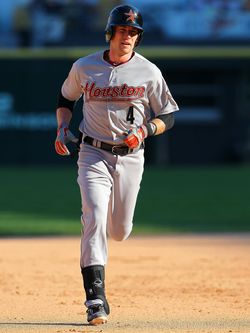 The Astros are trading Lowrie approximately one year after acquiring him from the Red Sox. Astros GM Jeff Luhnow maintained throughout the offseason that he didn't want to trade Lowrie unless he could obtain impact players in return.
"This trade gives us power, pitching and catching," Luhnow said in a statement released by the team. "Three valuable commodities that will help improve our organization."
Lowrie, who turns 29 in April, enjoyed arguably his best season in 2012 — his lone season in Houston. After being traded from the Red Sox along with Kyle Weiland in exchange for Mark Melancon, Lowrie hit .244/.331/.438. He hit a career-high 16 home runs, but was held to just 97 games due to a thumb sprain and an ankle injury. Unfortunately, those 97 games also represent a career-best for Lowrie as well.
Lowrie is set to earn $2.4MM in 2013 after avoiding arbitration with the Astros last month. He'll be eligible for arbitration a third and final time next offseason and is eligible for free agency following the 2014 season. As Ken Rosenthal of FOX Sports points out (on Twitter), the Astros now have less than $15MM in guaranteed contracts for this upcoming season.
The 28-year-old Rodriguez struggled in 2012, posting a 5.37 ERA in 70 1/3 frames for the Astros. However, his FIP (4.22) and xFIP (4.23) are nearly identical to the marks he posted in 2011 when his ERA was 3.96. He averaged 93.9 mph on his heater last season and has fanned 136 batters in 123 1/3 innings. He can be controlled through 2017.
Peacock, who turned 25 on Saturday, ranked fourth on Baseball America's list of Top 10 Athletics prospects. The right-hander was a key component of last winter's Gio Gonzalez trade but had a down season in 2012. He had a 6.01 ERA, 9.3 K/9 and 4.4 BB/9 in 134 2/3 innings for Oakland's Triple-A affiliate. BA's Jim Shonerd wrote in November that Peacock pitched up in the zone too frequently in 2012, and added:
"When he's going well, he still shows three quality pitches. Peacock's fastball works at 91-95 mph but lacks movement, underscoring the need for better command. He also flashes a sharp curveball and a changeup with depth. He has added a slider/cutter hybrid to help induce weak contact, but it remains a work in progress."
Stassi, 21, entered the season as Oakland's No. 14 prospect, according to BA. He spent 2012 at High-A Stockton, where he batted .268/.331/.468 with 15 homers in 360 trips to the plate. He's been bothered by shoulder problems throughout his professional career, but BA praises his compact swing, solid power and ability to use the middle of the field.
The 26-year-old Carter is a former top prospect in his own right, and he displayed the power that earned him that distinction in 2012. Carter batted .239/.350/.514 with 16 homers in 260 plate appearances for the A's. He is under team control through 2018 and is not yet eligible for arbitration.
Beane has now traded away two of the four players he acquired in last offseason's trade of Gonzalez. He moved A.J. Cole back to Washington in a trade that sent John Jaso to the A's and Mike Morse to the Mariners. Tommy Milone and Derek Norris still remain a part of the A's organization.
Steve Adams also contributed to this post. Photo courtesy of USA Today Sports Images.