The Diamondbacks officially announced that they've extended second baseman Aaron Hill through 2016. The deal is valued at $35MM, according to ESPN.com's Buster Olney, who first reported the agreement (on Twitter). The Legacy Agency represents Hill.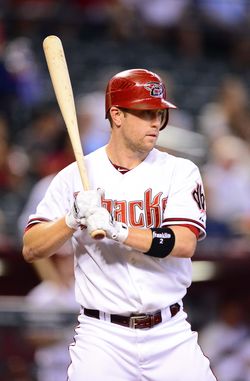 The Diamondbacks initially extended Hill in 2011, signing him to a two-year, $11MM contract covering the 2012-13 seasons. That contract calls for a $5.5MM salary in 2013 and won't be affected by today's deal. The new agreement covers the 2014-16 seasons. Hill will earn $11MM in 2014, $12MM in 2015 and $12MM in 2016, according to Jack Magruder of FOXSportsArizona.com (on Twitter).
The Diamondbacks acquired Hill from Toronto late in the summer of 2011. The second baseman hit well after joining the Diamondbacks and he continued producing throughout the 2012 season. Hill hit .302/.360/.522 with 26 home runs in 668 plate appearances last year, leading all National League second basemen with 6.2 wins above replacement (per FanGraphs).
This marks the fourth extension Kevin Towers & Co. have completed in 2013. The team signed Martin Prado, another client of the Legacy Agency, to a four-year, $40MM contract. Cliff Pennington (two years, $5MM) and J.J. Putz (one year, $7MM) also obtained new deals, as MLBTR's Extension Tracker shows.
Robinson Cano still projects as the top second baseman — and likely the top position player — available in free agency next offseason. While Cano seems poised for a substantially larger deal than Hill, he does gain some leverage today. Teams no longer have Hill as a free agent alternative.
Photo courtesy of USA Today Sports Images.