Despite ranking third on Tim Dierkes' 2014 Free Agent Power Rankings, Josh Johnson's next big contract is far from a sure thing. Poised to hit free agency for the first time at age 30 next season, the upcoming season will be critical to Johnson as he looks to shed his "injury-prone" label and cash in on a five- or even six-year free agent deal.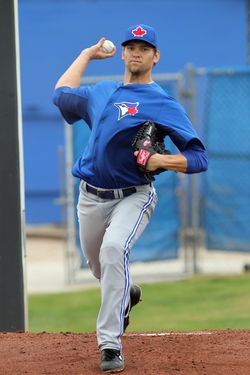 Johnson pitched a respectable 191 1/3 innings last season — the third time in four seasons in which he's surpassed the 180-inning mark. However, Johnson also has a lengthy injury history, having spent time on the 60-day DL for shoulder issues, elbow problems and recovery from Tommy John surgery. His innings totals from 2007 (15 2/3), 2008 (87 1/3) and 2011 (60 1/3) are likely enough to give teams serious pause should Johnson miss significant time in 2013.
This will also be Johnson's first venture into American League pitching, as he spent his entire career with the Marlins prior to this November's blockbuster with Toronto. Pitching in the hitter-friendly confines of the Rogers Centre in Toronto and against the powerful lineups of the AL East will undoubtedly serve as a challenge for the right-hander.
However, when Johnson is healthy he has the talent to be one of the game's most dominant arms. Over his past four seasons (644 1/3 innings), the 6'7" hurler has a 2.99 ERA, 8.4 K/9, 2.7 BB/9 and 47.8 percent ground-ball rate. Another 180-200 inning season in the powerful AL East could position Johnson to eclipse former teammate Anibal Sanchez's five-year, $80MM contract with the Tigers. A recurrence of the injury bug could force Johnson to settle for a short-term deal — perhaps even a one-year pact to demonstrate his health.
Johnson is set to earn $13.75MM this season — the final salary of the four-year, $39MM extension he signed prior to the 2010 season. That's hardly chump change, but this is likely his best shot at a massive free agent contract. If Johnson is injured this season, even a 200-inning effort in 2014 might not be enough to convince a team to guarantee four, five or six years to the power right-hander. Despite being part of a free agent class that could include Adam Wainwright, Roy Halladay and Tim Lincecum, Johnson could parlay a dominant 2013 season into a hefty pay raise, and possibly the biggest free agent contract for a pitcher next winter.
Photo courtesy of USA Today Sports Images.