The Tigers have officially added Jose Valverde to their roster following the signing of a one-year, Major League contract. Valverde's deal reportedly contains a base salary of roughly $2MM with another $3MM available via incentives. The Scott Boras client will serve as the team's closer.
The 35-year-old Valverde initially signed a minor league contract with the club in early April that had a May 5 opt-out clause, but that contract didn't include a Major League portion, so the two sides have since worked out a Major League pact.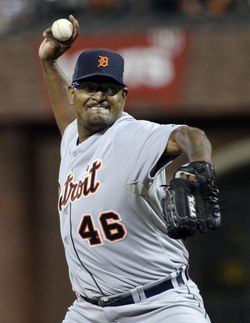 Valverde is the last of MLBTR's Top 50 Free Agents to sign. He rejoins the Tigers' organization after serving as their closer for the past three seasons. Valverde struggled mightily in the 2012 postseason, and the team did not attempt to re-sign him. Aside from picking up the club option on Octavio Dotel, Dombrowski did little with his bullpen over the offseason.  Relief prospect Bruce Rondon was talked up as the team's potential closer, but he was demoted to the minors at the end of Spring Training (he's since been called up). The team entered the season with the dreaded closer-by-commitee but had seen Joaquin Benoit emerge as the primary ninth-inning option prior to the Valverde signing.
Valverde posted a 3.78 ERA, 6.3 K/9, 3.5 BB/9, and 0.39 HR/9 in 69 innings last year.  He saved 35 games in 40 tries, but saw his strikeout rate plummet from years past.
Valverde's signing marks the conclusion of MLBTR's Free Agent Prediction Contest, and the winner is Josh Larabee with 20 of 50 correct.  I don't think anyone has come close to batting .400 in the past, and Josh won $500 for his excellent prognosticating skills.
Patrick Reusse of 1500 ESPN was the first to break the news of the minor league signing (on Twitter). Following the team's announcement of the Major League contract, MLB.com's Jason Beck wrote that it would be an incentive-based deal, and Jon Paul Morosi of FOX Sports added the salary information (Twitter link).
Charlie Wilmoth and Steve Adams contributed to this post. Photo courtesy of USA Today Sports Images.