It's been a rough start to the season for the Phillies, whose 9-12 record puts them 6.5 games out of first place in the NL East. Roy Halladay hasn't been himself early (though he's shown signs of life), Ryan Howard hasn't hit much and they were already at a disadvantage with Carlos Ruiz serving a suspension to open the season.
Offseason signee Mike Adams' two-year, $12MM contract was just one among a flurry of moves made by GM Ruben Amaro Jr. The Phillies traded for Michael Young and Ben Revere, signed Adams, John Lannan and Delmon Young as free agents and exercised the option on Ruiz's contract.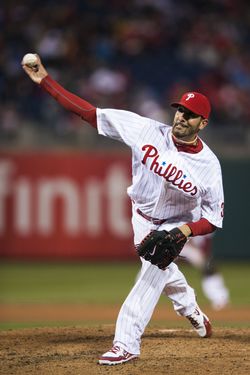 While other members of the team have struggled, Adams has done little to suggest that he'll do anything other than what he's done for the past five seasons: dominate. Adams has allowed two runs in nine innings of work to go along with a sizzling 14-to-2 K/BB ratio. That meshes with the 1.98 ERA, 9.5 K/9 and 2.5 BB/9 he's posted in 295 innings since 2008.
Teams are always on the lookout for bullpen help come the trade deadline, and this July figures to be no different. We've already seen Jason Motte hit the shelf with Tommy John surgery looking likely. Joel Hanrahan is on the disabled list. John Axford is out as the Brewers' closer. Relief pitching is volatile, and consistently dominant arms like Adams are tough to come by. If the Phillies are farther out of the race in two months, Amaro will have no shortage of phone calls regarding his ace setup man.
Because he's under control for 2014 with an option for 2015, Adams would have significant trade value — more than the value he had in 2011 when the Rangers gave the Padres their No. 4 prospect (per Baseball America) in Robbie Erlin and their No. 22 prospect in Joe Wieland. That trade looks pretty good for the Padres right now, and the Phillies could benefit even more. Last summer, the Cardinals flipped a 2010 first-round pick in Zack Cox to acquire a year and a half of Edward Mujica — an inferior reliever to Adams. Granted, Cox's stock had dropped since entering the season as BA's No. 88 prospect, but it can serve as a point of reference in talks for Adams. Two and a half years of Adams at a reasonable price should be enough for a team to part with a Top 100 prospect and another respectable piece.
The Phillies haven't made a history of being sellers at the deadline, but they traded Hunter Pence and Shane Victorino last July and will likely be faced with the opportunity to add prospects via trade once again. Adams should draw plenty of interest, though Amaro may also choose to keep him around with the hope that he can contribute to the next Phillies contender.
Photo courtesy of USA Today Sports Images.