One of the game's most powerful regular catchers is in his contract year.  Jarrod Saltalamacchia is on track to become a free agent the old-fashioned way – by accumulating the necessary six years of Major League service time.  Because the Red Sox catcher never signed a multiyear extension, he'll be just 28 when he signs his next contract.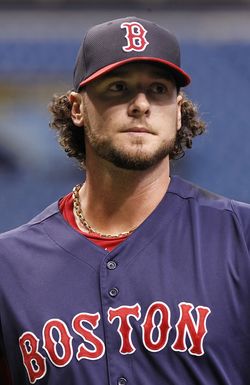 Salty was drafted 36th overall by the Braves in 2003, a supplemental pick for the loss of free agent Mike Remlinger.  When backup catcher Brayan Pena hit the DL in May of '07, Saltalamacchia got the call.  The Braves had Scott Thorman at first base at the time, so Saltalamacchia was able to stick even after Pena returned.  Catcher Brian McCann had signed an extension with the Braves months earlier, however, so the switch-hitting Saltalamacchia was prime trade bait in what turned out to be one of the decade's most memorable deals.  At the 2007 trade deadline, he was a major part of the Rangers' haul for Mark Teixeira, a deal that also sent Elvis Andrus, Neftali Feliz, Matt Harrison, and Beau Jones to Texas.
The '07 Rangers had Gerald Laird behind the dish, but first base was vacated with the Teixeira deal.  Saltalamacchia split his time evenly between the two positions that year.  The two battled for playing time in '08, though both dealt with injuries.  Laird was dealt after the season, leaving the Rangers with a tandem of Saltalamacchia and Taylor Teagarden.  Though Salty won the gig, he was sidelined by thoracic outlet syndrome in '09, and the Rangers acquired Ivan Rodriguez in August.  Saltalamacchia spent the early part of 2010 recovering from surgery for that condition and battling other injuries, also developing a mental block regarding throwing the ball back to the pitcher.
Though the Rangers' depth at catcher wasn't what they thought it'd become, they still felt comfortable trading Saltalamacchia to the Red Sox that summer for three minor leaguers: first baseman Chris McGuiness, starter Roman Mendez, and catcher Michael Thomas.  Only Mendez charted as one of Boston's top 30 prospects according to Baseball America (#23), and it seemed the Rangers were selling low on a player they once regarded very highly.  Salty didn't see much time with the Red Sox in 2010, as he battled a lower leg infection and they had Victor Martinez behind the plate.
The Sox still had Jason Varitek in the mix in 2011, but Saltalamacchia did catch in 100 games for the first time.  Salty has been the team's primary catcher since then, even with David Ross added this past offseason.  Saltalamacchia has compiled a .231/.295/.453 line in 977 plate appearances for the Red Sox from 2011 to present, hitting 46 home runs.  Among those who have caught at least 200 games since then, Salty's home run total ranks fifth, and his slugging percentage ranks second.  He's lacking in the OBP department, with a .288 mark from 2011-12 reminiscent of Rod Barajas.
Something has changed in that regard, as Saltalamacchia has a respectable .336 OBP so far in 143 plate appearances this year.  One driver is his 11.2% walk rate, easily the best of his career if it holds up.  He's also hitting for a little higher batting average than usual, which is surprising given the worst strikeout rate of his career (33.6%).  That's Adam Dunn/Mark Reynolds territory, and often results in a batting average barely above the Mendoza line.  A switch-hitter, Salty has struggled against left-handed pitching, with a .198/.257/.326 line in his career.
Saltalamacchia is firmly regarded as an offense-first catcher, though he's not satisfied with that.  He's fairly easy to run on, but statistically might be quietly decent at blocking and framing pitches.
Speaking to Nick Cafardo of the Boston Globe last week, Saltalamacchia noted that the future is on his mind "In the sense that I don't want to go anywhere else."  Blake Swihart might be Boston's catcher of the future, but he's in High A currently.  Ryan Lavarnway, 25, has already caught 38 games for the Sox since '11, more than quieting defensive concerns along the way.  He's the biggest threat to Saltalamacchia's future with the team, especially with a solid backup already under contract for '14 in Ross.  An everyday catcher, even with some flaws, often commands $6-8MM per year on the free agent market.  And as the only regular who will be under 30 years old, Salty and agent Jim Munsey should easily find a multiyear offer.  The Red Sox could find big savings in replacing him with Lavarnway.
If he does reach the open market, Saltalamacchia will be competing with John Buck, McCann, A.J. Pierzynski, and Carlos Ruiz for a regular spot somewhere.  Salty is significantly younger than the other catchers, aside from former teammate McCann.  McCann will have a different market, however, as he could receive a qualifying offer and pursue a contract at or above the four-year, $50MM deal Victor Martinez signed with the Tigers after the 2010 season.
Photo courtesy of USA Today Sports Images.