The rise and fall of Scott Kazmir was a well-known tale when he signed a minor league deal with the Indians this offseason. After being infamously traded for Victor Zambrano in one of the more lopsided trades of the past 10 years, he quickly ascended to ace status with the Rays. He began to lose velocity in the 2008 season, and his control became increasingly problematic.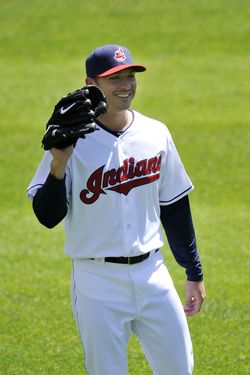 Kazmir was traded to the Angels, and things only got worse for him in Anaheim. 2010 would be the last full season he threw in the Major Leagues, and he posted a ghastly 5.94 ERA in 150 innings with a fastball that had lost more than two miles per hour from his peak. Despite speculation that he lost arm strength, Kazmir told David Laurila of Fangraphs that wasn't the case:
"I didn't really ever lose arm strength, it's more I lost my ability to use my body. I lost my ability to use my lower half — everything was upper body — and everything started swinging side to side; I didn't have a good direction to the plate."
Kazmir ultimately wound up pitching for the Sugar Land Skeeters in 2012 as he contemplated his future. He had thrown just 1 2/3 Major League innings since 2010 when he signed with Cleveland, but it looks like he could be in for a full season of work. He's thrown 40 1/3 innings for the Tribe over eight starts. His 5.13 ERA isn't all that impressive, but he's averaging 91.7 mph on his fastball. Sabermetric stats like FIP (4.56), xFIP (3.96) and SIERA (3.79) all feel that Kazmir has been unlucky. Indeed, his .362 BABIP and 14.9 percent HR/FB both seem due for a correction.
Kazmir is still just 29 years old and won't be 30 until next January. If he's able to keep himself off the disabled list and see his BABIP and HR/FB regress toward the league averages (.292 and 11.0, respectively), Kazmir should draw significant interest on the free agent market. Paul Maholm figures to be the best lefty on the market, but Kazmir could stake his claim as the second-best free agent lefty.
Another enigmatic left-hander, Francisco Liriano, was able to secure a two-year deal worth $12.75MM with the Pirates this offseason despite posting an ERA over 5.00 from 2011-12 (he later had to re-work his deal after breaking his non-throwing arm). Even if Kazmir continues at his current rate, Liriano's deal seems attainable. If he can lower his ERA while maintaining his 9.1 K/9 and 3.3 BB/9, a higher annual salary or a third year could be in store.
Photo courtesy of USA Today Sports Images.