The Reds have signed first-round pick Phillip Ervin for the exact slot recommendation of $1,812,400 according to Baseball America's Jim Callis (on Twitter).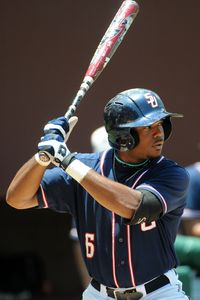 Ervin is advised by Moye Sports Associates. 
Cincinnati selected Ervin, an outfielder from Samford Universtiy, with the No. 27 overall pick in the 2013 draft. Callis notes that Ervin has the potential to stick in center field and was one of his favorite prospects in the entire draft class.
Ervin ranked 23rd on Baseball America's list of Top 500 draft prospects, 21st on Jonathan Mayo of MLB.com's Top 100 list and 54th on Keith Law of ESPN's Top 100 list (ESPN Insider required). With this agreement, Ervin becomes the highest draft pick to sign thus far and the first player from the 2013 first round to sign as well.
Ervin is the first college bat selected by the Reds in the first round since Yasmani Grandal back in 2010 and their first college outfielder since they selected Drew Stubbs eighth overall out of Texas in 2006. Cincinnati did select Cal outfielder Jeff Gelalich in the supplemental round of last year's draft as compensation for losing Francisco Cordero.
Photo courtesy of USA Today Sports Images.