Since the beginning of the 2011 season, there are only 14 relievers who have posted a K/9 greater than 10.0 with a ground-ball rate of 40 percent or better. It's not surprising to see established relief aces like Craig Kimbrel, Jonny Venters and Sergio Romo on that list, but some might be surprised to see Jose Veras' name in the mix.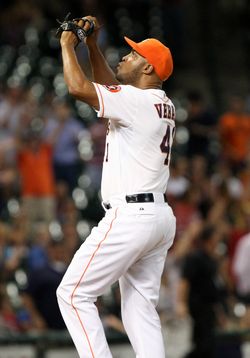 Not only is Veras in the mix, he's second in the group in terms of innings pitched with 169 (John Axford ranks first with 172). Veras has generated little fanfare in recent years, but he's shown the capability to maintain an elite strikeout rate over an extended period of time.
Though his ERA is an uninspiring 4.06, Veras' other numbers look strong. He's punched out 36 hitters in 31 innings (10.5 K/9) while showing the best ground-ball and walk rates of his career. FIP feels that his ERA should be 3.96, xFIP suggests a 3.74 ERA going forward and SIERA is even more bullish at 3.02.
The biggest red flag with Veras has typically been his control, but he's posted a respectable 3.8 BB/9 thus far in 2013, and his 60.3 percent first-pitch strike rate is the highest of his career. It's probably no coincidence that by getting ahead in the count more often, he's been able to up his swinging-strike rate to 10.2 percent.
The 32-year-old Veras signed a one-year deal with the Astros this winter that calls for an affordable $1.85MM base salary and also contains a club option for $3.25MM. His contract also carries incentives based on games finished that could raise this year's salary by $500K and push the option's value north of $4MM.
Veras' control problems have kept him from reaching the elite status among relievers, but his mix of strikeouts and ground-balls is a desirable skill set nonetheless. Add to the mix a contract that is significantly more affordable than that of marquee trade candidates like Jonathan Papelbon and an extra year of team control, and it's logical to expect that Veras will be wearing a new uniform come August 1.
The Astros have made no effort to hide the fact that they're willing to move just about any player on their roster as they completely re-tool the franchise, and Veras should be no exception. He won't fetch an elite prospect in return, but a contending team looking to shore up the eighth or even ninth inning could view Veras as an upgrade, particularly if he has a strong few weeks leading up to the non-waiver trade deadline. The Royals were able to nab Cincinnati's No. 12 and No. 27 prospects (per Baseball America) in exchange for a few months of Jonathan Broxton last season. Broxton had better superficial stats at the time, but a prospect in the middle of a team's Top 30 doesn't seem out of the question for Veras.
Photo courtesy of USA Today Sports Images.