Outfielder Nate Schierholtz is in the midst of a career season in Chicago, and as with every Cubs veteran playing well, he easily could be dealt before the end of the month. The Cubs have already traded his platoon-mate, Scott Hairston, to the Nationals, and the Cubs figure to at least explore the possibility of trading Schierholtz as well.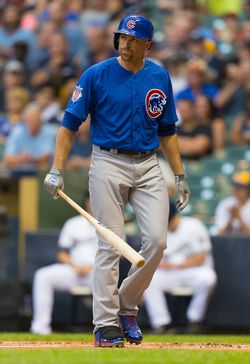 As Ken Rosenthal of FOX Sports recently noted, the Cubs control Schierholtz's rights through 2014 — the Phillies non-tendered him following the 2012 season with two years of arbitration eligibility remaining, so he still has a year of team control left after this year. Schierholtz is also only making $2.25MM in 2012, so his price in arbitration won't be exorbitant. That means the Cubs don't need to trade him. But it also makes Schierholtz a very attractive trade target right now, particularly in a season in which he's hitting .275/.330/.510.
Also, David DeJesus is currently on the disabled list, and the Cubs control DeJesus' services for 2014 as well. That means DeJesus isn't likely to be traded, and knowing he's likely to stick around may make the Cubs more inclined to deal their other lefty-hitting veteran outfielder.
Schierholtz doesn't really play center field, but he provides reasonably strong defense in a corner. He isn't a typical 30-homer masher, but he does have some power. He doesn't steal many bases, but he's an average, or maybe slightly-above-average baserunner. Dave Cameron at FanGraphs correctly labels Schierholtz a tweener. Schierholtz doesn't have enough of any one skill to be a slugger, or an archetypal leadoff man. The flipside, though, is that there isn't much he does badly, and as a result, he can help both defensively and offensively, particularly when he's platooned. (He has just 31 plate appearances against lefties this year.)
The Cubs should be able to get a solid prospect return for Schierholtz, both because he's playing very well and because his salary won't be an obstacle. The Pirates (whose fans Schierholtz might remind of Nate McLouth, and not just because of his first name) would be an obvious fit. Travis Snider has played horribly in an extended audition in right, and while Jose Tabata has played well recently in Snider's place, Tabata and Schierholtz would fit together nicely in a platoon. The Rangers might also be a possibility, although they would likely prefer a right-handed hitter. Contenders with more stable outfields also might show interest in Schierholtz, since he would be very useful as a fourth outfielder.
Photo courtesy of USA Today Sports Images.