Kendrys Morales is one of the 15 best hitters on the free agent market this offseason.  And among proven middle of the order hitters on the market, only Morales can boast of playing the 2014 season at age 30.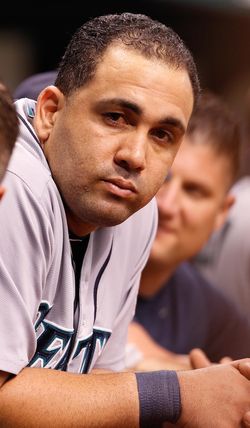 Strengths/Pros
Offensively, Morales doesn't stand out in any one aspect, but he doesn't have any major holes either.  He owns a .280 career average, .275 over the last two seasons.  He doesn't strike out a ton like Mike Napoli, and he's shown acceptable power unlike Justin Morneau or James Loney have in recent years.  Morales tied Napoli with 23 home runs in 2013, sixth among all free agents.  His power has been consistent since becoming a full-timer in '09, with a slugging percentage that never dipped below .449 and isolated power of .171 or better.
A switch-hitter, Morales doesn't have an extreme platoon split.  Over the last two years, he's hitting .269/.338/.448 against lefties and .278/.326/.460 against righties.
Morales has one particularly impressive offensive season to his credit, as he hit .306/.355/.569 with 34 home runs and 108 runs batted in in 2009 and finished fifth in the AL MVP voting.
Morales has youth on his side, having turned 30 in June.  He's younger than Napoli, Robinson Cano, Curtis Granderson, Carlos Beltran, Marlon Byrd, Shin-Soo Choo, and Nelson Cruz.  The only younger free agent bat is Jacoby Ellsbury, who is viewed as a leadoff hitter and isn't in the same price bracket.
Weaknesses/Cons
Morales has a .275/.329/.457 batting line since 2012.  His OBP is slightly below-average for a first baseman or designated hitter, and his power production has been about average.  Agent Scott Boras blames the Mariners' home park, telling Geoff Baker of the Seattle Times in August, "A 20-homer season in Safeco is like a 30-homer season somewhere else."  I'm not sure if Boras was literally suggesting Morales' park cost him ten home runs.  I spoke to Dave Cameron of FanGraphs and U.S.S. Mariner, who suggested it would be more likely for the park to have cost Morales one or two home runs in 2013, especially with the fences having been moved in this year.  Furthermore, Morales actually hit for more power at Safeco than on the road in 2013.
Morales provides no value defensively and is likely limited to American League teams with an opening at the designated hitter spot.  He played 28 games at first base in 2012 and 31 in 2013, serving as DH the majority of the time.  An inability to play the field regularly sets the bar extra-high for offense, which is part of the reason Morales was valued by FanGraphs at just 1.7 wins above replacement in 2012 and 1.2 in 2013.  Among free agent position players this year, Morales' WAR isn't in the top 20.  Fangraphs' WAR pegs him as a $6-8MM player, yet the price tag will surely be higher.
Morales is one of the slowest players in baseball.  He cost the Mariners 5.5 runs on the basepaths in 2013, sixth-worst in the game.  Even in his standout 2009 season, he was the worst baserunner in MLB.
Morales' career took a major turn on May 29th, 2010.  He hit a walkoff grand slam against Brandon League, fracturing his ankle and lower tibia in his celebratory leap onto home plate.  His recovery required two surgical procedures, and he didn't return until the beginning of the 2012 season.  Morales seems fully recovered now, having played 134 games in 2012 and 156 in 2013.
In early October, Mariners GM Jack Zdurenick said his team will definitely make Morales a qualifying offer, which is worth $14.1MM for 2014.  A week later, Jon Heyman of CBS Sports wrote that Morales will turn down that offer.  
Personal
Morales played for the Cuban national team as a teenager, and successfully defected in 2004 at age 20 after more than ten failed attempts.  He drew interest from teams such as the Mets, Marlins, Indians, and Rangers before landing with the Angels.  Morales told Jorge L. Ortiz of USA Today in 2009 he found the culture shock jarring, but became used to the lifestyle change.  In that article, which I should stress is four years old, Ortiz notes that Morales was hesitant to speak English and had limited but friendly communication with non-Spanish-speaking teammates.  More recently, I've heard that Morales leads by example in the clubhouse and gets along well with teammates.  Ortiz also mentions in the article that Morales is an only child who lost his father early in his life.  He is married and has three children.
Market
The Mariners expressed interest in extending Morales before the trade deadline, according to Ken Rosenthal of FOX Sports, who says the team "balked at contract figures suggested by Boras and never made the player a formal offer."  "I would love to bring Kendrys back," Zduriencik said on ESPN 710's Bob and Groz show in early October.  Since the Mariners already consider Morales a $14MM player, they seem the team most likely to meet Boras' demands.
As a good player and not a great one, Morales' market could be hurt greatly with the draft pick cost attached.  Team like the Rangers and Orioles won't be keen on losing their first-round pick to sign Morales, while a club like the Twins may not even want to surrender their second-rounder.  Perhaps Boras will attempt to piggyback onto another free agent, aiming for a team that already lost a draft pick, as happened with Boras, the Indians, and Michael Bourn last winter.
Since pure designated hitters are rare in general, Morales' competition in terms of bat-only players is light, with names like Ibanez and Luke Scott.  If we include first basemen, players such as Mike Napoli, Morneau, Loney, Mike Morse, and Corey Hart enter the mix.
Expected Contract
Boras will likely set out seeking a four-year contract for Morales, aiming high as a starting point.  Contracts given to Cody Ross, Michael Cuddyer, and Josh Willingham the past two offseasons lend credence to the possibility of a three-year contract for Morales, though none of them were as far down the path toward full-blown DH nor did the signing teams lose a draft pick.  The best comparable might be Adam LaRoche, who was tied to draft pick compensation last offseason and was unable to get a third year.  Ultimately I think Morales will beat LaRoche's contract and sign a two-year, $28MM deal with a third-year vesting option.
Photo courtesy of USA Today Sports Images.