9:09pm: In an email, Speier clarifies that Youkilis will receive a $2MM signing bonus, $2MM in salary and up to $1MM in incentives.
3:26pm: Youkilis will earn a $4MM base salary, and his contract also contains $1MM worth of "very earnable" incentives, reports Alex Speier of WEEI.com. ESPN's Jerry Crasnick reports, via Twitter, that Youkilis' plan is to play for just one more season.
1:13pm: The Rakuten Golden Eagles will sign Kevin Youkilis, according to a report from Nikkan Sports (passed along by NPB Tracker's Patrick Newman on Twitter). MLBTR has confirmed the report with Youkilis' agent Joe Bick of Pro Star Management, Inc.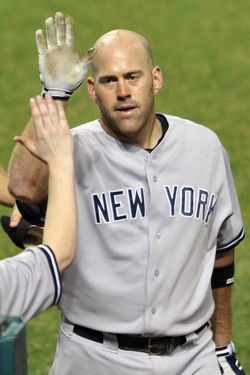 Youkilis will sign a one-year deal with the Golden Eagles. Though previous reports indicated that he wanted to play close to his California home, Bick explained to MLBTR that his client's West Coast preference was in order to be near to his family. Youkilis' wife and children will be going with him to Japan, however, which was a key factor in his decision. Youkilis considered the opportunity to play in Japan a "life experience that was too good to pass up," said Bick.
Youkilis, who turns 35 in March, inked a one-year, $12MM contract with the Yankees last offseason but saw his 2013 campaign cut short by a pair of back injuries. He would appear in just 28 games for the Yankees, batting .219/.305/.343 with a pair of homers before undergoing season-ending back surgery in June. A three-time All-Star that finished third in the AL MVP voting back in 2008, Youkilis was one of the American League's best hitters from 2007-11 when he batted .294/.395/.517 over a five-year span.
Youkilis could appear at either corner position for the Golden Eagles, who now have a vacancy at third base following Casey McGehee's decision to return to Major League Baseball on a one-year deal with the Marlins. That situation was not necessarily linked to Rakuten's interest in Youkilis, however, as the two sides have been in discussions for roughly three weeks. Youkilis received interest from eight or nine Major League clubs, but ultimately elected to be with his family for a new experience in Japan.
Photo courtesy of USA Today Sports Images.