As I mentioned in my opt-out feature article last week, five players have used an opt-out to secure a new contract or extension: Alex Rodriguez, J.D. Drew, A.J. Burnett, C.C. Sabathia, and Rafael Soriano. A-Rod and Sabathia stayed with the Yankees, with Sabathia getting a year added to his contract just before the point of opting out.  Drew, Burnett, and Soriano signed with new teams.
One negative often associated with opt-out clauses is that if a player has two or three good years, he'll just opt out and his former team will miss out.  But what if the five players above had not opted out?  Would their teams have come out ahead? 
For this exercise, we'll use FanGraphs' dollar valuations, which were explained here by Dave Cameron.  My definition of an opt-out clause is a provision where the player can become a free agent midway through a multiyear deal, at a point where he has multiple guaranteed years remaining.
Alex Rodriguez: Opted out of 2008-10 seasons, for which the Yankees would have paid him $72MM.  A-Rod produced 13.7 WAR during that time, which was worth $60.1MM.  He was a very good player from 2008-10, averaging about 4.6 WAR per year, but he didn't provide great value for the price.
J.D. Drew: Opted out of 2007-09 seasons, for which the Dodgers would have paid him $33MM.  Drew produced 10.5 WAR during that time, which was worth $46.8MM.  This opt out hurts in that regard, though the Dodgers paid $22MM for Drew's 6.8 WAR in 2005-06, which is valued at $24.2MM.  While it would have been excellent value to have Drew for the duration of his five-year, $55MM contract, the Dodgers didn't do poorly in getting the first two years.
A.J. Burnett: Opted out of 2009-10 seasons, for which the Blue Jays would have paid him $24MM.  He was worth 4.3 WAR during that time, valued at $19.2MM.  The Jays wound up paying $31MM for 10.7 WAR from 2006-08, which is valued at $45.2MM.  As former Blue Jays GM J.P. Ricciardi put it in our interview, "We put the opt-out in there and in all honesty, it ended up working out great for us."
C.C. Sabathia: Would have opted out of 2012-15 seasons, for which the Yankees owed him $92MM.  Sabathia's 7.3 WAR from 2012-13 was worth $34.3MM, and it's difficult to picture him producing $57.7MM worth of value for his age 33-34 seasons.  Had the Yankees allowed Sabathia to opt out and leave after 2011, they would have missed out on a strong 2012 season.  Still, the case can be made that they should have let him go after paying $69MM for 17.5 WAR from 2009-11, which is valued at $76.8MM. 
Rafael Soriano: Opted out of 2013 season, for which the Yankees owed him $14MM.  I'm not a big fan of using WAR to evaluate reliever salaries, but I am comfortable saying Soriano's 2013 season was nothing special and not worth his salary.  I should note that Soriano's post-2012 opt-out doesn't fit neatly into our definition of the clause — with one year left at that point, it resembled a player option, which is more common. 
Take a look at the following table, which shows each player's age in the season immediately following his opt-out: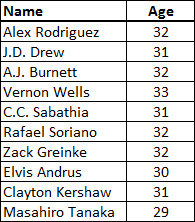 Of the ten opt-out clauses in baseball history, only Tanaka could opt out and sign a new contract that begins on the right side of 30.  Even Kershaw could be mortal by his age 31 season.  With an average age of 31 after the opt out, it's not surprising that with four of the five opt-outs that have been employed, the team was better off losing the player and the back end of his original contract.