The calendar will turn to March soon, but our #6, #14, and #28-ranked free agents remain unsigned.  The primary factor in the delay for Ervin Santana, Stephen Drew, and Kendrys Morales is that signing any one of them requires the new team to forfeit its highest unprotected draft pick and its associated bonus pool money, because these players were among 13 to turn down a one-year, $14.1MM qualifying offer in November.  Earlier draft picks are more valuable, of course, so let's take a look at the pick each team would have to forfeit to sign one of these three free agents.  The 2013 slot value for each pick is also provided; those numbers will increase for 2014.  2014 draft order information comes courtesy of River Ave. Blues.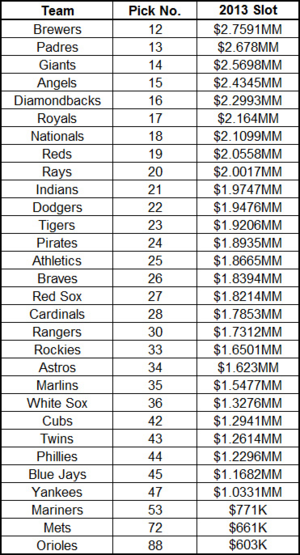 As many have pointed out, the current system provides a major incentive for teams to sign multiple compensation free agents.  Now that the Orioles have surrendered their #17 pick for Ubaldo Jimenez and their #52 pick for Nelson Cruz, they could sign Santana, Drew, or Morales with the smallest draft pick cost of any team.  In theory, teams at the bottom of this chart should be willing to offer at least several million more than a team near the top, assuming a desire and need for one of the three free agents.  It's why Drew makes so much sense for the Mets.
These three free agents have a good reason not to sign a one-year deal right now, with the season less than a month away, even though Cruz did so recently.  As Ken Rosenthal of FOX Sports recently pointed out, a player must be with his team for the entire season to receive a qualifying offer.  Santana could sign a one-year worth $15MM or so and make it official on March 22nd, and not have to worry about being saddled with another qualifying offer after 2014.  On the other hand, losing the ability to make a qualifying offer lowers his value to the signing team, to some degree.
If any of the three compensation free agents is willing to wait until June 5th to sign, the draft pick compensation issue goes away and the players can be signed without forfeiture of a pick.  The old teams, the Royals, Red Sox, and Mariners, would not gain a supplemental round pick in that scenario.  If those teams perceive that threat to be real, it provides an incentive for them to explore deals to bring back Santana, Drew, and Morales, respectively.