The Cubs added flippable veteran arms, assembled a center field platoon, and brought in a new backup catcher.     
Major League Signings
Jason Hammel, SP: one year, $6MM.
Jose Veras, RP: one year, $4MM.  $5.5MM club option for 2015 with a $150K buyout.
Ryan Sweeney, OF: two years, $3.5MM.  $2.5MM club option for 2016 with a $500K buyout.
Wesley Wright, RP: one year, $1.425MM.  Under team control for 2015 as an arbitration eligible player.
James McDonald, SP: one year, $1MM.  Under team control for 2015 as an arbitration eligible player.
Total spend: $15.925MM.
Notable Minor League Signings
Trades and Claims
Notable Losses
Needs Addressed
In an alternate universe, the Cubs' 2013-14 offseason could have been very exciting.  They fired manager Dale Sveum in late September, and for about a week there was talk of a big-money run at Joe Girardi, who would have marked a return to the team's "name" managers.  Instead, Girardi re-upped with the Yankees.  The Cubs interviewed A.J. Hinch, Manny Acta, Dave Martinez, Eric Wedge, and Brad Ausmus for their managerial position but ended up hiring someone less famous than any of them in former big league infielder Rick Renteria.  Renteria has no MLB managing experience, but did manage eight seasons in the Marlins' and Padres' farm systems before becoming a Padres bench coach.  The Cubs would probably admit they missed the mark on Sveum, making Renteria the fourth Cubs manager in the last five years.  He signed a three-year deal with two options, and hopefully the Cubs will be satisfied with his handling of young players and find managerial stability.
Having traded Matt Garza and Scott Feldman during the 2013 season, the Cubs were in need of veteran rotation depth for 2014.  They decided not to revisit the Scott Baker idea, letting him walk as a free agent.  Though last summer's Feldman trade netted a rotation candidate in the form of Arrieta, he encountered shoulder tightness in the offseason.
Cubs president Theo Epstein and GM Jed Hoyer have been on the job for three offseasons now, and Hammel is their fourth potential sign-and-flip starting pitcher.  The key return in the Paul Maholm deal, Arodys Vizcaino, is still trying to come back from the Tommy John procedure he had two full years ago.  He could still become an impact reliever, according to Baseball America, which ranked him tenth among Cubs prospects.  Feldman brought Arrieta and reliever Pedro Strop from the Orioles last summer, as well as international bonus pool slots 3 and 4.  The Cubs ultimately went nearly 50% over their international bonus pool, so the slots acquired from Baltimore can be considered nothing more than $58K in overage tax savings.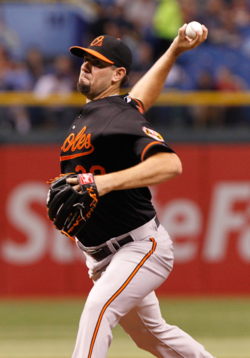 Having gotten nothing in return for Baker, the Cubs spent close than $12MM in salary on the three flipped starters.  Vizcaino, Arrieta, and Strop are all under team control through 2017, and if the Cubs walk away with multiple seasons of solid cheap relief work, the whole thing was worthwhile, if not spectacular.
When McDonald posted a 3.56 ERA in his first 331 innings with the Pirates, it looked as though they had found something in their 2010 trade with the Dodgers.  The wheels fell off in July 2012, however, and he posted a 6.28 ERA in 104 2/3 frames thereafter, plus time spent in the minors on 2013.  A shoulder injury surfaced in May last year, and by September, McDonald was a free agent.  There's no telling whether the Cubs can get him back to usefulness, but they didn't risk much to try.
The Cubs stumbled into a reunion with Kevin Gregg last year, and although they didn't manage to flip the closer in a trade, he did provide a few months of stability at the back end of their bullpen.  Veras, 33, was signed in December 2012 to be the Astros' closer and was quite good at the job in 43 innings.  The Astros flipped Veras to the Tigers for a pair of far-off prospects in Danry Vasquez and David Paulino, and it stands to reason the Cubs will consider doing the same with Veras if he succeeds in the first half.  Veras apparently wasn't the Cubs' first or only choice in right-handed relief this offseason, as reports linked them to Edward Mujica, John Axford, Joba Chamberlain, and Jesse Crain. 
The Cubs signed Wesley Wright to an affordable deal to bolster their left-handed relief.  In a world where Boone Logan, Javier Lopez, and J.P. Howell garner eight-figure commitments and even a 38-year-old Scott Downs costs $4MM, the $1.425MM commitment to Wright has a chance to return profit.  The Cubs also took some long shots in this area, signing Jonathan Sanchez, Tsuyoshi Wada, and Tommy Hottovy to minor league deals.
Catcher Dioner Navarro wound up signing a two-year, $8MM free agent deal with Toronto on the strength of 266 strong plate appearances with the 2013 Cubs.  With Welington Castillo's solid play, the Cubs had no need to pony up to retain Navarro, who they had signed as a backup for $1.75MM.  I am curious as to whether the Cubs received any decent offers on Navarro during the summer, however.  Regardless, they acquired three reasonable options to back up Castillo this year in Kottaras, Baker, and Whiteside, the last two on minor league deals.  The Cubs reportedly had looked into a more established backup in Kurt Suzuki.  However, the walk-happy Kottaras, a former Epstein acquisition for the Red Sox, will caddy for Castillo to start the season.  
Junior Lake, 24 later this month, hit a respectable .284/.332/.428 in 254 plate appearances for the Cubs last year while learning to play left field.  While the Cubs might be happy to see Lake establish himself as a second-division regular, their entire current outfield seems comprised of placeholders for Albert Almora, Jorge Soler, and perhaps Kris Bryant if he moves off third base.  Schierholtz endured some trade talk but is back as the Cubs' right fielder against right-handed pitching for his walk year.  Ryan Sweeney could take a similar platoon role as the team's primary center fielder, though in last year's limited sample the left-handed hitter handled same-side pitching well.  Kudos to the Cubs for re-signing Sweeney for just $3.5MM plus a club option in October, before the market for good fourth outfielder types was established at two years and $10-12MM by Rajai Davis, David DeJesus, Nate McLouth, and David Murphy.
The Cubs reached out to Chris Young early in the offseason, but he ended up signing a one-year, $7.25MM deal with the Mets.  Plan B for a right-handed hitting outfielder in Young's mold appears to have been Justin Ruggiano, who Hoyer described as "a better fit for our roster" than Bogusevic.  Ruggiano, a power/speed guy, has hit .270/.347/.544 in 305 plate appearances against southpaws over the last three years and will likely spell Schierholtz and Sweeney.
Questions Remaining
The Cubs' biggest question mark is the future of 29-year-old righty Jeff Samardzija, their nominal ace.  With two years of team control remaining, the Cubs have tried to extend him but have found a gap between the valuations of each side.  Rather than further reset the extension market and give Samardzija a $100MM deal, the Cubs explored trades this offseason.  The Diamondbacks, Nationals, Blue Jays, Orioles, Yankees, and Braves were among the reported suitors, but by the Winter Meetings the trade barometer had gone from likely to unlikely.  On December 11th, Bob Elliott of the Toronto Sun wrote that the Cubs wanted Aaron Sanchez, Marcus Stroman, and a third player from the Blue Jays.  Prospect gurus suggest Sanchez is around the 30th best prospect in the game, and Stroman around the 60th.  
Though teams are rightfully veering well away from ERA in decision-making, Samardzija's marks of 4.34 last year and 5.47 in the season's final three months certainly don't help his trade value.  Though a third of Samardzija's team control will have evaporated by the trade deadline and the pitcher finds an extension with a new team unlikely, the Cubs are gambling he can raise his stock with a big first half in 2014 (barring a surprise trade this month).
The Cubs wound up adding Hammel and McDonald, though they were thinking much bigger with a pursuit of the offseason's top prize, Masahiro Tanaka.  The Japanese ace signed a seven-year, $155MM deal with the Yankees with an opt-out clause after the fourth year, and required a $20MM release fee as well.  If speculation as to the Cubs' six-year, $120MM offer with no opt-out clause is accurate, then the Yankees were offering nearly 11% more in AAV, an extra year, and the extremely valuable opt-out.  That suggests the Cubs were not close on Tanaka.  Of the ten MLB contracts signed with true opt-out clauses, only Tanaka's allows for the player to join a new team before age 30.  The Cubs will compete in 2015 if we're being optimistic.  Burning his first year on a rebuilding season could be acceptable as part of a six-year deal, but potentially paying Tanaka $108MM for the next four years didn't work for this team.  The Cubs had also been an early offseason speculative suitor for David Price, whose two-year window of control and huge prospect cost also fit poorly for the Cubs unless they had reason to expect a below-market extension.
The Cubs' bid for Tanaka and speculative connection to Price stems from the question of who their future mound ace will be when all of their hitting prospects reach the Majors, especially if Samardzija is not extended or does not take the next step.  Slender but well-regarded prospect C.J. Edwards could become that ace, and maybe the Cubs will take a close-to-the-Majors pitcher with their fourth overall pick in the June draft.  Though Bryant projects as a future All-Star, perhaps Jonathan Gray would have been a better pick for the Cubs with their #2 overall choice in the last draft.  There's a good chance the Cubs' next ace pitcher will have to come from outside the organization.
The Cubs also face questions at every infield position.  First baseman Anthony Rizzo is signed through 2019, but hasn't hit lefties in his big league career and batted .217/.325/.374 from June onward last season. 27-year-old power righty Andrew Cashner, who the Cubs sent to the Padres for Rizzo, has developed into a more valuable pitcher than anyone in the Cubs' current rotation.  Second baseman Darwin Barney didn't hit enough in 2013 to justify regular playing time, and figures to be challenged by prospects this year.  Shortstop Starlin Castro, signed through 2019, was surprisingly below replacement level last season.  A lawsuit with a baseball school in the Dominican may have affected his play, but he'll be pushed by top prospect Javier Baez in 2014.  The Cubs' ragtag group of third basemen showed surprising pop last year, and they have good organizational depth beyond stopgap veterans Luis Valbuena and Donnie Murphy.
Deal of Note
The Cubs made a run at Roberto Hernandez during the Winter Meetings, but wound up reaching an agreement with Hammel in late January.  The 31-year-old Hammel had surprised with a strong partial season in 2012 with the Orioles, bumping his average fastball velocity to almost 94 miles per hour and posting career-best strikeout and groundball rates.  Hammel earned the Orioles' Opening Day nod but came back to Earth in 2013, posting a 4.97 ERA and hitting the DL with inflammation around the ulnar nerve in his elbow.  If both Hammel and Samardzija are dealt this summer, it will mark the third consecutive season of the Cubs trading 40% of their rotation.
Overview
After a new front office came in and on punted on their first two seasons, the Cubs have assembled the fourth-best farm system in baseball, according to ESPN's Keith Law as well as Baseball America.  Ideally, 2014 will be the team's final consolidation year before contending.  If you think about it, three concession seasons in a market of this size is remarkable, the Mets notwithstanding.  After this year, Epstein will have only two years left on his contract and even the Cubs' fanbase will start getting antsy.
The Cubs certainly tried to make some big statements this offseason.  Imagine how the conversation would have changed had they hired Girardi, extended Samardzija, and signed Tanaka.  The big moves didn't materialize, leaving Epstein and company with money kept in reserve for the first time.  In the bigger picture, the Cubs seem to be holding off on embracing their status as a large market team until their $500MM Wrigley Field renovation project begins, potentially after this season if the dispute with rooftop owners can be resolved.  Brighter times are ahead, but until then the world's most patient fanbase continues to be tested.  
Photo courtesy of USA Today Sports Images.