Between keeping David Price and preparing to spend a franchise-record high in payroll, the Rays are going all-in on challenging for a pennant in 2014.
Major League Signings
James Loney, 1B: Three years, $21MM.
Grant Balfour, RHP: Two years, $12MM.
Jose Molina, C: Two years, $4.5MM.
Ben Zobrist, 2B/SS/RF: One year, $7MM (club option exercised).
Yunel Escobar, SS: One year, $5MM (club option exercised).
Juan Carlos Oviedo, RHP: One year, $1.5MM.
Total spend: $51MM
Notable Minor League Signings
Trades and Claims
Extensions
Ryan Hanigan, C: Three years, $10.75MM ($3.75MM club option for 2017 with an $0.8MM buyout).
David DeJesus, OF: Two years, $10.5MM ($5MM club option for 2016 with a $1MM buyout).
Notable Losses
Fernando Rodney, Kelly Johnson, Roberto Hernandez, Jesse Crain, Delmon Young, Alex Torres, Jose Lobaton, Luke Scott, Chris Gimenez, Sam Fuld, Wesley Wright
Needs Addressed
It's not exactly Dodgers/Yankees territory, but for the Rays, their 2013-14 offseason counts as a major financial splurge.  Between their commitments to pre-arbitration players and the approximately $71.64MM committed to 18 players, Tampa Bay will be spending over $80MM on payroll next season, the highest in franchise history (thanks to Cot's Baseball Contracts for the info).  Executive VP of baseball operations Andrew Friedman openly admitted that this type of payroll was "certainly not a sustainable number in terms of where we are revenue-wise" in early January, and that was even before the Rays added Grant Balfour on a two-year, $12MM contract.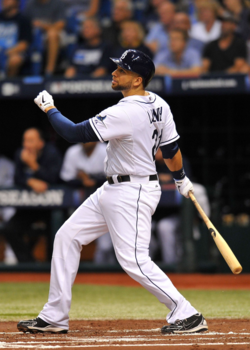 And yet, as Friedman noted, "we felt like we had a really good chance to be great next year, that's why we're doing what we're doing."  While you can count on the Rays trimming back the payroll next offseason, right now they're willing to take a one-year financial hit in order to chase a World Series, and Friedman has assembled a club that stands as one of the favorites to win it all in October.
The first hint that this could be a more expensive winter than usual for Tampa Bay came when the team somewhat surprisingly picked up David DeJesus' $6.5MM option for 2014, and then converted that deal into a two-year, $10.5MM contract with a 2016 option.  Keeping DeJesus on an eight-figure deal seemed like a curious move given that the Rays already had Matt Joyce as a left-handed hitting outfield option.  Joyce's name was floated on the trade market over the winter but ultimately kept in the fold, so between he and DeJesus, the Rays will have the left field and DH spots covered whenever they face a right-handed starter. 
The Rays also added a right-handed bench bat in Logan Forsythe, who was the most experienced piece of a five-player package acquired in a late-January trade with San Diego.  Forsythe and minor league signings Jayson Nix and Wilson Betemit all fit the Rays' penchant of acquiring versatile bench players, and since Forsythe is only 27 and has some strong minor league numbers to his name, he's a player that could earn a bigger role with the club in the future.  The starting middle infield combo of Ben Zobrist and Yunel Escobar had their options exercised for 2014, and the Rays also have options on both veterans for 2015.
Left-hander Alex Torres was sent to the Padres in the Forsythe trade, a loss that Friedman explained was tolerable since the Rays already have southpaws Jake McGee and Cesar Ramos in the bullpen.  The relief corps saw some major turnover in the offseason, with Fernando Rodney, Wesley Wright and Jesse Crain (who never actually threw a pitch as a Ray) leaving and Balfour, minor league signing Mark Lowe and Heath Bell all coming into the fold.  Juan Carlos Oviedo also re-signed with the Rays for a guaranteed $1.5MM after they declined his $2MM option for 2014.
Bell and Ryan Hanigan came aboard in the Rays' biggest move of the offseason, a three-team deal with the Diamondbacks and Reds.  Tampa Bay gave up two minor prospects in order to acquire what they hope will be their everyday catcher and to take $4.5MM of Bell's salary off the Diamondbacks' hands.  Bell could also much more than just a salary dump, given that he posted a 2.71 SIERA and 3.08 xFIP in 65 2/3 IP last season, though a .337 BABIP and an 18.5% home run rate boosted Bell's ERA to a (still not bad) 4.11 ERA.
Hanigan became expendable in Cincinnati when the Reds signed Brayan Pena, and the Rays moved quickly to lock Hanigan up to a three-year extension following the trade.  He is known for being an excellent defensive catcher in terms of pitch-framing and throwing out would-be base-stealers, but he also posted a .275/.370/.360 slash line over 1320 PA from 2006-12 before slumping to a .567 OPS in 2013 that may have been caused by a .216 BABIP.
Since the Rays brought back veteran Jose Molina, they had a surplus of their own at catcher that was addressed when Jose Lobaton and two High-A prospects were traded to the Nationals for right-hander Nate Karns.  The 26-year-old Karns brings yet another live arm to Tampa's organization, as he has a career 2.66 ERA, 2.83 K/BB and 10.5 K/9 through 304 minor league innings, though the 2014 Baseball America Prospect Handbook (which ranked him the ninth-best prospect in Washington's system) believe he projects as a future setup man unless he improves his command and adds a third pitch beyond his "91-95 mph power sinker" and "wipeout hammer curveball, which ranges from 82-85 mph."
After hitting on Casey Kotchman in 2010 and missing on Carlos Pena in 2011, the Rays struck paydirt on another short-term first base reclamation project when James Loney revived his career with a 2.7-WAR season.  The Rays checked out the market for other first basemen, including discussing a trade for Ike Davis with the Mets, before sticking with the familiar option and re-signing Loney to a three-year, $21MM contract (their largest free agent commitment ever), beating out similar offers from the Pirates, Brewers and Astros.
Questions Remaining
The Rays could use a more proven right-handed bench bat than their current selection of Forsythe, Betemit, Nix and Sean Rodriguez, though Forsythe has a solid .290/.363/.430 slash line in 249 career PA against lefty pitching.  Zobrist's power numbers took a drop last season, though he improved his contact rate.  Fifth starter Jeremy Hellickson will miss up to two months of the season after undergoing arthroscopic elbow surgery, though the Rays have Jake Odorizzi, minor league signing Erik Bedard and Ramos as fill-in options.
If these seem like nit-picking problems, you're right, as there isn't much left to question about a very talented Tampa Bay squad.  It's easy to see why Friedman and principal owner Stuart Sternberg were inspired to spend some extra money this winter in order to patch up the few holes remaining in the roster — this may be the deepest and most versatile group of players in Rays history, which gives manager Joe Maddon even more opportunity to squeeze the most out of his club.
This feeling that the Rays were so close to a possible championship may be one of the reasons why Price is still in Tampa.  When the offseason began, it seemed as if a Price trade was almost inevitable, as dealing their ace with two years of remaining control would maximize the Rays' return.  This is just my speculation, but it's possible that some of the Rays' more expensive moves from earlier in the offseason (i.e. DeJesus' extension, Hanigan's extension, taking on Bell's salary) were made with the expectation that Price's salary would be off the books for 2014 and 2015.
Teams such as the Rangers, Dodgers, Mariners, Giants, Blue Jays and Diamondbacks at least checked in on what it would take to obtain Price, though no serious trade rumors ever seemed to develop.  As the offseason hit January, opinions began to shift that the Rays would now keep Price through 2014, or at least until the trade deadline if the team struggled.  Price himself thought Masahiro Tanaka's late posting may have been a factor, as interested suitors like the Dodgers and D'Backs spent much of their offseason in pursuit of the Japanese right-hander rather than negotiating a deal with Friedman.    
Why didn't a Price trade materialize?  The simple answer is that Friedman didn't find an offer that met the high standard he required to move his best starting pitcher.  Friedman's ideal trade package included both blue-chip prospects for the future and quality everyday players who could help the Rays in 2014; that's a very high price tag (no pun intended) for any team to meet.  The Rays managed such a trick once when they dealt James Shields to the Royals, but since moving Price would further deplete the Rays' pitching staff, Friedman was likely looking for even more for Price than he received for Shields.
You could hardly call it a disappointment for the Rays that no trade partner emerged, as having Price atop the rotation is not exactly a burden, plus Friedman can always explore a deal next winter.  He'll get less of a return for just one year of Price's services, but that's a sacrifice Friedman would happily make if Price's presence helps the Rays to a World Series.
Deal Of Note
Between Rodney and Kyle Farnsworth, the Rays have had great success over the last few years at creating star closers out of cheap relief signings.  This season, however, Tampa Bay eschewed the low-cost veteran route and replaced Rodney by spending $12MM to sign Balfour.  It was a reasonable price for a free agent closer in this year's market, and $2MM less than the Mariners paid to sign Rodney.
The problem with paying extra for a closer, of course, is that if the closer struggles or gets injured, that loss hurts a small-market team even harder.  Balfour's health became a question mark when the Orioles walked away from a two-year, $15MM agreement with the closer due to concerns about his knee and wrist.  Since Balfour passed his Rays physical and the O's also nixed an agreement with Tyler Colvin over a physical, it could be that Baltimore is just particularly cautious and Balfour is fine.  Still, Balfour's recent dead arm issue during Spring Training undoubtedly caused some concern for Rays fans, even though Balfour is back throwing with no apparent problem.
If the Rays were ever going to sign a closer to an eight-figure deal, however, Balfour is a good fit.  He is both a known quantity to the Rays (having pitched for the club from 2007-10) and he's been one of the better relievers in baseball in recent years, amassing a 2.47 ERA, 9.2 K/9 and 2.82 K/BB rate over 254 2/3 IP from 2010-13 and posting an incredible 2.9 rWAR performance as a setup man in 2008.  It's a track record that comes at a price for the Rays, but Balfour's history indicates he'll be worth it.
Overview
The Rays are no strangers to the postseason, and since most of their young core is controlled, it isn't like 2014 will be the last time the Rays are ever in the playoff hunt.  Nonetheless, this year seems like it carries extra weight for Tampa given their added payroll and their closing window with Price, as a long-term extension for the ace left-hander still seems quite unlikely. 
In my Rays Offseason Outlook piece from October, I wrote that "Friedman needs the return on the Price trade to keep the Rays afloat for championship runs for the rest of the decade."  One could argue that Friedman hurt the 2019 or 2020 Rays by not dealing Price at the best possible time, but then again, if Friedman couldn't find a deal to his liking, maybe this past offseason wasn't that ideal time.
Since the Rays are putting such a focus on this season, could we see Tampa Bay acquire a high-priced contract at the trade deadline if Friedman feels it's the last piece of the puzzle?  As Sternberg recently said, "this year's the exception….we want to give this organization and teams like this a chance to compete and win. And we know that it's going to cost us more than we can afford."  While the Rays' expenditures are still very much on the modest side, Sternberg's words have to be music to Tampa Bay fans' ears.
Photo courtesy of Steve Mitchell/USA Today Sports Images