Ervin Santana's 2013-14 offseason did not go as planned following a strong 2013 campaign.  After spending all winter searching for a strong multiyear deal, he settled for a one-year deal with the Braves in March matching the qualifying offer amount of $14.1MM.  Turning down a qualifying offer from the Royals was considered a major factor in Santana's disappointing market, as teams did not want to pay full price while surrendering a draft pick.  Now, after another solid season, Santana must navigate the free agent market again, potentially with another qualifying offer.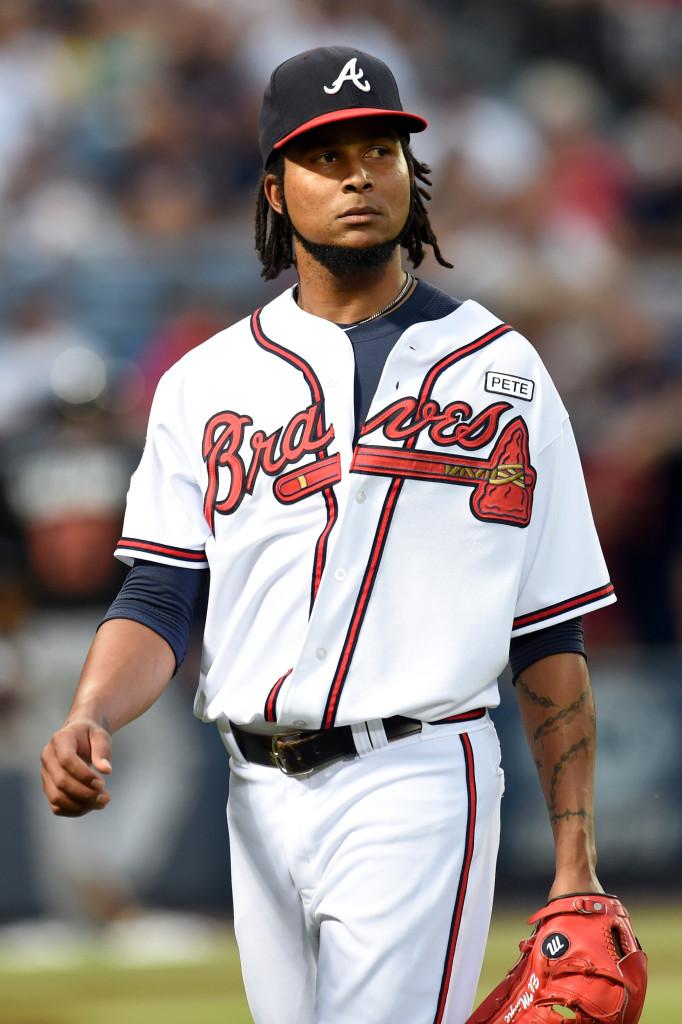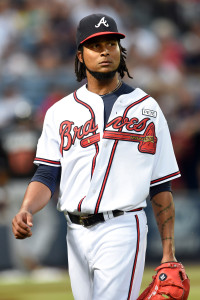 Strengths/Pros
Santana missed over a month in 2009 with a UCL sprain in his pitching elbow, but his agents presented teams with a statement from Dr. James Andrews last offseason in which the surgeon noted, "He doesn't need any further treatment for his right elbow partial UCL tear, as on (the) MRI today it appears that it has completely healed."
Santana had another healthy season despite signing late, and it might be enough to put the elbow concern to rest.  In fact, he's been quite durable, making at least 30 starts in each of the past five seasons and posted a sub-4.00 ERA in four of those campaigns.  Though his first big league start didn't come until April 9th, Santana still ranked 11th among free agent starters with 196 innings.  Santana's average of 6.32 innings per start ranked fifth among free agents.
Santana struck out 8.2 batters per nine innings in 2014, his best mark since 2008. That ranks fourth among free agent starters.   Some of that can be attributed to moving to the National League and striking out pitchers, though Santana also increased his strikeout rate against non-pitchers.  And despite a reputation as being fairly homer-prone, Santana allowed only 0.73 HR/9, fifth among free agent starters.
Santana's 3.63 SIERA bettered his 3.95 ERA, and the skill-based estimate might be a better way to project what he'll do next year.  Only five free agent starters topped Santana's 2.8 wins above replacement.  After the Big Three of Max Scherzer, Jon Lester, and James Shields, there's a case for Santana as the top pitcher in the second tier.
Weaknesses/Cons
One of the biggest cons for Santana is a potential draft pick cost, if he receives and turns down a $15.3MM qualifying offer from the Braves.  More on that later.
Santana is relatively hittable, having allowed 8.9 hits per nine innings this year.  Perhaps that was a fluke, given a .319 batting average on balls in play.  Still, left-handed hitters batted .283 against Santana this year, and they also hit him hard in 2012.
As Fangraphs' Mike Petriello pointed out this month, no right-handed starter has thrown sliders more often than Santana over the past two years (nearly 36% of the time).  The pitch is generally considered to be hard on a pitcher's elbow, even if Santana has proven himself to be durable.  Any team entertaining signing Santana to a multiyear deal will be more concerned with what will happen moving forward.
While Santana did a nice job limiting the longball this year, his 8.8% home run per flyball rate wasn't in line with his career norm and his 42.7% groundball rate wasn't anything special.  If his HR/FB returns to normal, he'll return to being the pitcher who allowed 1.26 home runs per nine innings from 2010-13.
Personal
Santana looked up to Pedro Martinez as a boy growing up in San Cristobal in the Dominican Republic, and was signed by the Angels at age 17.  He's now married with two children.  Jesse Sanchez's MLB.com article and video from September 2013 gives great insight into his family life.  Santana is described by his wife as a quiet yet silly guy who enjoys playing with his children.
Market
In my estimation, the second tier of free agent starting pitching this winter includes Santana, Kenta Maeda, Brandon McCarthy, Francisco Liriano, Justin Masterson, Jake Peavy, Hiroki Kuroda, and Jason Hammel.  Of those eight, only Santana, Liriano, and Kuroda are even eligible to receive qualifying offers.  Kuroda could retire, and even if he doesn't he would be extremely picky where he plays.
After speaking to rival executives last month, ESPN's Buster Olney predicted Santana would receive a qualifying offer from the Braves, while Liriano would not receive one from the Pirates.  So there's a very real scenario where Santana is the only second-tier pitcher to receive a qualifying offer.  Even if some teams feel he's the best pitcher in this tier, they could certainly turn to someone they rank lower who will not require draft pick forfeiture.
The qualifying offer situation muddies Santana's free agency again, making it difficult to predict which teams will be involved.  If he receives and turns down a QO, he'll be a better fit for teams with protected first rounders like the Cubs, White Sox, Phillies, Red Sox, Twins, Astros, Rockies, Rangers, and Diamondbacks.  The draft pick forfeiture would further be minimized if one of those teams first signs another player who turned down a QO, meaning Santana would only require forfeiture of a third-round pick.  The Twins pursued Santana last winter and still need starting pitching.  I don't think a QO will kill Santana's market, and certainly teams without protected first rounders will  have interest.  The Marlins, Yankees, Tigers, and Giants could get involved.  The Blue Jays, Orioles, and Mariners were in on Santana last winter, but their needs may have changed.
Santana could also return to the Braves in 2015, as the team faces uncertainty in the rotation after Julio Teheran, Alex Wood, and Mike Minor.
Expected Contract
The Braves' best chance of retaining Santana might be if he accepts a qualifying offer, which I find unlikely.  Santana would not risk much by turning down a QO — last winter showed that a one-year deal near the qualifying offer value will probably be out there all winter and into Spring Training.
Obviously Santana does not want a repeat of that scenario, so it will be important for agent Jay Alou to set proper expectations.  One year ago, MLBTR's Steve Adams predicted a five-year, $75MM deal for Santana, and I agreed.  Edwin Jackson's four-year, $52MM seemed like the floor.  In November of 2013, Ken Rosenthal of FOX Sports reported Santana's asking price was in excess of $100MM over five years, with Jon Heyman of CBS Sports pegging the price at $112MM over five.  A week later, agents Bean Stringfellow and Joe White (who no longer represent Santana) showed Rosenthal the binder they created to showcase their client, which they felt made the $100MM case partially through an ill-conceived comparison to Zack Greinke.  Stringfellow later denied asking for five years and $112MM, but it seems likely that he, White, and Alou started off too high for Santana, and once expectations were adjusted into the Edwin Jackson range, it was too late.  Santana's one-year deal was not owed entirely to the qualifying offer.
Now only Alou remains, and he should at least be able to score the now-standard four-year, $50MM deal this time.  As I think Santana will be plenty appealing even with another qualifying offer, I'm predicting a four-year, $56MM deal this time around.  Combined with the 2014 one-year deal, Alou would be able to say he ultimately got Santana five years and $70MM, not far off Steve Adams' original estimate from last offseason.