What a difference a few months can make. For Jake Peavy, a former ace turned would-be trusty veteran, a trade deadline deal to the Giants has changed perceptions and, perhaps, his market. Approaching free agency for the first time entering his age-34 season, Peavy now looks to be one of the more intriguing players to watch. (Of course, all eyes will be on him tonight as he takes the hill looking to clinch the World Series.)
Pros/Strengths
Twelve regular season starts with the Giants late this year yielded remarkable results: a 2.12 ERA and 3.03 FIP over 78 2/3 frames. Three more post-season outings have resulted in a 3.68 earned run mark across 14 2/3 innings, with time left for more positive impressions. With a constantly evolving pitch mix and approach, as he explained recently to Eno Sarris of Fangraphs, Peavy may have found an edge in the constantly evolving battle between pitcher and hitter.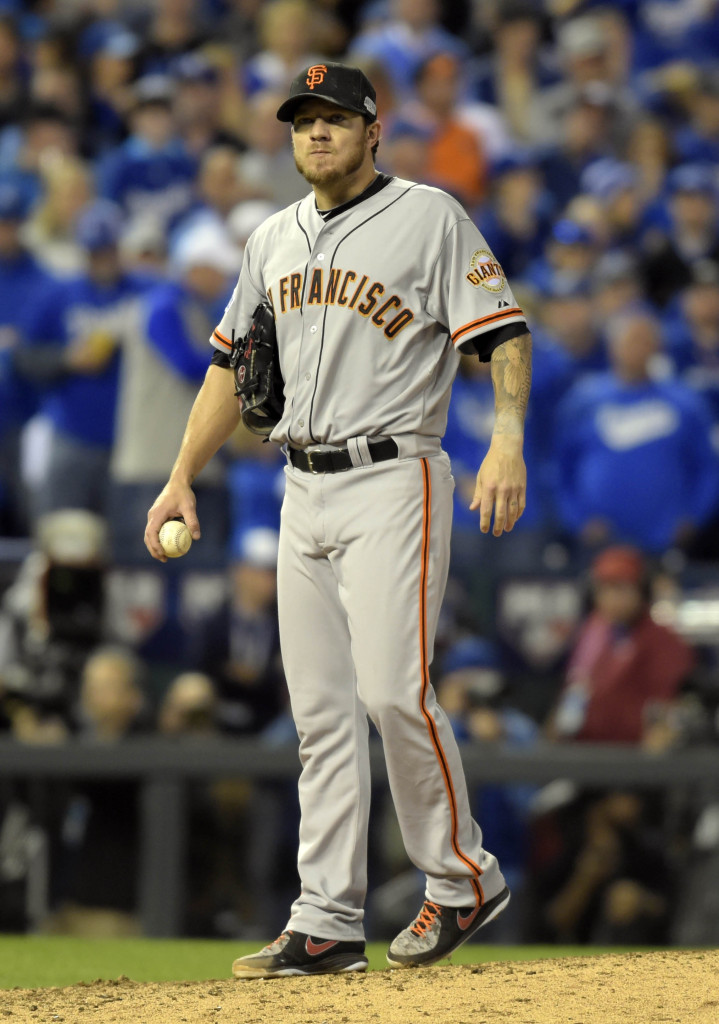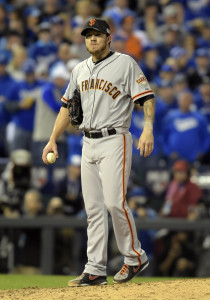 Though Peavy is no longer the strikeout threat he once was, he seems to have stabilized in the seven to seven-and-a-half strikeouts per nine range. And he continues to reliably post walk rates below three per nine innings. Though he is not a heavy groundball pitcher, Peavy has generally maintained a BABIP-against at or below .290.
Then, of course, there is Peavy's impressive pedigree. From about 2004 through 2008, Peavy was one of the best starters in the game, and he has had excellent full-season results as recently as 2012 (3.37 ERA over 219 innings).
Peavy is often cited as a trustworthy veteran who is a positive clubhouse member. An intense competitor on the hill, the righty is certainly the type of player who holds appeal both to veteran-laden contenders and young teams looking to put a role model in place.
Cons/Weaknesses
His late run with San Francisco aside, Peavy has struggled mightily at times in recent years. He put up a 4.17 ERA in 2013 and allowed 4.72 earned per nine with the Red Sox to start the year in 2014. Neither did peripherals paint a much rosier picture, with ERA estimators pegging Peavy as a back-of-the-rotation option at best.
And it is not as if this were an isolated downturn. Sandwiching his solid work in 2012, Peavy had been an average or worse starter over the 2009-11 stretch. That decline can be traced, in part, to steady downticks in Peavy's average fastball velocity. After working in the mid-90s earlier in his career, Peavy has not even averaged 91 mph since 2010 and just saw his average heater drop into the eighties for the first time.
Declining strikeout rates are one result; in his solid stretch with the Giants, Peavy has maintained only a 6.6 K/9 rate that falls shy of any of his full-season averages. On the year, he struck out just 7.0 per nine, his worst-ever rate. More tellingly, perhaps, Peavy's K-BB% fell to 11.1%, far and away the worst mark his his 13-year career.
Neither has Peavy been a model of health. He has failed to reach 150 innings in four of the last six seasons. Shoulder and rotator cuff injuries are among his maladies, along with a more recent ribcage fracture. He also missed time due to an ankle injury and, further back, elbow strains. (Peavy has never undergone Tommy John surgery.)
Personal
Often described as a family man, Peavy and his long-time wife Katie have three sons. A native of Alabama, Peavy makes his permanent residence in his home state. Over the years, of course, he has moved from coast to coast, though Peavy has never chosen his own destination (aside from agreeing to extensions with the Padres and White Sox in advance of free agency).
When he is away from the ballpark, according to this aggregated profile, Peavy prefers to spend time in the outdoors. His family lives in a cabin on a substantial spread of land, and he hunts and fishes in his spare time. Peavy also plays the guitar and is a practicing Christian.
Market
In a market loaded with mid-level starters, Peavy occupies a somewhat unique place. He is the oldest of that group aside from Hiroki Kuroda, who is not expected to test interest broadly. In that respect, he probably stands alone to some extent as a solid veteran who can (theoretically, at least) be had on a somewhat shorter commitment.
A client of CAA Sports, Peavy could hold appeal to a variety of clubs that may or may not be as interested in other non-premium starters. More specifically, it is certainly possible to imagine the Giants being interested in a reunion, and the White Sox are another former club that could show interest in a shorter-term arrangement. Otherwise, the Cardinals, Angels, Rangers, Braves, D'backs, and Cubs all could make some degree of sense.
Peavy says he has interest in ending up in the same place as former Red Sox teammate Jon Lester, saying that "there's a package deal out there for any team." Choosing a landing spot based more on personal preferences — including, perhaps, re-uniting with Lester or other former teammates — than maximum contract would not be a surprise for Peavy. He said back in 2005 that "money is not why I'm pitching" and backed that up recently when he signed a reasonable extension with the White Sox rather than hitting the market.
Expected Contract
Though some have suggested that Peavy may have pitched his way into a three-year deal in recent months, a two-year contract still seems the likelier outcome — especially if Peavy prioritizes finding a home that suits him for non-financial reasons. Peavy should easily top the two-year, ~$22-23MM contracts given to several veterans last year, and could land a deal on the model of Ryan Dempster's two-year, $26.5MM pact. Updating that contract for inflation, and accounting for a value boost after Peavy's success in San Francisco, I predict that he will ultimately fall just shy of his last contract and sign for two years and $28MM.