In 2013, Justin Masterson turned in a career season for the Indians as he pitched to a 3.45 ERA with 9.1 K/9 and 3.5 BB/9, earning an All-Star Game nod and piquing the attention of baseball people everywhere.  No one knew where he would wind up after the 2014 season, but everyone agreed that he was in line for a massive contract.  Masterson might not get the same long-term haul he once envisioned thanks to a lackluster 2014, but he still figures to get paid this winter.
Strengths/Pros
Everything came together for Masterson in 2013.  His power sinker was clicking, he was striking batters out at a career-high rate, and his 3.33 xFIP indicated that he was just flat out good, not lucky.  With an aggressive approach on the mound and a 58.5 percent ground-ball rate, Masterson truly realized his potential with the Tribe.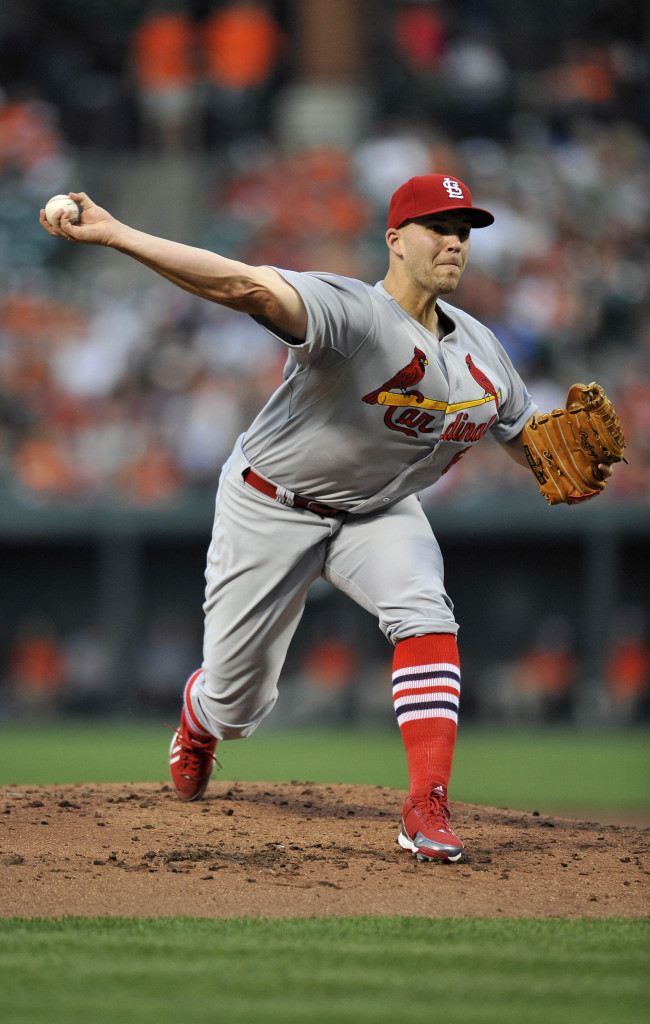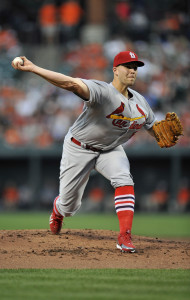 Of course, the main difference between the 2013 and 2014 versions of Masterson was health.  Fortunately, he's on the mend from his injuries and should be 100% on all fronts by the start of Spring Training.  While others in his position – banged up in a contract year – might have chosen to rest up, Masterson mostly pitched through the pain.  At 29, Masterson is younger than most of the quality pitchers available on the open market.  And, thanks to the midseason trade that sent him to St. Louis, Masterson can't be hit with the qualifying offer and won't have draft pick compensation tied to him.
His 2014 numbers – a 5.88 ERA with 8.1 K/9 and 4.8 BB/9 – aren't so hot, but the fact that he managed to make 25 starts and 3 relief appearances despite it all is pretty impressive.  The righty logged four straight seasons of at least 180 innings for Cleveland and while his ERA yo-yoed – 4.70 in 2010, 3.21 in 2011, 4.93 in 2012, and 3.45 in 2013 – he was solid on the whole and his 11.7 fWAR in that stretch placed him among the top thirty starters in the game.  Masterson also hasn't had a ground ball percentage lower than 55.1% in the last five years and he's been around 58%  over the last two seasons.
GMs will ask their team doctors to do a thorough check on Masterson before putting pen to paper, but they probably won't fret about the right-hander resting on his laurels and counting his money.  It's also worth mentioning that the 29-year-old's xFIP (4.06) and SIERA (4.03) were far kinder to him this year than ERA and his 8.1 K/9 is actually stronger than the average of his previous four seasons.  Given time to heal up and iron out the kinks in his delivery, Masterson could get back to his old self rather quickly.
Weaknesses/Cons
His troublesome right knee, which plagued him for a good chunk of the season, is partially to blame for the down year.  That problem seems to be in the rear view mirror but shoulder impingement and a nagging left oblique injury have held him back and adversely altered his mechanics.  He's expected to fully recover from all of those injuries with some rest, but teams will certainly be wary and especially thorough in their examinations.  Clubs will want to be sure that they're more likely to get the 2010-2013 version of Masterson than the 2014 version.
During Masterson's 2010-2013 run, his fastball had an average velocity of about 92.9 MPH.  This season, Masterson threw his heater at a decidedly less warm 90.3 MPH.  Faulty mechanics brought on by injury are believed to be culprit for the drop, but teams will still view the decreased velocity as a concern.
Masterson's struggles landed him in the Cardinals' bullpen to finish out the regular season and that's obviously not how St. Louis saw things shaking out when they traded for him at the deadline.   The hurler was viewed as a top-of-the-rotation piece just a year ago and he will wind up with relief appearances as the most recent work on his resume.  Masterson actually did well in his grand total of 3 and 1/3 innings of bullpen work, but he's obviously looking to join someone's starting five next season.
Personal
Earlier this year, Justin and his wife Meryl welcomed twins to the world, a boy and a girl, making their three-year-old daughter a big sister.   Justin, the son of a pastor, spends much of his downtime aiding in humanitarian causes both here and abroad with Meryl.  This offseason, he'll be heading to Uganda and Kenya on a mission trip to help with water projects and to build orphanages for needy children.  The Mastersons founded a non-profit organization (the Fortress Foundation) in 2013 to help extremely impoverished people from all around the world.  In Cleveland, they volunteered and donated to Laura's Home, a local battered women's shelter.  It's no surprise that the Indians made Justin a repeat nominee for the Roberto Clemente Award.
In the clubhouse, Masterson is known a supportive teammate and someone who is always willing to help out the younger pitchers.  At 29, Masterson is still young, but he also has lots of valuable experience to draw from.
Market
If the medicals check out, a team could very well come away with one of the best pitching bargains of the winter.  Back in January, when Masterson was coming off of his career year, Tim Dierkes pegged his extension value around $65-$85MM over a five year stretch.  Like any free agent, the 6'6″ hurler has his question marks, but he could be a very solid value after an offseason of rest.
Last last month, Patrick Mooney of CSNChicago.com wondered aloud if Masterson could be a fit for the Cubs.  His history with former Red Sox GM and current Cubs president Theo Epstein could lead to a union and, as Mooney notes, coach Chris Bosio has a track record for taking his pitchers to the next level.  Speaking of the Red Sox, Nick Cafardo of the Boston Globe wrote back in August that Boston will have interest in Masterson in the offseason.
Outside of those old friends, teams in bigger parks with pitching needs like the Twins, Angels, Marlins, and Braves might be in the mix for Masterson.
Expected Contract
Because Masterson's four consecutive strong years were followed by a spotty walk year, it's hard to gauge what kind of contract he'll net this winter.  A one-year deal to reassert himself as a top starter could put him in line for a substantial long-term deal.  At the same time, it's not hard to envision a team coming to the table with a multi-year offer to Masterson's liking.
If Masterson opts for a one-year deal in order to restore his value and go for a monster contract after the 2015 season, a one-year, $12MM contract could make sense.
Steve Adams contributed to this post.  Photo courtesy of USA Today Sports Images.