Most Rangers players struggled or were injured in Texas' disastrous 2014 season, and first baseman Mitch Moreland was no exception. The lefty hit .246/.297/.347 in 184 plate appearances through early June, then had ankle surgery and missed the rest of the year. Now, he's heading into his second season of arbitration eligibility with a projected $2.8MM salary on the horizon.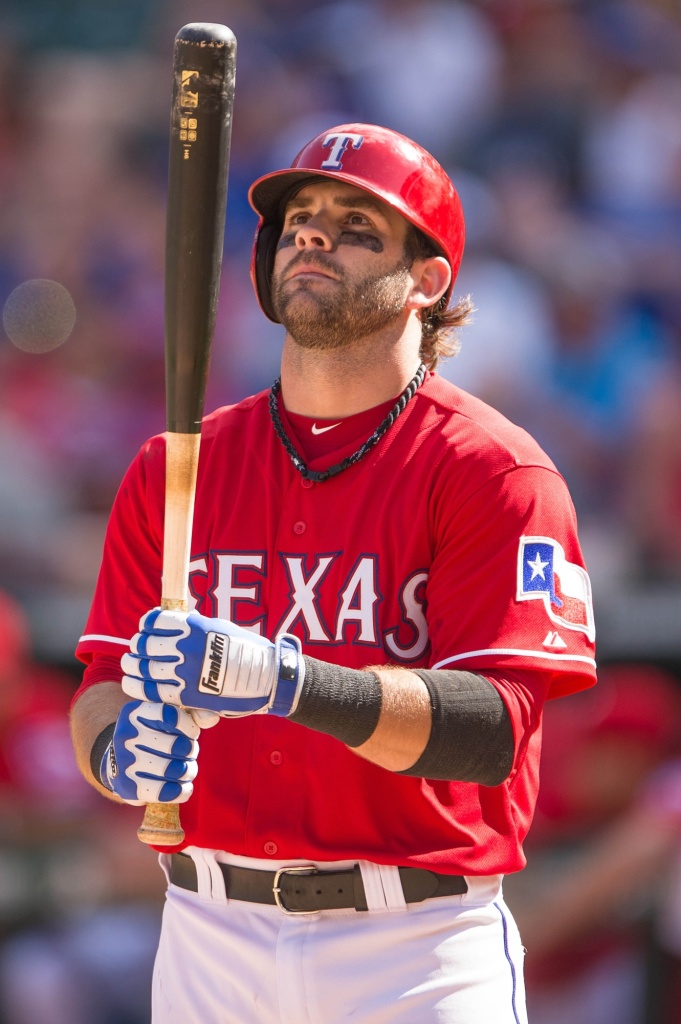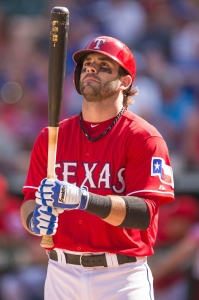 Moreland is now 29 and is on the fringes, at best, as a starting first baseman. Since a partial season as a rookie in 2010, he hasn't posted an OPS+ above 106 or an OBP above .321, and as a slightly above average defensive first baseman or below average corner outfielder, he doesn't provide much value with the glove. Even before his injury, he might have been an acceptable choice as a starter only for a team like Texas that had plenty of stars elsewhere in its lineup.
One of those stars is Prince Fielder, who should return from his own injury to take over first base in Texas next year. There's also limited room for Moreland in the outfield — Shin-Soo Choo will be in right, Jake Smolinski hit well down the stretch last season and could get playing time in left, and Moreland has played only sparingly in the outfield since 2011 anyway. That leaves DH, where the Rangers can be flexible in finding an alternative to Moreland. They're likely to pursue a DH upgrade this offseason, possibly on the trade market. Another possibility for the Rangers might be to acquire Justin Upton and bump Smolinski to DH.
Moreland posted a wRC+ of 76 last season; every AL team but two (the Indians and Mariners) got better production from their designated hitters. Of course, Moreland's ankle might partially explain his struggles, and some rebound is likely. Steamer projects Moreland will post a wRC+ of 99 in 2015, which would be more palatable, but still isn't a figure to which a team should aspire at DH, even at a relatively low price.
If the Rangers don't acquire outfield or DH help this offseason, however, or if they don't acquire a left-handed hitter for one of those positions, perhaps they could consider re-signing Moreland at a reduced rate, whether or not they non-tender him first. Smolinski's breakout in a month's worth of games in his MLB debut was unsustainable, and entrusting him with an entire starting job, whether that's DH or left field, without a viable backup plan seems too ambitious. 24-year-old Ryan Rua offers a potentially decent alternative, but like Smolinski, he's right-handed. Then there's Michael Choice, who's also a righty and had a disastrous rookie season.
Giving a fair amount of playing time to some combination of Smolinski, Rua and Choice seems like a good idea for the Rangers, but having reinforcements at DH and in the outfield seems like a good idea as well. Moreland had a poor season in 2014, but he's experienced and left-handed, so it wouldn't be a surprise to see him return to the Rangers in 2015 one way or another. A tender is therefore a possibility.
The Rangers' decision needs to be made in early December, however, and given Moreland's struggles last season, the Rangers might feel it's unnecessary to commit nearly $3MM without first exploring other possibilities. A trade before that seems unlikely, since Moreland isn't an obvious upgrade for many teams at first or DH. Perhaps if he becomes a free agent, a team like the Yankees might be a fit — Moreland could pick up at bats against righties while occasionally playing first base, DH and right field. The Rangers could also wait until later in the offseason to decide what to do with Moreland, to ensure that Fielder is fully ready and to see if an injury in another organization might create a better market.
Photo courtesy of USA Today Sports Images.