Teams have until December 2 at 11:59pm ET to decide which of their arbitration-eligible players they'll tender contracts. By MLBTR's reckoning, about 40 of those players are non-tender candidates, including two first basemen, Ike Davis and Gaby Sanchez, who platooned at the position for the Pirates in 2014.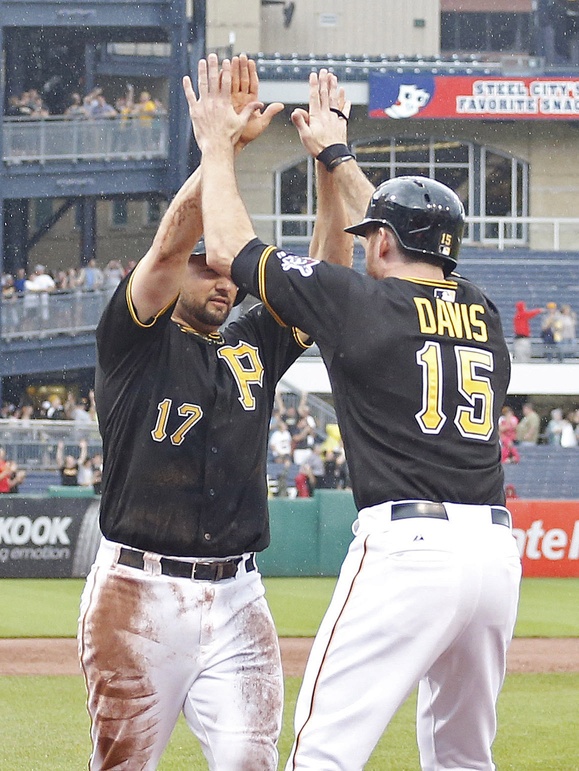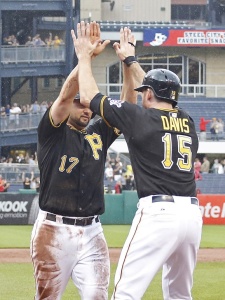 Davis is projected to make $4.4MM in 2015 after earning $3.5MM last season. Sanchez, meanwhile, is projected to make $2.7MM, a raise from $2.3MM. Those costs wouldn't be exorbitant for any team, even the low-payroll Pirates, but after another somewhat disappointing season from Davis and an off year for Sanchez, it's worth asking whether the Pirates' money might best be spent elsewhere.
Perhaps just as important for Davis is the fact that Pedro Alvarez now appears to be a first baseman. The former No. 2 overall pick struggled with throws from third base in 2014, while utilityman Josh Harrison had an unexpectedly outstanding season and staked a claim on a starting job, which will likely end up being at third. GM Neal Huntington has said that Alvarez will likely get the bulk of the playing time at first base, and he called keeping Davis "probably a challenge." Alvarez and Davis both bat left-handed, so they can't share a position. Davis has been working out in the outfield this offseason, but there's probably no space on the Pirates' roster there, either, since the Pirates already have a top young lefty outfielder in Gregory Polanco and another reasonably strong one in Travis Snider.
It's still possible that the Pirates could trade Davis, who could theoretically have a bit of value for a team in need of a lefty first base option. But Davis will be more expensive through arbitration than he was in 2014, when he had a .233/.343/.378 season that qualified as a modest disappointment. The trade that brought Davis to Pittsburgh early in the 2014 season didn't cost the Pirates much (a minor league reliever in Zack Thornton and a young pitching prospect in Blake Taylor), and it's unlikely the Bucs could get more than that if they traded Davis now. It's also obvious that, unless they trade Alvarez, the Pirates don't have space for Davis on their roster. So there's little incentive for interested teams to do anything but wait until the deadline for the Pirates to cut him loose.
Sanchez is right-handed and has had a reputation as a strong hitter against lefties, so Alvarez's move to first base doesn't impact Sanchez the way it impacts Davis. Given Sanchez's declining performance, however, the Pirates could decide to allocate resources elsewhere. Sanchez hit .229/.293/.385 last season. He was better against lefties, at .256/.318/.429, but perhaps not so well as to justify the expense and the roster spot, especially given that the NL Central is thin on left-handed pitching. Sanchez is a career .291/.382/.481 hitter against southpaws, but at 31, his 2014 performance might be closer to his expected level going forward.
Like Davis, Sanchez has little or no trade value. So the Pirates' best option might be to non-tender him and save money to spend elsewhere. The Bucs could then look for a cheaper Triple-A slugger to platoon with Alvarez (who, like Davis, can certainly use a good platoon partner). They could also employ some more creative arrangement like having Tony Sanchez, who dabbled as a first baseman late last season at Triple-A Indianapolis, break camp as a righty first base option and third catcher. They could also attempt to bring Gaby Sanchez back for less than $2.7MM.
Davis, who is represented by Octagon, should still be able to land a big-league deal somewhere — his 10 homers last season weren't anything to write home about, but .343 on-base percentages don't grow on trees, and Davis is still just 27 (28 in March). The Marlins already have a lefty first baseman in Garrett Jones, but they reportedly like Davis and could have interest if he becomes a free agent. The Padres could also be a possibility, although it's questionable whether they'll see Davis as an upgrade over incumbent lefty first baseman Yonder Alonso.
Sanchez, who is represented by Beverly Hills Sports Council, would be a good fit (on a cheap Major League deal or minor league deal with an out clause) for a team looking for a partner for their lefty first baseman. St. Louis, where Matt Adams has a career .197/.227/.326 line against lefties, could be one possibility. A reunion with the Marlins, and with either Davis or Jones (who platooned with Sanchez in Pittsburgh in 2013) could make sense also.
Photo courtesy of USA Today Sports Images.