5:27pm: Miller will receive a straight $9MM annual salary, tweets Jon Heyman of CBSSports.com. The deal does not include any options.
2:38pm: Earlier today the Yankees acquired Didi Gregorius in a three-team trade, and that was just the beginning of the splash they're making, as they've now also announced the signing of Andrew Miller to a four-year contract. Miller, a client of Frontline Athlete Management, will reportedly receive a $36MM guarantee, but the contract does not include a no-trade clause.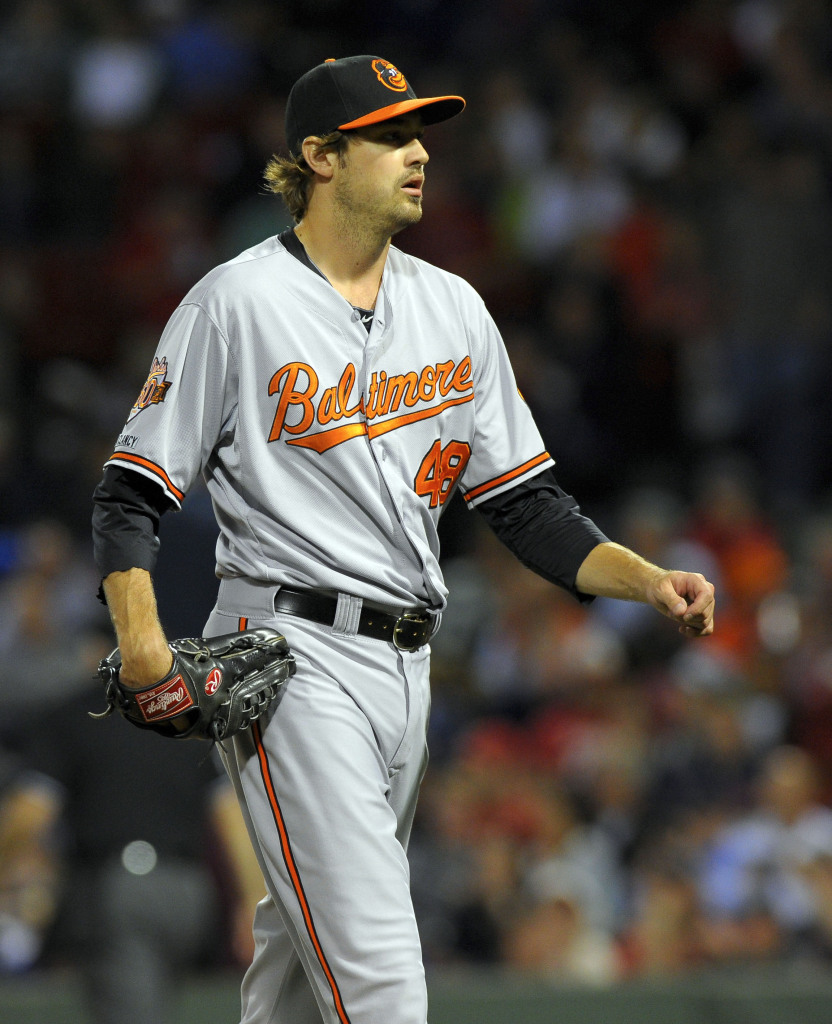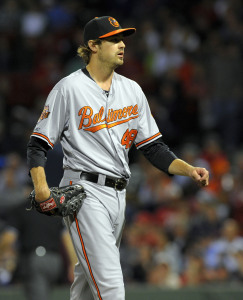 The 29-year-old Miller (30 next May) broke out in a huge way in 2014, pitching to a 2.02 ERA with an eye-popping 14.9 K/9 (an AL record), 2.5 BB/9 and a 46.9 percent ground-ball rate in 62 1/2 innings for the Red Sox and Orioles. He went on to throw another 7 1/3 shutout innings with an 8-to-1 K/BB ratio in the postseason as well. Miller will pair with Dellin Betances — an electric breakout story himself — at the back of the Yankee bullpen, giving manager Joe Girardi a pair of dominant late-inning options. Joel Sherman of the New York Post expects Miller to be used to close games, but not exclusively, as Betances will likely be in the mix for save opportunities as well (Twitter link).
Of course, Girardi is accustomed to that feeling, as he was able to enjoy excellent work from David Robertson and Mariano Rivera from 2011-13, and then Robertson and Betances this past season. The Miller signing doesn't necessarily preclude the Yankees from retaining Robertson, as some reports have indicated that it's at least possible for GM Brian Cashman to spend to bring both elite relievers to the Bronx. That would give the Yankees a Royals-esque late-inning trio, though the team may also simply replace Robertson with Miller and collect a draft pick when their closer signs elsewhere.
Miller's contract is the largest ever for a non-closing reliever — a nice feather in the cap of agent Mark Rodgers. Rafael Soriano had previously signed a three-year, $35MM contract to set up for the Yankees, though he had prior closing experience. Scott Linebrink signed a four-year, $19MM contract with the White Sox that was the largest guarantee for a setup man that had never closed.
As excellent as Miller was in 2014, the contract is clearly not without risk for the Yankees. Setting aside the volatile nature of all relievers, this past season marked the first year in which Miller displayed above-average control and was also the first in which he was allowed to face both right-and left-handed hitters in a full setup capacity. Miller averaged 4.7 walks per nine innings from 2012-13 (5.0 in 2013) and totaled just 71 innings in that time due to a combination of a more limited role and injuries. Miller suffered a lis-franc fracture in his foot in 2013 and missed time in 2012 with a strained hamstring. This past season he faced 144 righties and 98 lefties, but in 2013 he faced a much more even 73 righties and 62 lefties. In 2012, he was deployed mostly as a lefty specialist, pitching to 102 left-handed hitters and just 67 right-handed batters.
The Miller situation has likely handcuffed the free agent reliever market to some extent. As many as 23 clubs showed interest in him, though in recent days it seemed that the Astros, Dodgers and Yankees were among the final clubs standing. With one of the top two names off the board — Robertson being the other — more relief signings figure to trickle in, especially considering the fact that Robertson's market figures to be limited to a smaller number of teams, given his higher asking price.
Jack Curry of the YES Network first tweeted news of the agreement and the terms of the contract. ESPN's Buster Olney tweeted the lack of a no-trade clause.
Photo courtesy of USA Today Sports Images.