The Red Sox weren't quite able to land all of their offseason targets, but they were still one of the winter's busiest teams.  They look to ride a rebuilt pitching staff and one of the game's best lineups back to the playoffs.
Major League Signings
Pablo Sandoval, 3B: Five years, $95MM ($17MM club option for 2020, $5MM buyout)
Hanley Ramirez, SS/LF: Four years, $88MM ($22MM vesting option for 2019)
Koji Uehara, RP: Two years, $18MM
Justin Masterson, SP: One year, $9.5MM
Craig Breslow, RP: One year, $2MM
Alexi Ogando, RP: One year, $1.5MM
Total spend: $214MM
Pool-Eligible International Signings
Yoan Moncada, IF: $31.5MM signing bonus (plus $31.5MM in overage taxes)
Notable Minor League Signings
Trades And Claims
Extensions
Rick Porcello, SP: Four years, $82.5MM
Wade Miley, SP: Three years, $19.25MM ($12MM club option for 2018, $500K buyout)
Notable Losses
Needs Addressed
The Red Sox moved quickly to snag the two biggest free agent bats on the market, signing both Pablo Sandoval and Hanley Ramirez before the end of November.  The switch-hitting Sandoval addresses both Boston's need for more lineup balance (most of the top Sox batters hit from the right side) and the need for a third baseman, as Will Middlebrooks' struggles became too pronounced to ignore.
It stands to reason that the Sox might've originally explored signing Ramirez to play third base, though his willingness to switch positions led to Ramirez taking over as Boston's regular left fielder.  Putting Ramirez in left freed up room for Sandoval to play third and star prospect Xander Bogaerts to get another shot as the everyday shortstop.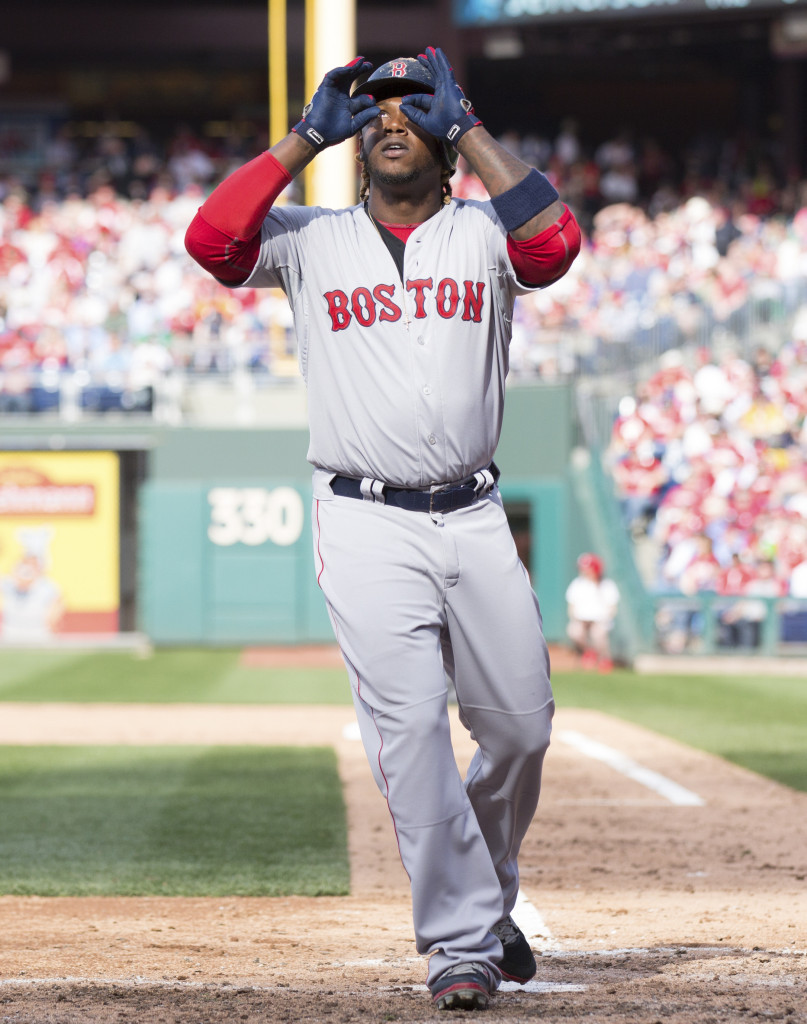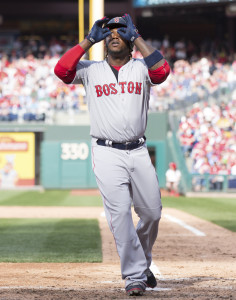 In the short term, acquiring both Sandoval and Ramirez leads to a bit of an overloaded roster for the Red Sox since they're one of the few teams who can't easily rotate players through the DH spot (as David Ortiz is still as productive as ever).  In the big picture, however, the Sox were content to load up on as much hitting talent as possible and worry about how position battles shake out later.  The Sox will have quite a bit of roster depth in 2015 at almost every position, which was one of GM Ben Cherington's primary offseason goals after injuries and underperforming young players hampered last year's team.
Moving Ramirez to left only further deepened Boston's outfield glut, though the club lessened their load slightly by trading Yoenis Cespedes to the Tigers as part of a package that brought Rick Porcello to the Sox rotation.  Porcello was scheduled for free agency after the 2015 season before the Sox made a firm commitment to the right-hander by signing him to a four-year, $82.5MM extension.
On paper, Porcello is the kind of pitcher that will fit right in at Fenway Park, as his 52.2% career ground ball rate will help counter the stadium's notoriously hitter-friendly dimensions.  While Porcello has only posted an ERA better than league-average twice in his six seasons, advanced metrics like xFIP and SIERA paint a friendlier pitcher of his performance in recent years.  The Sox clearly believe Porcello can build on his impressive 2014 campaign, and now they've locked up a durable 26-year-old arm through his prime seasons.
The Red Sox acquired and extended another durable innings-eater in Wade Miley, picking up the 28-year-old from the Diamondbacks in exchange for two less-proven starting pitchers in Rubby De La Rosa and Allen Webster.  Boston also turned to the free agent market to sign Justin Masterson to a one-year, $9.5MM deal as the veteran tries to rebound from a tough 2014 season.  Like Porcello, both Miley and Masterson are noted ground-ball pitchers, as are incumbent starters Clay Buchholz and Joe Kelly.  Of the five hurlers, Miley's 48.6% career grounder rate is actually the lowest of the bunch, so Boston is clearly putting a premium on keeping the ball in the park.
The Red Sox re-signed closer Koji Uehara and lefty reliever Craig Breslow, and added a couple of young arms to the bullpen by trading for righty Anthony Varvaro and lefty Robbie Ross Jr. in deals with the Braves and Rangers, respectively.  Alexi Ogando was also signed for a relief or swingman role depending on his health, and if the right-hander is fit after battling several injuries in recent years, he'll be a boost to the pitching staff in either capacity.
Parting ways with Middlebrooks brought the Sox catcher Ryan Hanigan in a trade with the Padres.  This trade was somewhat overshadowed by Boston's many other headline-grabbing winter moves, though it has increased in importance now that Christian Vazquez has undergone season-ending Tommy John surgery.  Hanigan will now be Boston's regular starter, with the newly-acquired Sandy Leon serving as the backup.
While obviously this wasn't Boston's ideal situation behind the plate, there might not be much of a dropoff from Vazquez/Hanigan to Hanigan/Leon.  Vazquez was seen as an excellent defensive catcher whose ability to hit at the MLB level was still in question, and Hanigan/Leon are similarly defense-first catchers who either haven't hit well in a couple of seasons (Hanigan) or have barely seen any time in the bigs (Leon).  There's also a good chance you'll see top catching prospect Blake Swihart make his Major League debut this season, as he might just need a bit more Triple-A seasoning before Boston is comfortable calling him up to the Show.
Beyond just adding pieces for 2015, however, the Red Sox also obtained a major future asset by signing Cuban phenom Yoan Moncada to a minor league deal with a $31.5MM bonus, by far the highest bonus ever given to an international amateur prospect.  The Red Sox had already exceeded their signing pool limit for the 2014-15 international signing period and will be limited to $300K-or-less bonuses for the next two signing periods as punishment, so as long as they were comfortable paying the 100% overage on the deal (bringing Moncada's cost up to $63MM), it was logical to bring in a big international talent now before the penalties take effect.
While $63MM is a steep price for a 19-year-old, it could be worth it given how scouts have raved about Moncada's ability, comparing him to the likes of Robinson Cano and Chase Utley.  Boston is so deep in infield and outfield talent that they don't even have an immediate need for Moncada, though since he'll need at least a season in the minors to develop, at least one position is sure to open up over time.
Questions Remaining
The two biggest pitching names attached to the Red Sox this winter were Jon Lester and Cole Hamels, neither of whom actually ended up in Boston's rotation.  In Hamels' case, the Phillies have insisted on at least one of Swihart or Mookie Betts in any deal for the star left-hander, while the Red Sox have been just as adamant that neither top prospect will be moved.
The Sox look even less likely to deal either now given that Betts is the regular center fielder and Swihart could have a more immediate role with Vazquez injured.  While Boston has a deep minor league system, the Phillies have received (and will continue to receive) enough interest in Hamels that it's hard to see them settling for anything less than an elite young player like Betts or Swihart.
Missing out on Lester has to be a bitter pill for the Sox and their fans considering how the southpaw has been a cornerstone for the franchise for the better part of a decade.  Boston made a six-year, $135MM offer to Lester that was topped by the Cubs' $155MM offer, and one wonders if Lester would still be wearing the red today had the Sox initially proposed more than their infamous four-year, $70MM extension offer last spring.  Lester has even hinted that five years/$120MM might've been enough to keep him had such a deal been offered last spring.
The fact that Boston pursued Lester this winter shows that their stated desire to avoid paying big money to pitchers in their 30's isn't quite rock-solid, yet that strategy is on display in regards to their 2015 rotation.  None of the five starters are on guaranteed money beyond their age-30 seasons, giving the Sox flexibility if other options become available or if one of the starters underachieves.
Flexibility for the future, however, could mean uncertainty in the present.  There has been quite a bit of criticism directed at the Sox for the lack of a "true ace" atop their rotation.  Porcello, Miley, Buchholz, Kelly and Masterson combined for only 6.6 fWAR in 2014, and while injuries (particularly for Kelly and Masterson) played a role in that low total, Porcello was the only one who showed any front-of-the-rotation stuff last year.
A staff of innings-eating groundballers might actually be enough to contend given Boston's solid defense and powerful lineup, though it's hard to argue that the rotation wouldn't look better with a Hamels/Lester-caliber pitcher as the No. 1 starter.  If the rotation struggles, expect even more "why didn't the Sox get an ace?" talk from the Boston fans and media.  In that scenario, the front office will very likely intensify its search for a top-shelf hurler before the trade deadline.
While the Red Sox may give pause before giving a major contract to a pitcher in his 30's, they clearly have no problem in doing so for a big hitter, which speaks to both the lack of elite hitting talent on the market and the team's belief that Sandoval and Ramirez will both produce in Fenway Park.  Both players come with some notable baggage; Sandoval's weight and conditioning was long an issue with the Giants, and Ramirez has averaged only 116 games per year since 2011 due to a variety of injuries.
Putting Ramirez in left is something of a curious move for the Sox, though it might not be a bad one given how he has struggled defensively at both shortstop and third base in recent seasons.  Still, losing Cespedes and adding Ramirez did nothing to alleviate Boston's outfield surplus.  As the season begins, Ramirez, Betts and Shane Victorino are the starters with Allen Craig, Daniel Nava and super-utilityman Brock Holt as the backups.  Rusney Castillo and Jackie Bradley Jr. have begun the season in the minors, not the ideal place for either a $72.5MM contract or a youngster who entered last year as one of the top prospects in the bigs.
It's possible this situation could take care of itself, either via injuries (Ramirez, Victorino and Craig are all health question marks) or some of these players simply under-performing.  Castillo and Betts are unproven over a full season, while Nava struggled last year and Bradley has thus far been completely unable to hit Major League pitching.  Also, if one of the infielders gets hurt, that could open the door for Ramirez or Betts to move back to the infield and create playing time for a backup outfielder.
That said, outfield is the still most logical area of surplus for the Red Sox to use as trade bait later this year.  Craig and Victorino are the most probable candidates to be moved, though both will need several weeks of healthy and productive play to prove they've recovered from their 2014 injuries.  One would think that Bradley is also likely on the trade market — despite his highly-touted prospect status and excellent glove, the fact that Boston has signed Castillo and shifted Betts to center would indicate that the club has already moved on from Bradley as its center fielder of the future.
Deal Of Note
The Red Sox re-signed Uehara to a two-year deal before free agency even opened, an aggressive move since there were a few whispers that the club could potentially look elsewhere given how Uehara struggled down the stretch in 2014.  In making a two-year commitment to a reliever who just celebrated his 40th birthday, however, the Sox clearly believe Uehara's late-season slump was largely due to some nagging injuries and not a sign of a decline.
Of course, Uehara hasn't exactly proved his health to date, as he has begun the season on the DL with a strained hamstring.  If Uehara were to have an extended DL stint or another bout of ineffectiveness during the year, that would be a major blow to a Red Sox bullpen that could already be facing some extra work this year given the shaky rotation.  Uehara's emergence as an elite closer was one of the planks of Boston's World Series run, and while nobody expects him to duplicate his phenomenal 2013 numbers, he's definitely being counted on as the bullpen leader.
Overview
One tends to forget that the Red Sox were actually a last-place team in 2014, given the amount of talent that already existed on the roster and the notable new names that have been added this winter.  Their trip to the bottom of the AL East seems more like a trivial quirk ("Hey, who was the only franchise to go from last place to World Series champions to last place again over a three-season stretch?") than it does a reflection of a big mountain to climb back to contention — after all, they climbed that mountain just two seasons ago.
Stockpiling all of this position player depth will help the Sox prevent against the inevitable injuries and slumps that will befall at least a few players over the course of 162 games, and it would be a surprise if Boston wasn't one of the league's best offenses by season's end.  After posting an uncharacteristically low team OBP (.316) and slugging percentage (.369), the Sox are looking to get back to their traditional strategy of grinding down opposing pitchers and making them pay with the long ball.
The major question is whether the rotation can hold up its end of the bargain.  If the staff exceeds expectations, the Red Sox could be World Series contenders again.  If the staff is even just average or slightly-below average, that still might be enough for a division run given the big bats and one of the league's better defenses.  If the starters can't get on track, however, that will put a lot of pressure on the bullpen and on the lineup to win slugfests every night.  While there don't seem to any standout rotations within the AL East, Boston can't afford to be the fifth of five middle-of-the-road pitching staffs.
Personally, I'd be very surprised if the Sox didn't acquire at least one "proven ace" by midseason just because the rotation seems like such a notable weakness.  It could be Hamels, it could be free agent-to-be Johnny Cueto if the Reds are out of contention, or it could be a starter suddenly made available by a surprise non-contender (similar to how the Red Sox shopped Lester last summer).
Boston has made enough solid acquisitions that the team should be back in the thick of things in the AL East.  To fully complete their attempt at worst-to-first-to-worst-to-first again, however, they may still be one move away.
Photo courtesy of Bill Streicher/USA Today Sports Images