The Blue Jays shored up their batting order with two of the winter's biggest transactions, and they're counting on a mix of veterans and rookies throughout the roster to help them grab that elusive playoff berth.
Major League Signings
Notable Minor League Signings
Andrew Albers, Daric Barton, Ezequiel Carrera, Chris Dickerson, Jonathan Diaz, Andy Dirks, Felix Doubront, Jeff Francis, Caleb Gindl, Bobby Korecky, Wilton Lopez, Munenori Kawasaki, Luis Perez, Johan Santana ($2.5MM if he makes the MLB roster), Randy Wolf
Trades And Claims
Notable Losses
Melky Cabrera, Casey Janssen, Colby Rasmus, Lawrie, Lind, Happ, Gose, Brandon Morrow, Dustin McGowan, Sergio Santos, Juan Francisco, John Mayberry, Kyle Drabek
Needs Addressed
Going into the offseason, the Jays were expected to address a long-standing hole at second base either by acquiring a full-time player for the keystone or by acquiring a third baseman and then shifting Brett Lawrie to second.  Instead, Toronto used Lawrie to obtain that third baseman, bringing Josh Donaldson to the Rogers Centre for a package of Lawrie, shortstop prospect Franklin Barreto and young pitchers Sean Nolin and Kendall Graveman.
While Oakland received some promise back in that blockbuster trade, the Jays did well to hang onto their top-tier prospects while landing four years of control over one of the game's best third basemen.  The relationship between Donaldson and the Jays got off to a less-than-ideal start as the two sides went to an arbitration hearing, yet there were apparently no hard feelings, and winning the hearing helps the Jays establish a lower baseline for Donaldson's salaries through his three remaining arb years.  (Though as MLBTR's Charlie Wilmoth recently explained, there might not be enough common ground between Donaldson and the Jays to work out an extension.)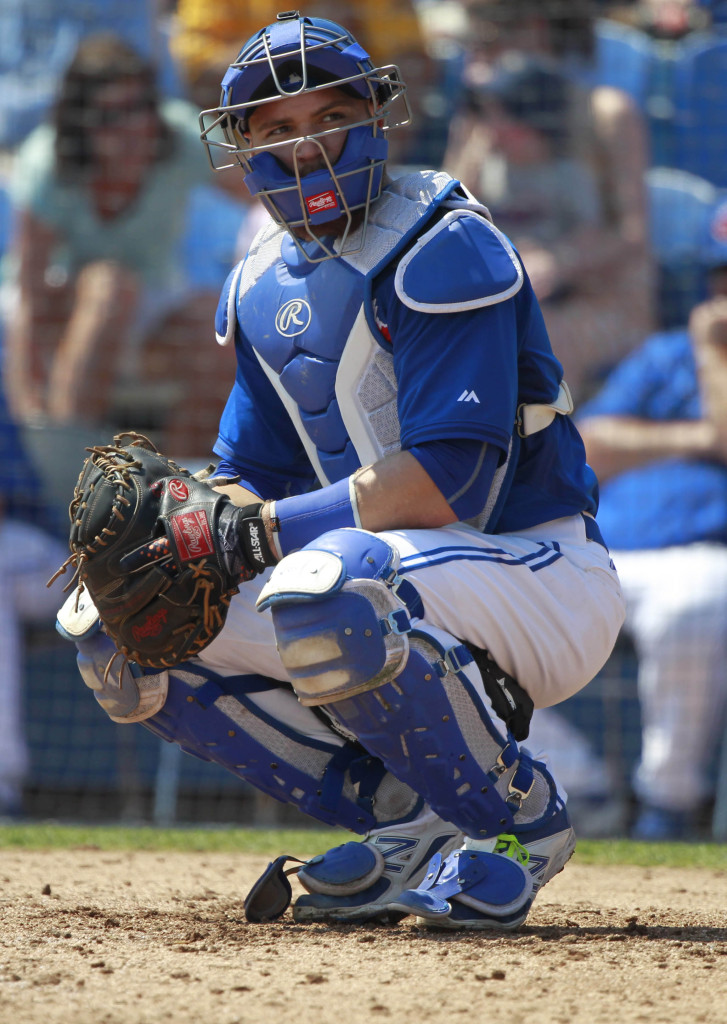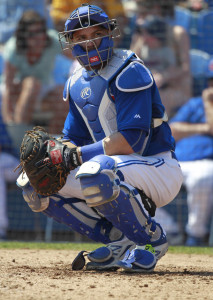 The Jays added another significant right-handed bat to their lineup by inking Russell Martin to the most expensive free agent signing in franchise history.  While Martin did hit .290/.402/.430 for the Pirates last season, he posted only a .702 OPS in his five previous seasons, and the Jays have spoken less about Martin's bat than what he's expected to contribute as a clubhouse leader and with his outstanding defense.
Melky Cabrera's departure created a hole in left field that was filled with the acquisition of Michael Saunders from the Mariners.  Unfortunately for Saunders, however, he suffered a torn meniscus after a fluke accident in Spring Training camp, and he had the meniscus removed entirely in order to cut his time on the DL from midseason to only mid-April.  While this quick recovery is great for Saunders and the Blue Jays in the short term, it remains to be seen how his knee will hold up over the season, particularly playing on an artificial surface.
The Jays did make a move to address second base by trading Anthony Gose to the Tigers in exchange for prospect Devon Travis, who will start at the keystone on Opening Day.  While Travis was a Baseball America top-100 prospect headed into 2014 and he had an impressive year at Double-A last season, he wasn't expected to be a factor in the bigs quite so soon given that he hasn't even played a game at the Triple-A level.  Injuries to Maicer Izturis and Ramon Santiago, however, created an opportunity for Travis and he seized his chance with a big Spring Training performance.
Adam Lind was traded to the Brewers in exchange for righty Marco Estrada, a move that will free up more DH time for Edwin Encarnacion.  Danny Valencia and the newly-acquired Justin Smoak are expected to see most of the action at first when Encarnacion is DH'ing, and Smoak could be another ex-Mariner who could benefit away from Safeco Field.  Estrada is currently ticketed for a bullpen role though his starting experience makes him a decent depth option as a swingman.
Questions Remaining
While Donaldson and Martin are undoubtedly big upgrades over Lawrie and Dioner Navarro, the Blue Jays spent a lot of money and trade capital on two positions that weren't really big problems in 2014.  The bullpen and second base were areas of need as the offseason began and they're still question marks now, barring several young players stepping up as reliable contributors.  If Travis isn't yet ready for the big leagues, that will leave the Jays with the same combination of Ryan Goins, Steve Tolleson, and Munenori Kawasaki that underwhelmed last season.  Izturis will be in the mix once he recovers from his groin injury, though he had so many issues staying healthy and then performing when healthy that he is almost a wild card option at this point.
Aside from Estrada, the team did little of note to address a bullpen that underachieved in 2014 and lost key personnel to free agency in the form of long-time Blue Jays Casey Janssen and Dustin McGowan.  GM Alex Anthopoulos certainly explored his options, as the team checked in on the likes of Rafael Soriano, Francisco Rodriguez and Phil Coke, while also discussing a trade with the Phillies for Jonathan Papelbon.  The closer himself has expressed interest in becoming a Blue Jay, and Anthopoulos personally watched Papelbon throw during a recent Spring Training outing.  Papelbon is owed $13MM this season and has a $13MM vesting option for 2016, however, so that might be too high a price for Toronto to pay.
Barring a further move, Brett Cecil will be the Blue Jays' closer.  While he has posted very good numbers over the last two seasons, Cecil has only six career saves to his name and has been bothered by shoulder problems this spring.  The most intriguing story coming out of the Jays' camp has been the emergence of 20-year-old right-handers Miguel Castro and Roberto Osuna, both of whom are expected to be in the bullpen on Opening Day.  While both have looked dominant in spring action, neither young hurler has pitched above the high-A level before, so it's anyone's guess as to how they'll adjust to the Majors.
The Blue Jays felt they had amassed enough starting pitching depth that they could afford to trade Happ, Nolin and Graveman, and also allow Brandon Morrow to leave for free agency.  This decision instantly became second-guessed when Marcus Stroman tore his ACL during a Spring Training drill, leaving the Jays without a pitcher many felt would be the ace of the staff in 2015.
With Stroman out, the Jays went from planning to use Aaron Sanchez as a set-up man to inserting the young righty into the rotation alongside fellow rookie Daniel Norris.  While Norris and Sanchez are the club's top prospects, it still leaves Toronto with a decided lack of Major League experience at the back of their rotation.  If either of those two falter (or if something happens to Mark Buehrle, R.A. Dickey or Drew Hutchison), the Blue Jays have a thin cupboard of replacements.  Estrada or Todd Redmond could be stretched out, or the team could turn to veteran minor league acquisitions like Felix Doubront, Jeff Francis, Liam Hendriks or even Johan Santana if the former Cy Young Award winner is healthy.
The injuries to both Stroman and Saunders (before his recovery time was shortened) underscored an overall lack of depth on Toronto's roster.  While any team would obviously suffer in losing an everyday player or a front-of-the-rotation starter, the Jays already face enough uncertainty at so many positions that stalwarts like Jose Bautista, Jose Reyes, Encarnacion, Buehrle, Dickey and now Martin and Donaldson are being heavily relied upon to carry the team.  If one or more of those players were to miss time, the Jays could see another season scuttled due to injuries, as has been the case in each of the last three years.
Bautista and the rest of the veteran core become even more important given that six rookies are being counted on to play major roles — Sanchez, Norris, Castro, Osuna, Travis and center fielder Dalton Pompey.  While there's certainly a lot to like about the pedigree of this young talent (Norris, Sanchez and Pompey are all ranked as top-30 prospects by Baseball America), there's a lot of risk in trying to contend with multiple rookies in key positions, as the 2014 Red Sox could attest.
Deal Of Note
Saunders' torn meniscus wasn't a good sign coming off an injury-plagued 2014 season for the outfielder, yet if his borderline miraculous recovery holds up, he could be a quality addition for the Jays.  Despite Saunders' health issues in recent years, he still posted a 111 OPS+ over the last three seasons for Seattle, including a .273/.341/.450 slash line over 263 plate appearances last year.  A move from Safeco Field to the much more hitter-friendly Rogers Centre should make his bat even more potent.
Overview
It's not exactly a make-or-break season for the Blue Jays given all these young talents just starting their careers and the number of notable veterans all under contract (or team options) for 2016 and beyond.  Falling short of the postseason again could spell the end of manager John Gibbons, however, and possibly even Anthopoulos as well given how Jays ownership is already searching for a new club president.  You would imagine that a new president would prefer to have his own baseball operations personnel in place, especially if that president is himself a former general manager like Dan Duquette or Kenny Williams.  That said, the Jays' search has been so public and so unusually handled thus far that it's hard to predict how it will play out, so it's probably a story best explored after the season.
Anthopoulos may not quite be done with his offseason maneuvering, as the GM has hinted that the team could still make bullpen additions at the end of Spring Training or even past Opening Day.  The Jays could also upgrade their depth elsewhere around the diamond by moving Navarro, who has been a subject of trade speculation all winter long and has even voiced a desire to start for another club.  (I examined his Trade Candidate status in February.)  The Tigers and Diamondbacks are among the teams who have reportedly shown interest in Navarro, though D'Backs GM Dave Stewart has denied his team will be making a move for the catcher.
If this collection of Jays ends up being the Opening Day squad, however, it's still a team to be reckoned with, especially since the other AL East clubs are also dealing with their own share of question marks.  Reyes, Martin, Bautista, Encarnacion and Donaldson is as good a start to a batting order as any in the league, and the lineup could be even more daunting if Saunders blossoms in Toronto or if Pompey and/or Travis break out.  Hutchison could be ready to take a step forward after making an adjustment to his slider late last season, while Norris and Sanchez are so highly regarded that it wouldn't be a surprise to see either emulate Stroman's immediate success.
It could be that this injection of fresh blood is just what the Blue Jays need to finally get back to the playoffs.  Stroman's torn ACL was a huge blow right off the bat, yet if the Jays can avoid any similarly devastating injuries, they should be in the AL East hunt through September.
Photo courtesy of Kim Klement/USA Today Sports Images