The Marlins have a lot of ground to make up in the NL East, but enter the offseason with a talented core, a bit of free cash, and a desire to compete.
Guaranteed Contracts
Other Commitments
Arbitration Eligibles (projections via MLB Trade Rumors)
Options
Free Agents
The Marlins were riding high entering 2015, but a tumultuous season ended with yet more changes. Ultimately, GM-turned-manager Dan Jennings was sent out, with Don Matingly joining the organization to run the dugout and Michael Hill remaining the head of baseball ops. There was plenty of drama along the way, including another lengthy DL stint for superstar Giancarlo Stanton, the release of catcher Jarrod Saltalammachia, and trades of failed offseason acquisitions Michael Morse and Mat Latos.
In spite of that, the organization's fundamental core remains intact. Stanton and Christian Yelich still look like cornerstone pieces, even if they weren't able to put it on display consistently all year. Miami's major winter addition, Dee Gordon, was spectacular. Young ace Jose Fernandez made it back from Tommy John surgery and looks ready to re-establish himself as a top-shelf ace, though some (hopefully) minor arm issues cropped up late in the year and his innings will need to be managed. The Marlins' corner outfield duo is already under contract for the foreseeable future. The team could well push for long-term deals for the other two this winter, but they'll be back regardless.
There was a time not long ago when a fifth player seemed worthy of mentioning with that group: center fielder Marcell Ozuna. Miami tried to extend him after a breakout 2014 in which he showed above-average pop and a quality glove. Ozuna received a mid-season demotion after a tepid start, saw his name arise in summer trade rumors, and was reportedly the subject of in-fighting between former manager Dan Jennings (who wanted to play him) and owner Jeffrey Loria (who didn't). Jennings won that battle, as the soon-to-be 25-year-old did play, and played well (.278/.320/.469 in his 172 second half plate appearances). But Loria obviously went on to win the war. In recent days, Ozuna agent Scott Boras and Marlins president David Samson have swapped barbs, so it doesn't seem as if the situation is improving.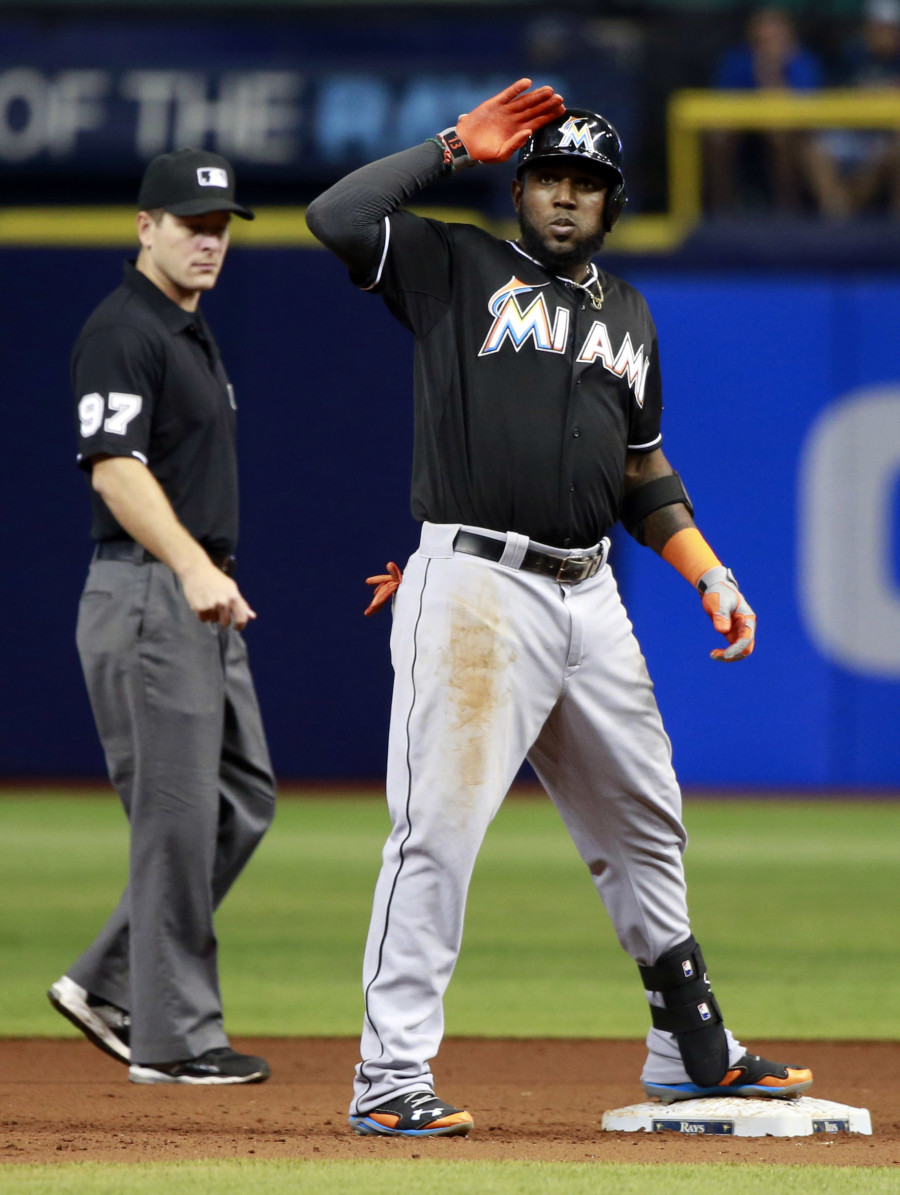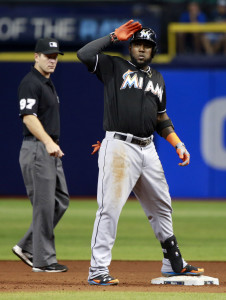 Making a decision on Ozuna represents the lynchpin of the Marlins' offseason. If he's retained, the organization would be set with an exciting, young trio of regulars (joined by veteran reserve outfielder Ichiro Suzuki). In the seemingly more likely scenario of a trade, Miami might well be left to search for a replacement externally. It isn't impossible to imagine Miami giving out a mid-length contract to a veteran, with Denard Span possibly available at an appealing price point and Dexter Fowler standing at the top of a limited market, but a shorter-term signing could be more likely. Though the soon-to-be-renamed Marlins Park isn't a great draw for hitters looking to rebuild value, the club could theoretically promise playing time and a center field job to someone like Austin Jackson.
If the front office isn't willing or able to attract those kinds of players, it's possible to imagine a scenario where a capable defender and right-handed hitter — Drew Stubbs comes to mind (though former Marlin Jake Marisnick would have worked nicely) — splits time with Yelich in center. In that scenario, the southpaw swinging Derek Dietrich could spend time in left when righties are on the hill, opening a route to more playing time for him in the process. Dietrich has yet to prove himself a capable fielder, but his bat showed up last year and a broader opportunity could be in order.
Dealing away a controllable piece like Ozuna is never easy, but it probably also represents the only reasonably plausible means for the organization to add a high-level pitcher. The team has made clear that's a top priority, and it's easy to see why. Henderson Alvarez could rejoin Fernandez at the top of the rotation after a lengthy absence due to shoulder surgery, but he's now a major injury question mark. It's probably also unfair to expect the 25-year-old to be a sub-3.00 ERA pitcher going forward, as he's never posted a sub-3.70 SIERA even in his best seasons. It's not even clear yet whether Alvarez will be tendered a contract, though it surely would be difficult to give him up with another year of control still remaining. Jarred Cosart showed promise after coming to the Marlins in the middle of 2014, but struggled last year with command, results, and health issues. The club has received plenty of innings from Tom Koehler in recent years, making him a nice arm to have at the back of the rotation, but his upside appears limited. Adam Conley is a reasonably interesting arm who showed well in his debut last year, but there are probably limits to what can be expected of him. Otherwise, the team has depth/swingman options such as Brad Hand and David Phelps as well as some unestablished pieces that have at least tasted the big leagues, including Justin Nicolino, Jose Urena, and Kendry Flores.
In retrospect, at least, it hurts to think about the arms that Miami has traded away in recent years. Nathan Eovaldi, Andrew Heaney, and Anthony DeSclafani have all had their share of success since leaving town. Trading Ozuna carries the same kind of risk, though he ought to be able to fetch a similarly controllable player in return — especially after a strong run at season's end. We've heard lots of talk of the Indians as a potential match, which makes a lot of sense on paper, and MLBTR's Steve Adams has previously identified the Mariners, Giants, Brewers, and Padres as hypothetical trade partners. Of course, Ozuna could also hold appeal to clubs that have center fielders on hand but need corner pieces, such as the White Sox, Rays, Royals, and Reds. And the division rival Braves and Phillies both could conceivably match up as well.
There's also some indication that the Fish could be looking to spend some cash — perhaps up to $15MM annually — on an open-market rotation addition. (If they don't add an arm via Ozuna, they could seek two free agents.) Depending on what kind of term of years Miami would be willing to commit to, that would put the team in play for a wide variety of mid-rotation arms. Among the top fifty free agents, as rated by MLBTR's Tim Dierkes, only the very top arms appear to be completely out of reach. With a protected top pick (seventh overall) and a penchant for trading their competitive balance selections, the Marlins might not be too worried about giving up a second-round draft pick to add the right pitcher. It's possible to imagine a run at the Jeff Samardzija – Mike Leake – Wei-Yin Chen – Kenta Maeda tier of arms, though taking aim at the next group down might be more realistic. If Miami prefers a younger arm and doesn't mind taking some injury risk, Brett Anderson could be a target. High-performing veterans such as John Lackey and Hisashi Iwakuma might at least be worth pursuing. Otherwise, it's also possible to imagine the club chasing a less expensive that can deliver innings. With former Pirates pitching guru Jim Benedict now in Miami, J.A. Happ could make added sense as a reliable arm with some upside. (Miami paid a steep price to add Benedict, it's worth noting, and will surely look to benefit from some of the same magic he worked in Pittsburgh.)
The trio of traded pitchers noted above did, of course, bring back players in return, two of whom — Gordon and Martin Prado — feature heavily in the current infield alignment. (DeSclafani went for Latos, which obviously did not work out at all.) Prado has drawn a good deal of trade interest, and only has one year remaining on his deal, but the Miami front office continues to put out word that he's not really available. Though he's no longer the very good hitter he once was, Prado has delivered a league-average bat with quality defense at third base, and remains a valuable member of any team that hopes to contend. The 32-year-old also represents a corner outfield and second base option, expanding his versatility (and hypothetical trade market).
Shortstop is settled with the slick-fielding Adeiny Hechavarria, who is highly valued by the club despite his light bat. There'd be interest in an extension, but it seems that the club isn't optimistic that the 26-year-old could be locked up at a reasonable price.
There's some uncertainty at first base and catcher, though both positions figure to be filled by internal options with some possible external supplementation. Lefty slugger Justin Bour was rather productive last year, slashing .262/.321/.479 and popping 23 home runs over 446 plate appearances. But he's been dominated in limited exposure to opposing southpaws, and looks in need of a platoon mate. It's plausible to imagine the club pursuing hitters such as Mark Reynolds in free agency. Steve Pearce and Mike Napoli could also fit, though they'll be looking for bigger roles and more money. Behind the dish, the 24-year-old J.T. Realmuto should continue to receive a chance to seize a long-term role. He started slowly with the bat, but showed plenty of offensive promise over the course of the season. While WAR measures liked his defensive work quite a bit, he'll need to improve some of the league's worst framing numbers. The switch-hitting Tomas Telis provides an option as a reserve catcher, and the organization could still bring back free agent Jeff Mathis, a highly-regarded performer in the field whose limitations on offense are well documented.
As the team looks at ways of filling in its final roster spots, the bullpen also figures to get some consideration. A.J. Ramos stepped in well for the disappointing Steve Cishek. The outgoing submariner brought back a control-challenged but live-armed righty in Kyle Barraclough, who probably earned a pen spot after spinning 24 1/3 frames of 2.59 ERA pitching after the trade (despite walking 6.7 batters per nine). Carter Capps was a revelation, but ended the year on the DL with elbow issues. Assuming he's able to return to health, he'll join Bryan Morris and lefty Mike Dunn to make up a fairly solid set-up group. It probably isn't strictly necessary to add to this group, which could be supplemented by whatever rotation options don't stick there, but a veteran acquisition is always possible.
All told, Miami could conceivably look at this as a winter to regroup, return to health, and make a few targeted acquisitions. But the Ozuna conundrum and the desire for a young pitcher add an element of intrigue. While the front office/field staff upheaval appears to be nearing a conclusion, the Loria-led team could yet surprise as it looks to arm Mattingly with the tools to deliver a winner.