It can be tough for a player adjust to a new organization, and Phillies prospect Jake Thompson has already had to make that change twice in his young career thanks to his inclusion in a pair of significant trades.  The first time around, Thompson was shipped from the Tigers to the Rangers as a part of the Joakim Soria deal.  One year later, he went from Texas to Philly in the Cole Hamels deal.  After his Spring Training start on Thursday, Thompson explained that going through deal No. 1 helped him transition better after deal No. 2.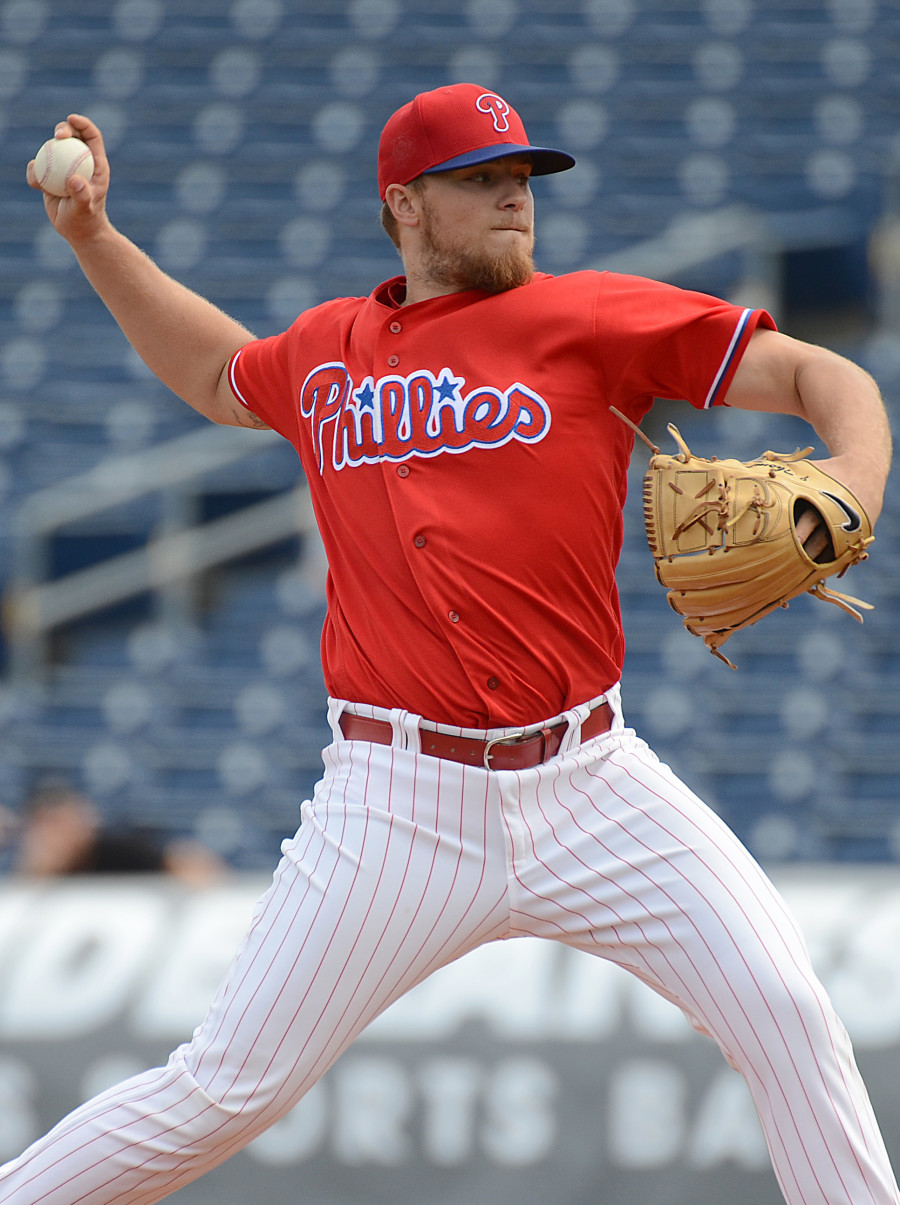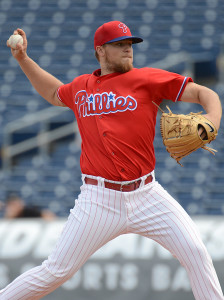 "I tried to overdo everything [after the first trade].  I tried to throw every fastball max velocity, and I wasn't really utilizing all the strengths of my game like the movement on my fastball," Thompson told reporters in Clearwater, Fla. after allowing three hits over two innings with one walk and one strikeout.  "I was trying to do things that I wasn't capable of.  So, this time around I decided to be myself and see how that turns out.  I've tried to get a whole lot more contact since I've been with the Phillies and the last part of [Double-A] Reading that really panned out for me and as my command gets better here I'm going to try to keep doing that.  I'm going to keep trying to get more ground balls."
As he adjusts to the Phillies organization, Thompson says that he is leaning on veteran leadership for advice and support.  Of course, there aren't many veterans left in the Phillies clubhouse with 28-year-old Jeremy Hellickson qualifying as a grizzled veteran in the team's babyfaced rotation.  Thompson, 22, cited Charlie Morton and Carlos Ruiz as two of his mentors here in Clearwater.
Thompson was also more at ease after the Hamels deal because he came to his new club with fellow pitching prospects Alec Asher and Jerad Eickhoff, catching prospect Jorge Alfaro, and outfield prospect Nick Williams.
"That's one thing that is a little bit different from the first time I was traded.  I came here with a few teammates and I actually played with all of them except for Matt Harrison, so that made things a lot easier.  I had some familiar faces with me," Thompson explained.
The trade talk buzzed around Hamels in Philadelphia for years and reached a fever pitch leading up to July 2015.  Even though the Rangers were often mentioned as a likely landing spot for the ace, Thompson says that he ignored the trade talk.  When the trade did go down, Thompson admitted that he was flattered to be a key piece of a deal for one of the league's biggest names.
"There's a huge honor in that.  Cole Hamels is Cole Hamels, he's undeniably good.  For me, I just try not to get super wrapped up in it. Every day I'm trying to become a Major League pitcher, and I just try to keep getting better."
Thompson may not have to wait too long to realize that goal.  Though he just turned 22 in January, he reached Double-A at the age of 20 and spent the entire 2015 season, his age-21 campaign, at that level.  Thompson recorded a 3.73 ERA with 7.6 K/9 against 2.8 BB/9 in 132 2/3 innings last year despite being nearly four years younger than the league average.  That performance and his raw stuff prompted Baseball America to rank him third among Phillies farmhands and 75th in all of baseball.  Similarly, MLB.com listed him second among Phillies prospects and 55th in baseball, while ESPN's Keith Law rated Thompson second in the organization and 63rd in all of baseball.
Photo courtesy of USA Today Sports Images.