After eight straight years in the majors, outfielder Nate Schierholtz found himself in an unfamiliar situation last spring.  The veteran outfielder inked a minor league deal with the Rangers in February 2015 and, roughly seven weeks later, he opted out of the pact when he learned that he would not make the cut.  When baseball's game of musical chairs left Schierholtz without a quality MLB opportunity, the veteran decided to go out of his comfort zone and hemisphere by signing with the Hiroshima Toyo Carp.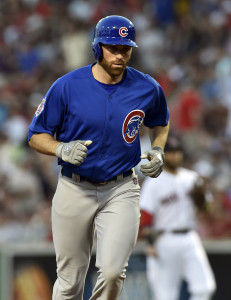 "It was definitely an interesting experience and I learned a lot.  I enjoyed living with the Japanese culture and learning some of their ways and values.  The fans are very kind to the American foreign players and it was a great experience," Schierholtz told MLBTR in Lakeland, Florida before the Tigers' contest against the Pirates.
Schierholtz didn't know much about the NPB before heading over there, but he quickly discovered that the Hiroshima Carp enjoy rockstar status in Japan.
"We were a very popular team, we sold out with 35,000 people every day that season.  Our support was like no other team's there, even during road games.  It was neat to see fans stand up and cheer for three hours straight without sitting down.  They had a couple of chants for every player too.  Mine was 'Nate-O,' because that's what they called me.  The whole stadium would chant 'Home Run Nate-O!' every time I was at bat because that's all they want to see from the American players," the outfielder said.
Schierholtz, of course, isn't a huge home run hitter, but he did oblige the fans' request on ten occasions.  In 248 plate appearances, Schierholtz slashed .250/.298/.435 while playing hard-nosed defense in the outfield.  After re-establishing himself, the veteran had multiple non-guaranteed MLB opportunities for the 2016 season.  This time around, he knew that his best bet was to sign early on in the offseason.
"I had a little bit of a different strategy from last offseason.  I waited and waited and waited and I kind of got in a bad situation last Spring Training [with the Rangers] as far as opportunity goes, so I just wanted to sign with a team that wanted me there.  I felt like [the Tigers'] track record of being a successful team really appealed to me.  I think, at my age, my goal is to get back to the playoffs. I had so much fun back in San Francisco winning that World Series, that's kind of what motivates me now."
Photo courtesy of USA Today Sports Images.