Check out all the published entries in our Offseason in Review series here.
The new Phillies front office continued the tear-down while adding a wide array of low-cost, low-risk assets in an offseason of continued change.
Major League Signings
Trades
Claims
Extensions
Notable Minor League Signings
Notable Losses
Biddle, Chad Billingsley, Brian Bogusevic, Domonic Brown, Jordan Danks, Chase d'Arnaud, Justin De Fratus, Kelly Dugan, Jeff Francoeur, Giles, Aaron Harang, Erik Kratz, Cliff Lee (declined option), Adam Loewen, Nefi Ogando, Jonathan Pettibone, Jerome Williams
Needs Addressed
If you've ever wondered what a modern-day expansion draft would look like, the Phillies' offseason provides a decent proxy. The organization turned over huge swaths of its 40-man roster, re-stuffing it (and the non-roster invite rolls) with a mix of placeholders, interesting youngsters, and bounceback veterans.
Former GM Ruben Amaro Jr. had already sold off most of the team's marketable veteran assets, leaving only Ryan Howard and Carlos Ruiz from the 2008 championship club. Truth be told, they'd probably be gone, too, but it's not entirely clear that either warrants a guaranteed roster spot at this point — let alone anything close to the $35MM and $9MM they're respectively owed.
Incoming president Andy MacPhail and hand-picked GM Matt Klentak did have one major trade piece to market, however: young closer Ken Giles and his five remaining years of control. He might well have been retained had he played any other position, but the new Phillies brass was probably wise to cash in the fireballing righty while his value was high. There aren't any sure things in the return, but Vincent Velasquez and Mark Appel have their share of upside, with late-inning relief potential if they can't stick in the rotation. Harold Arauz represents a fun lottery ticket to track, while Brett Oberholtzer and, eventually, Thomas Eshelman could provide some cheap and solid innings.
Stocking future assets remains the unmistakable lodestar of the new front office, but there were near-term roster practicalities to be considered. And 25-man opportunities are their own kind of asset for rebuilding clubs, which can offer veterans a chance to receive playing time, rebuild value, pass on some lessons to the youngsters, and hopefully turn themselves into appealing summer trade pieces. The rotation, in particular, was ripe for would-be comeback tales, with several short-term veterans departing and the inimitable Cliff Lee cut loose, his $12.5MM buyout representing an easy decision given his elbow issues and questionable desire to pitch in 2016.
Convincing intriguing veterans to come to Philadelphia may not have been a fruitful task with the roster ripped down to the studs, so the Phils went after unwanted, mid-priced castaways. Charlie Morton and Jeremy Hellickson offer the promise of some stability and will help prevent the need to press younger arms for non-developmental reasons. At $9MM (including option buyout) and $7MM, respectively, they aren't obvious values. And neither seems particularly likely to be worthy of a qualifying offer after the season. (Morton's option turned into a mutual one with the deal, so he'll likely decline it if he's productive and healthy.) But the TV-rich Phillies have pared their payroll to levels not seen since 2003 even with those additions, neither pitcher required much in the way of player assets to acquire, and sturdy performances over the season's first few months could turn the pair into trade chips.
Those two starter additions constituted the largest salary commitments of the winter, with the Phillies only making one major league signing. David Hernandez seemed penciled in as the team's closer, and figures to have a chance at the role with a $3.9MM guarantee in hand, but he's been taking it slow this camp given his history of arm injuries. He isn't controllable past this season, so the bet is that his arm will stay healthy and that he'll come close enough to his double-digit K/9 numbers of yore to anchor the pen and, perhaps, turn into prospects on or before August 1st.
Otherwise, the Phillies turned their spring home of Clearwater, Florida into a veritable island of misfit toys — while mixing a group of young but talented prospects — ultimately inviting 65 players to big league camp. The new front office plucked seven players from DFA limbo, whether by trade or claim, though it later lost two of those through the same process in the course of making yet more additions. It also added a host of minor-league free agents. We'll walk through the more significant among them in tackling the team's many areas of uncertainty.
Read on for more analysis …
Questions Remaining
The rotation is largely set, with Morton and Hellickson joining promising youngsters Aaron Nola and Jerad Eickhoff, each of whom will look to build off of excellent debuts last year. Velasquez had flashes of excellence last year in Houston, and ought to get a chance to stick as a starter in Philly. He and Adam Morgan appear to be the final two candidates for the fifth spot, but both will probably have their chances over the course of the season. Other younger options — including recent trade additions like Appel, Alec Asher, Jake Thompson, Zach Eflin, and Ben Lively — could eventually earn an opportunity in 2016. On the whole, while there's plenty of uncertainty in the staff, the course seems largely set for the season to come.
There's less excitement in the pen, but it too doesn't lack for options. The aforementioned, out-of-options Oberholtzer appears headed to the pen as a long man to open the year, but will also provide rotation depth. Severino Gonzalez is another swingman option. Hernandez may face competition for the 9th-inning job from minor league signee and former closer Andrew Bailey, who has impressed in limited action this spring. Dalier Hinojosa is also said to be in the mix as well and will play a major role regardless. Jeanmar Gomez, Luis Garcia, and Hector Neris all had good results last year and remain as right-handed options. They are joined by a host of minor league signees, including former late-inning relievers Edward Mujica (who's been stingy this spring) and Ernesto Frieri (who hasn't). Yoervis Medina has also had quality showings in the majors; he represents the return for one-time top prospect Jesse Biddle, whose arm troubles proved too risky to keep a roster spot. On the southpaw side of things, beyond Oberholtzer, the club could give a chance to Rule 5 pick Daniel Stumpf, hope that Elvis Araujo can build on a solid 2015, or hand a spot to minor league free agent James Russell — all while awaiting the return of TJ patient Mario Hollands. There are a lot of moving parts here; the Phils will presumably cycle through possibilities over the year to see what sticks while managing the varying contractual situations of all the candidates.
There aren't a lot of battles in the infield, where everyone is watching to see if Maikel Franco can build on his exciting debut while waiting for J.P. Crawford to join him on the left side. Second baseman Taylor Featherston obviously has Klentak's eye, as he was carried as a Rule 5 pick last year by the Angels (where Klentak was AGM) before being claimed this winter by the Phils. He'll get some needed seasoning in Triple-A but could take another MLB opportunity at some point. In the meantime, Freddy Galvis, Cesar Hernandez, and Andres Blanco will hold down the fort in the middle infield. First base looks to be a platoon of Howard and Darin Ruf, while Cameron Rupp figures to see the bulk of the time behind the plate in front of Ruiz. Veteran J.P. Arencibia is also on hand, and solid prospects Jorge Alfaro and Andrew Knapp are backstops on the rise — though it's not clear whether either will be ready for major league time this year. While Galvis, Hernandez, Ruf, and Rupp are a relatively youthful (and inexpensive) group, they'd be playing much less significant roles in most other organizations. It's a situation ripe for turnover as the season progresses.
The Phillies outfield, meanwhile, is yet more susceptible to ongoing tinkering. Odubel Herrera is sure to get a chance to entrench himself in center after turning into one of the best Rule 5 choices of recent memory last year, though he's been slowed by a finger issue. He's joined in camp by this winter's top Rule 5 selection, Tyler Goeddel, bounceback candidates like the swift and rangy Peter Bourjos and glove man David Lough, and minor league signee Cedric Hunter (who has only the barest MLB experience — a cup of coffee back in 2011 — but has performed well this spring). Another option is Darnell Sweeney, who could also see time in the infield dirt. Converted third baseman Cody Asche may enter the picture if he can get healthy, as could well-regarded prospects Roman Quinn and Nick Williams if they come along in the upper minors. All told, there's a real lack of depth here, especially with interesting youngster Aaron Altherr set to miss most or all of the year following wrist surgery. Unsurprisingly, the Phils have held some discussions about adding to this mix, and may well end up scouring the waiver wire and opt-out market to bolster their ranks.
Deal of Note
Some felt the Phillies might look to make a splash or two in free agency with a robust market that included some younger options, but that never felt terribly realistic. Really, the major question entering the winter was whether the time was right to make a move on Giles, who has established himself as a late-inning force at age 25.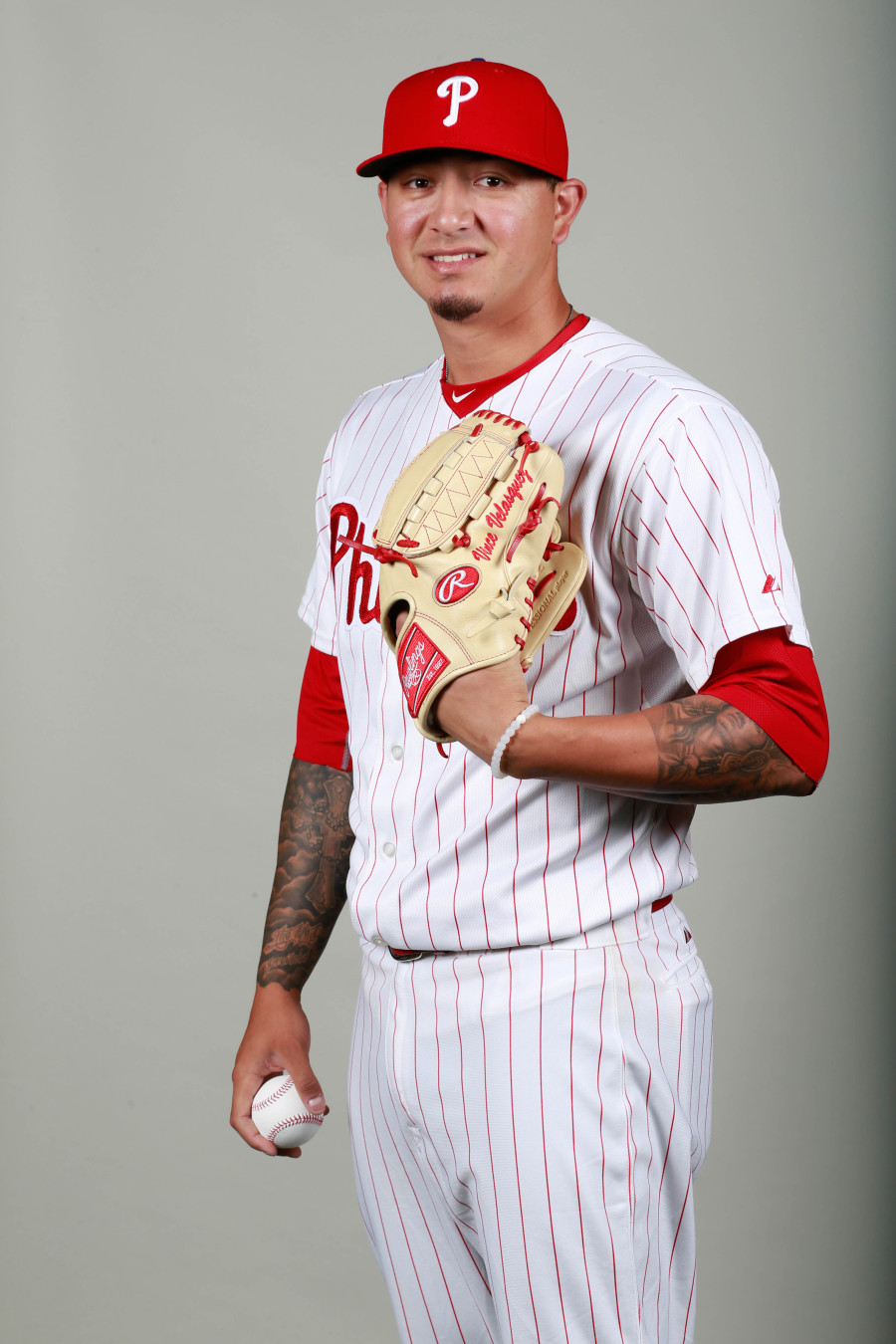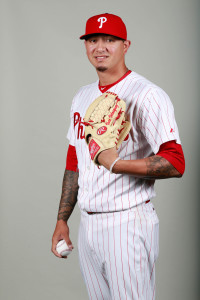 The front office could certainly rolled the dice and waited, as the organization did last year with Cole Hamels. Relievers tend to hit peak value during the summer, and it's possible to imagine that Giles might have been a top trade target at the deadline — particularly since many other top options are situated on likely contenders.
Ultimately, though, Giles was cashed in this winter. And given the quality and depth of the return, it's not hard to see why. To be sure, young relievers with his track record can be hard to find, but given the well-documented volatility of pen arms, it made good sense to do a deal when presented with significant value.
The two headline pieces — Velasquez and Appel — may not turn out to be quality starters in the long run. The former has an impressive arsenal but lacks elite control, while the latter has yet to harness his own power repertoire in the minors. But Philadelphia has the time and patience needed to give both a chance to fail in the rotation. Importantly, too, there's good reason to think that both have an excellent chance of functioning as quality late-inning pieces — possibly even approaching, even if not eclipsing, Giles in terms of quality.
The remainder of the deal has value, too. Oberholtzer may only end up as a placeholder, but he's just 26 and has ample control remaining, potentially making him a useful swing piece for years to come. And while the 21-year-old Eshelman doesn't have big-time stuff, he was worthy of a second-round pick and slightly under-slot $1.1MM bonus last year and could move reasonably quickly as a polished collegian with outstanding control. (As for the two, unrelated Panamanian youngsters by the same surname who changed hands in this deal, it's anybody's guess.)
All in all, the package has its share of upside to go with a reasonable floor, and it doesn't seem terribly likely to impact the team's timeline for a return to contention.
Overview
While Phillies fans are settling in for another losing campaign, there's certainly quite a lot to look forward to in the coming season. Many of the organization's most promising farmhands are nearing MLB readiness — if they haven't reached it already — and the big-budget club may well consider some reasonably aggressive promotions to get an idea of its contention timeline and mid-term needs.
There's still a lot of work to be done, of course, in both talent accumulation and development. But the club has just $26MM on the books past the present season, allowing ample flexibility to add big league pieces as a new roster core takes shape. Exciting times may not be far off.
Now, it's your turn to weigh in on things (link to poll for mobile app users):