We typically think of trade deadline winners and losers being teams, not players, but if September goes as August has, there will have been few bigger trade deadline winners than Ivan Nova. The righty spent years on the fringes of the Yankees' rotation, but now could hit the open market as a hot commodity after what could turn out to have been a very useful makeover in the Pirates organization.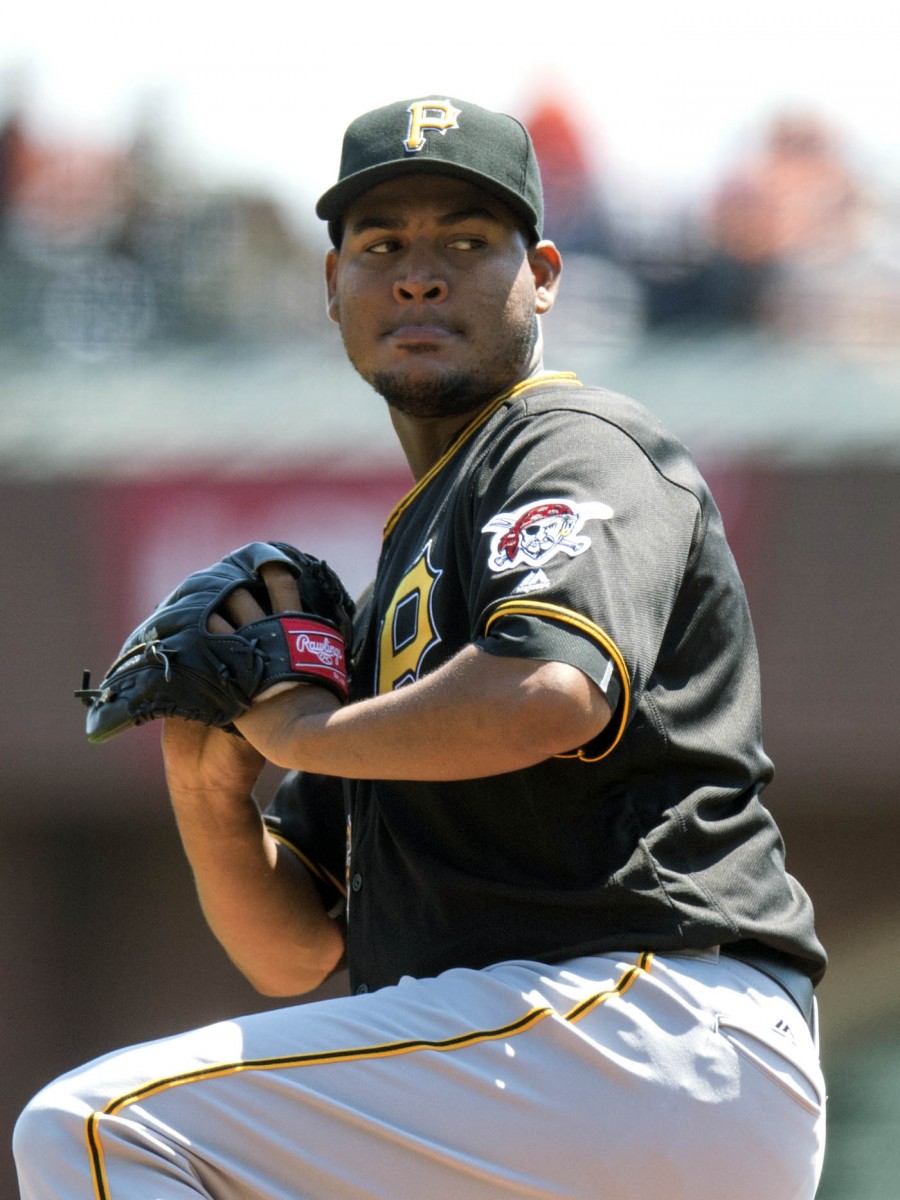 In 97 1/3 innings with the Yankees this season, little went right for Nova. He posted a 4.90 ERA, with a reasonable 6.9 K/9 and 2.3 BB/9 but with a stratospheric 1.8 HR/9, and he made only 15 starts while also pitching six times out of the bullpen. He then headed to Pittsburgh in a little-noticed August 1 deal for two players to be named.
Nova figured to perform better with the Pirates, since he was moving to the more pitcher-friendly league and since it's considerably easier to limit home runs at PNC Park than it is in Yankee Stadium. A.J. Burnett finished his career as a minor hero in Pittsburgh after an uneven tenure in New York, and Nova seemed likely to benefit from the same team change.
The Pirates organization's reputation for fixing pitchers also figured to help Nova. That reputation has taken a bit of a hit this year with the struggles of Jon Niese, Francisco Liriano and others, but the past successes of J.A. Happ, Edinson Volquez, Mark Melancon, Liriano and Burnett all made Nova's move look promising.
Since the deal, Nova has greatly exceeded expectations, posting a 2.87 ERA, 6.3 K/9 and only one walk in 31 1/3 innings. It appears the Pirates have helped Nova throw more strikes, and he's done so with gusto, perhaps in part because he doesn't have to worry as much about the ball flying out of the stadium if he makes a mistake. Nova's performance since joining the Pirates looks likely to dramatically improve his standing in the coming offseason.
Of course, it's still just 31 1/3 innings. There's time for Nova to falter, and even if he doesn't, teams perhaps will think twice before making a significant commitment this winter based on only two months of data. But Nova seems likely to benefit from the precedent Happ established last year.
Like Nova, Happ was a fringe starter who joined the Pirates on a forgettable deadline deal and immediately morphed into a completely different pitcher, posting a 1.89 ERA, 9.8 K/9 and 1.8 BB/9 in 63 1/3 innings for Pittsburgh. Better still, he signed with the Blue Jays for three years and $36MM last offseason and continued to perform well with his new team, posting a 3.19 ERA, 8.1 K/9 and 2.6 BB/9 in 155 1/3 innings so far with the Jays. A number of other pitchers who've righted their ships in Pittsburgh have enjoyed varying degrees of success elsewhere as well, including Volquez, Jason Grilli, Jeanmar Gomez and Vance Worley. This winter, then, teams will have reason to gamble that Nova will continue to contribute, particularly since he's only 29.
The next month will be crucial for Nova, and there will be a wide range of possibilities for him in the offseason depending on how he pitches the rest of the year. It might turn out that his first five starts with the Pirates were partially a fluke. This wouldn't be the first strong, but inconsequential, month he's ever had — for example, from April 20 through May 19 of this season, he posted a 2.49 ERA while only walking two batters in 25 1/3 innings. But another good month would go a long way toward convincing potential suitors that Nova is for real. If he does continue to pitch well, Nova and his representatives at the Legacy Agency will surely point to Happ's performance as evidence that small samples can matter. Rich Hill's performance this year after a handful of outstanding starts with the Red Sox last season will be a good data point for them as well.
Teams will be eager to believe the story Nova will be telling, too, because so little good pitching will be available on the open market. In a free agent market that will be highlighted by pitchers with serious question marks related to age or performance (the key names include Hill, Andrew Cashner, Bartolo Colon, Jeremy Hellickson and Doug Fister), a pitcher who might be the next Happ would stand out in a big way. The fact that the Pirates can't tag Nova with a qualifying offer will only help his value as well. Volquez got two years and $20MM from the Royals prior to the 2015 season, but if Nova continues to pitch well, he seems likely to get significantly more, given that he's been better than Volquez was with the Bucs and given the weakness of the market. A three-year deal a long the lines of the one Happ received looks like a real possibility if he can repeat his August excellence. It looks relatively likely, then, that Nova's performance since the trade will have more than doubled the payday he'll ultimately receive.
Photo courtesy of USA Today Sports Images.