The Mariners have agreed to a $6.2MM salary to avoid arbitration with newly acquired shortstop Jean Segura, according to Jon Heyman of Fan Rag (via Twitter). On the heels of his big 2016 season, Segura will earn $6.2MM.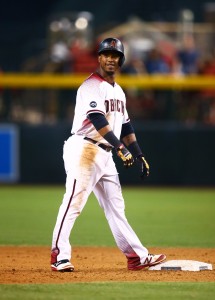 That's a healthy payday for the 26-year-old, who Seattle acquired in a significant trade earlier this winter. But it falls well shy of the $7.3MM projected by MLBTR's arbitration model. Segura earned $2.6MM in 2016, his first year of arb eligibility.
Matt Swartz, who developed that model, had broken down Segura's case before the news of the agreement came through (and before we had a chance to publish that analysis). It was difficult to value the infielder precisely, he notes, due to a lack of reasonably comparable players, though Segura's projected salary seemed a bit lofty.
Arbitration pays best for counting statistics, and Segura fared quite well in that regard in 2016. He not only took 694 trips to the plate, but swatted twenty home runs and swiped 39 stolen bases in that span, while posting a .319 batting average and driving in 64 runs.
Recent middle-infield comps, such as Daniel Murphy and Ian Desmond, weren't nearly as productive, so their respective ~$2.7MM raises seemed like floors. The most direct comp, perhaps, came from center fielder Lorenzo Cain, whose salary jumped by $3.78MM after he posted a .307 batting average with 16 home runs and 28 stolen bases in 2015. Swartz viewed that figure as something of a low-end estimate for Segura, given his bigger numbers.
As it turns out, though, Segura will fall just shy of Cain with a $3.6MM raise. Of course, negotiation and risk tolerance play a major role in the arbitration process, and it's difficult to judge the matter without full knowledge of all the considerations.
Regardless, Seattle will be pleased to have Segura at this general price point. The team gave up two talented young players in Taijuan Walker and Ketel Marte to add his two years of control (along with Mitch Haniger and Zac Curtis), so the team surely has high expectations as the 2017 season draws near.
Photo courtesy of USA Today Sports Images.