This is the latest entry in MLBTR's Offseason In Review series. The full index of Offseason In Review posts can be found here.

The Orioles bought back a number of familiar faces for the 2017 team, most notably the league's top home run hitter.
Major League Signings
Trades And Claims
Notable Minor League Signings
Extensions
Notable Losses
Baltimore Orioles Depth Chart; Orioles Payroll Overview
Needs Addressed
After a giant spending splurge in the 2015-16 offseason, the Orioles quieted things down with a more traditional Dan Duquette winter.  The Orioles executive VP of baseball operations focused mostly on his usual tactics of lower-level transactions and waiting until later in the offseason to enact major business.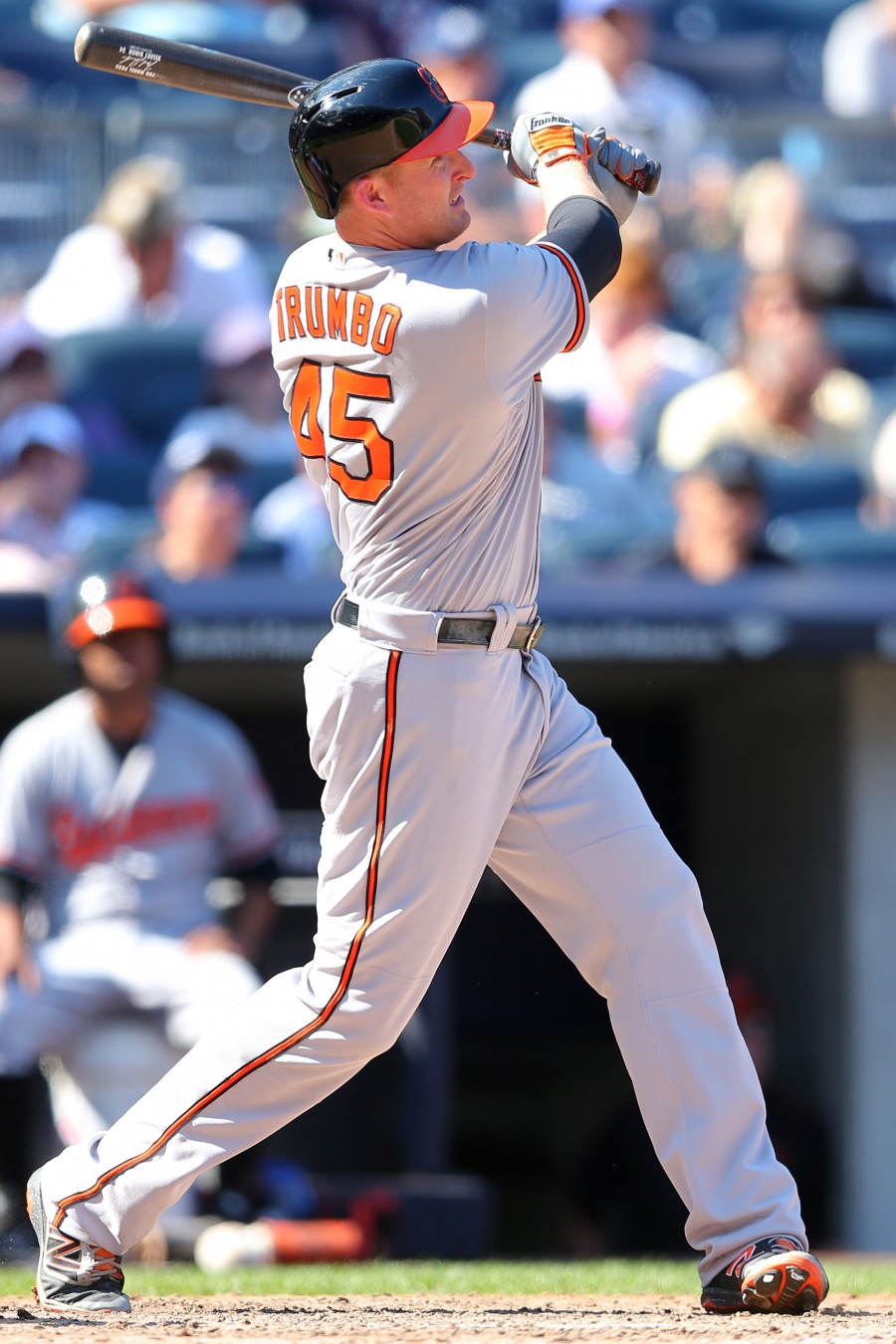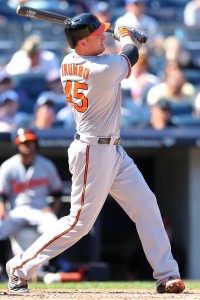 The waiting game may have allowed Baltimore to save a significant chunk of money in negotiations with Mark Trumbo.  The two sides were connected in talks for much of the offseason, with the O's reportedly making Trumbo an offer in the range of $52MM-$55MM over three or four guaranteed years but then pulling that offer a couple of weeks later.
Trumbo was said to be looking for a deal north of $70MM, though the slugger's market was hampered by a number of factors — draft pick compensation tied to rejecting the qualifying offer, a number of other big 1B/OF/DH types available in free agency, and a general league-wide downturn in offseason spending due, in part, to the new collective bargaining agreement's stricter luxury tax rules.  Trumbo drew some interest from the A's and the Rockies, though with apparently no other major suitors stepping forward, he returned to the Orioles for three years and $37.5MM.
Trumbo thrived in his first season at Camden Yards, clubbing a league-high 47 homers and hitting .256/.316/.533 over 667 plate appearances.  With the Orioles building up a lot of corner outfield depth, it looks as if the majority of Trumbo's bats will come as a DH this season, so his shaky glovework will no longer be dragging down his value.
Seth Smith is the biggest new face in the Baltimore outfield, joining the team in a trade that sent rotation disappointment Yovani Gallardo to Seattle.  Smith is himself a question mark defensively (-16.6 UZR/150 and -7 Defensive Runs Saved last season, after a career of average corner outfield grades) but he'll only be in the lineup against right-handed pitching.  The Orioles are intending to platoon both corner outfield between left-handed bats Smith and Hyun Soo Kim and right-swinging Joey Rickard and Craig Gentry, with the latter duo providing more speed and defense than pop at the plate.
Trumbo and Smith ended up being the answers to the Orioles' search for outfield and DH help this winter, a search that led the team to check in on such names as Curtis Granderson, Jay Bruce, Mike Napoli, Chris Carter, Brandon Moss, and perhaps even Jose Bautista (Duquette's unusual public statement describing Bautista as a poor fit in Baltimore notwithstanding).  Gentry's emergence as a viable big league roster piece has also been a boost for the O's, with Gentry enjoying a good spring as he rebounds from two injury-plagued years.
Gentry is one of many notable MLB veterans signed to minor league deals this winter, a list that includes both newcomers to the organization (such as Jesus Montero, Johnny Giavotella and Gentry himself) and re-signed Orioles like Michael Bourn, Paul Janish and Pedro Alvarez.  Assuming the bulk of these veterans remain in the organization rather than opt out, the O's now have some experienced depth on hand should injuries develop, or if a change if needed within the many moving parts of the outfield platoon.
The Orioles had some light talks with Matt Wieters as their longtime catcher's free agent wait extended into February, though really, the chances of a reunion between the two sides ended when Welington Castillo was signed in December.  Castillo ended up being rather an unexpected solution to Baltimore's catching search, as the Diamondbacks surprised many by non-tendering the veteran backstop rather than pay him a healthy (an MLBTR-projected $5.9MM) salary in his final year of arbitration.
When Castillo hit the market, the O's turned away from such rumored targets as Nick Hundley and Chris Iannetta to ink Castillo to a deal that could turn into a two-year, $13MM commitment if Castillo exercises his 2018 player option.  Top prospect Chance Sisco could be ready for the majors as soon as this summer, so Castillo provides Baltimore with a short-term veteran behind the plate until Sisco is ready.
Questions Remaining
For all the Orioles' depth options, they're still rather light on right-handed hitting outfielders, given Rickard's inexperience and Gentry's injury history.  Trumbo can play the outfield in a pinch, of course, though that leaves the DH spot open (possibly for Alvarez).  Steve Pearce, who left in free agency to join the Blue Jays, would've helped in this regard as a lefty-mashing bat who could provide depth in both corner spots, not to mention first or second base.
Angel Pagan was reportedly in agreement with the O's on a major league contract this winter before he failed the team's infamously difficult physical.  Though the switch-hitting Pagan has more recently hit better from the left side of the plate, he could have been a more stable part-time addition than Gentry or Michael Choice.
Gallardo didn't deliver much in his lone season in an Orioles uniform, and the fact that the O's were able to save a bit of money on Gallardo's contract and obtain a useful asset in Smith already makes that trade an on-paper victory.  Still, Gallardo's departure further thins out an already-questionable rotation.  The Orioles' lack of pitching depth is already being tested since Chris Tillman will start the season on the DL with a shoulder issue, and while the injury isn't thought to be too serious, Tillman is expected to miss as much as a month of action.
Beyond the solid Kevin Gausman, the Orioles will deploy Ubaldo Jimenez and Wade Miley in search of bounce-back seasons and former top prospect Dylan Bundy is finally tapped for a rotation job after years of arm problems.  The O's have a host of candidates to fill in for Tillman (Tyler Wilson, Mike Wright, Chris Lee, Alec Asher, Gabriel Ynoa, or Logan Verrett) though this list is much longer on potential than on any sort of established track record in the big leagues.  The fact that Asher was just acquired so close to the end of Spring Training may indicate that the O's aren't satisfied with their internal options.  The team can make do until Tillman gets back, though pitching may again be an issue if there are any further injuries or performance struggles in the rest of the rotation.
The lack of any significant pitching upgrades stands out as the only real question of Baltimore's offseason.  The club is obviously counting on Bundy to live up to his promise and on Jimenez/Miley to pitch more effectively, though that's quite a bit of risk for a team that plans on contending in 2017.  The Orioles have been consistent postseason threats in the Duquette era despite a lack of top-shelf pitching, yet while one could say that they haven't been in need of top arms to consistently win, the counter-argument is that this lack of a truly strong rotation has held the Orioles back from true consideration as World Series contenders.
Looking at the bullpen, Baltimore is going with an interesting collection of young arms to back up its dominant top four of Zach Britton, Brad Brach, Mychal Givens, and Darren O'Day.  Vidal Nuno, Donnie Hart and Jayson Aquino are all lefties, and while the Orioles could keep two in their pen (since Britton obviously won't be used for situation work), that third leftover arm could potentially be a trade chip, in my opinion.
Speaking of bullpen trades, the Orioles at least considered the idea of moving Brach in a deal for an outfielder this winter.  Brach drew interest from the Mets as part of the Granderson/Bruce talks and the Braves also asked about Brach's services, with the O's wanting Mallex Smith in return.  Clearly the Orioles had a pretty big price tag on Brach's services, though it's interesting to speculate about the team's long-term bullpen plans if Brach was a potential trade chip and extension talks with Britton only seemed to go as far as two years with a club option.
The even larger extension question looming over the O's is Manny Machado, as the two sides reportedly didn't have much discussion about keeping the superstar beyond his scheduled entry into the free agent market after the 2018 season.  Quite a bit of money comes off the Orioles' books next winter (Jimenez, Tillman, Smith and potentially Castillo and J.J. Hardy) so the club could be waiting to address those potential roster holes before fully exploring the $300MM+ commitment required to lock up Machado.
Deal Of Note
Despite 22 homers and a solid .249/.322/.504 slash line in 376 PA last season, Alvarez ended up settling for a minor league contract in a familiar environment.  The cold market for sluggers played a factor, though Alvarez has also not brought much to the table aside from power over his seven-year career, delivering low averages and OBP numbers as well as poor defensive metrics as a first and third baseman.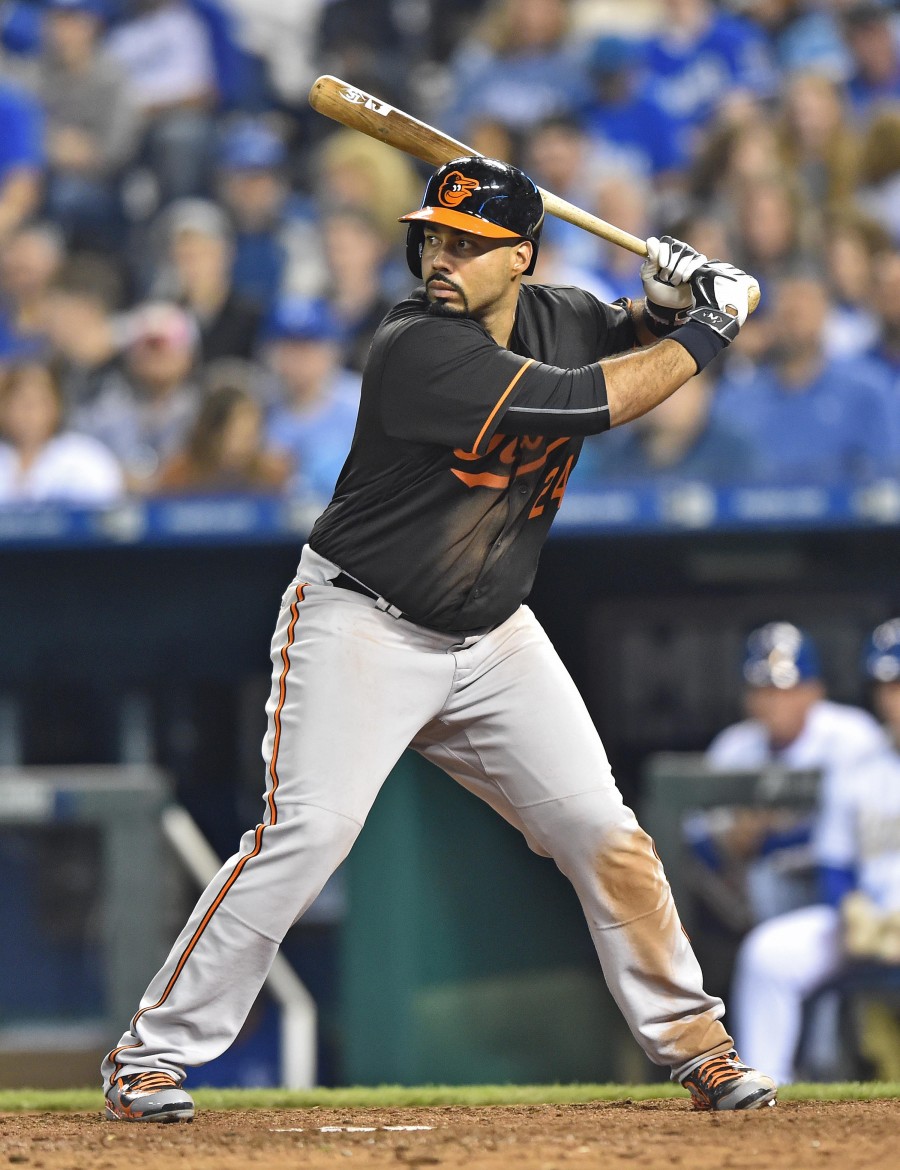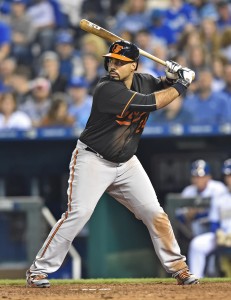 With these limitations in mind, Alvarez looked to improve his versatility by working out as an outfielder this winter.  Alvarez isn't a speedster, though he also isn't quite a lumbering slugger type; as per Fangraphs' BsR metric, Alvarez has been an above-average baserunner in each of the last two seasons.
The Orioles made outfield defense a priority this winter, though as shown in the past with Trumbo, Kim and now even Smith, the team is willing to put up with some degree of subpar glovework if a player can hit.  It remains to be seen if Alvarez can viably handle corner outfield duty, though if not, he is stuck behind Trumbo, Chris Davis, and rookie Trey Mancini in the first base and DH mix.
Overview
The Orioles didn't feel the need to overhaul a roster that was good enough to win a wild card berth, and given Duquette's knack for finding hidden gems, it's likely that at least one or two of his under-the-radar moves will prove to be quality additions.  The real heavy lifting for the team may come next winter when, as mentioned earlier, they'll face some big free agent departures and Machado and Britton will both be one year away from the open market.
How would you evaluate the Orioles' winter moves?  (Link for app users.)
Photos courtesy of USA Today Sports Images.