This is the latest entry in MLBTR's Offseason In Review series.

The Blue Jays added several veteran reinforcements to their roster and brought back franchise icon Jose Bautista, though the loss of Edwin Encarnacion may linger as a "what-if" scenario for years to come.
Major League Signings
Kendrys Morales, DH/1B: Three years, $33MM
Lourdes Gurriel Jr., IF/OF: Seven years, $22MM
Jose Bautista, RF: One year, $18.5MM (plus $17MM mutual option for 2018 and $20MM vesting option for 2019)
Steve Pearce, 1B/OF: Two years, $12.5MM
J.P. Howell, RP: One year, $3MM
Joe Smith, RP: One year, $3MM
Total spend: $92MM
Trades And Claims
Notable Minor League Signings
Notable Losses
Toronto Blue Jays Depth Chart; Blue Jays Payroll Overview
Needs Addressed
When Encarnacion didn't quickly accept the Blue Jays' early offer of a four-year, $80MM contract, Toronto moved right on to its Plan B in another experienced slugger in Kendrys Morales.  While Morales' numbers over the last five years don't match Encarnacion for either consistency or sheer production, the switch-hitter has still produced above-average offensive numbers for much of his career, and is just a season removed from a .290/.362/.485 line with the world champion Royals in 2015.  Last year, Morales got off to a very slow start in the first two months before heating up to the tune of an .888 OPS over 423 PA from June 1 onward.  Interestingly, Jays GM Ross Atkins suggested that Morales could see a "good deal" of action as a first baseman, though since Morales has played just 16 games at first since the start of the 2015 season, one would suspect Morales will fill more of a primary DH role.
Adding more versatility to the lineup is Steve Pearce, signed to a two-year deal despite undergoing elbow surgery last September.  (Pearce has been limited to DH duty thus far in Spring Training but otherwise looks to be in fine condition.)  Pearce appears to be the Jays' first choice in left field, though he has also seen time in right, first base and even second base in recent years.
While he has been particularly good against southpaws, Pearce has an overall .266/.348/.485 slash line from 2013-16, making him a solid choice as an everyday player whenever Toronto decides to use him.  Against left-handed pitching, Pearce could play first with Melvin Upton or Ezequiel Carrera handling left field.  With a righty on the mound, Pearce could play left while Justin Smoak starts at first.  Pearce could also spell Bautista in right field on occasion, or serve as a stopgap at second base if Devon Travis' availability for Opening Day is still in doubt.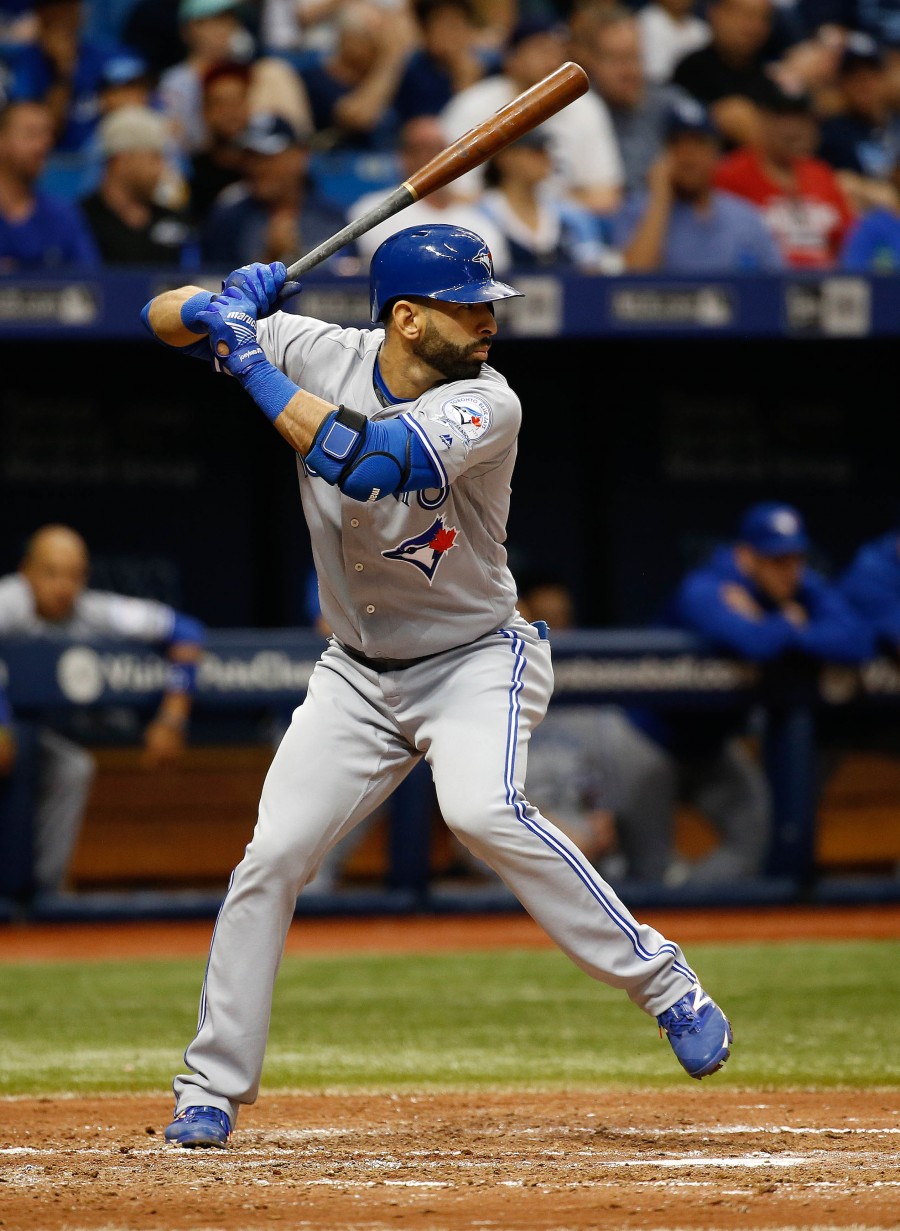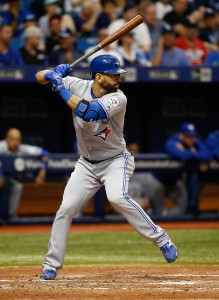 Bautista didn't enter free agency on a high note, as he was limited to just 116 games due to injuries during his age-35 campaign.  It also didn't help Bautista that the market for free agent hitters in general was rather a cool one this year, and while a number of teams (such as the Indians, Phillies and Orioles) were speculatively linked as interested candidates for a signing, a lack of concrete interest allowed the Jays to re-emerge as suitors in late December.
Though one mystery team reportedly offered Bautista a three-year deal worth more than $50MM, he instead rejoined the Jays for $18.5MM and just one guaranteed year.  One would think that a vintage Bautista season in 2017 will lead the slugger to decline his end of a 2018 mutual option in search of a bigger multi-year contract without the anchor of the qualifying offer weighing down his market.  If that ends up being the case, the Jays couldn't really complain about getting one final outstanding year from one of the franchise's greatest hitters, even if they're no longer in line for draft compensation.
Re-signing Bautista allows the Jays to fill a need in right field, with the hope that a season of better health will allow him to provide better defense.  Bautista still hit .234/.366/.452 with 22 homers despite his injury woes last year, though Toronto will be hoping for more production to help make up for Encarnacion's departure.
The Jays replaced free agents Brett Cecil and Joaquin Benoit in their bullpen by signing another pair of veterans in lefty J.P. Howell and right-hander Joe Smith.  Before signing Howell, Toronto also considered other southpaws such as Jerry Blevins and Boone Logan.  The Blue Jays did consider making a bigger expenditure on their pen, as the team had some talks with the White Sox about David Robertson.
After parting ways with Josh Thole and Dioner Navarro, the Jays addressed their backup catching needs by signing veteran Jarrod Saltalamacchia to a minor league contract.  "Salty" is the favorite to serve as Russell Martin's understudy, while the Blue Jays made some other minor acquisitions (i.e. Juan Graterol, Mike Ohlman) to build catching depth.
On the international signing front, Toronto made a splash by signing highly-regarded Lourdes Gurriel Jr. to a seven-year, $22MM deal.  The 23-year-old Gurriel hails from one of Cuba's most respected baseball families (his father is one of Cuba's greatest players and his older brother Yulieski plays for the Astros) and could potentially line up at several different positions around the diamond.  Gurriel is probably at least a year away from the big leagues but he stands out as an intriguing building block for the future.
Questions Remaining
Going into the offseason, there was significant doubt as to whether the Jays could re-sign either Bautista or Encarnacion, and a reunion with both seemed totally out of the question.  It seemed like the Jays themselves believed the latter scenario was true, as once Encarnacion rejected that initial offer, the team jumped to sign Morales to fill Encarnacion's role.  As the winter went on, however, the expected frenzy for Encarnacion's service never materialized, as the first baseman signed a three-year, $60MM deal (with a $20MM club option year) with the Indians that fell below all industry projections.
Had the Jays held off on Morales and waited perhaps just a few more weeks before re-engaging Encarnacion and agent Paul Kinzer, it's possible Encarnacion could have ended up back in Toronto at a relative discount price.  Instead, the Jays spent $33MM on Morales (who's only a few months younger than Encarnacion and an inferior batter with no defensive value) and $18.5MM on Bautista, who certainly wouldn't be the first star hitter to hit a sudden decline in his late 30's.
Given the slow-moving market for all the first base/DH types on the market, Morales himself might well have still been available at a lower price tag had the Jays not been in such a rush.  If not Morales, then a scenario certainly exists where the Blue Jays would've indeed managed to get the band back together by re-signing both Encarnacion and Bautista.
The Jays headed into the winter with a lineup lacking in athleticism and left-handed hitters, and those issues are still on the books as Opening Day approaches.  "Any organization would be looking to create more balance, more platoon effect and potentially more speed.  But it's just not as easy as deciding to do that and making that happen," Atkins said during an end-of-the-season talk with reporters.
Indeed, the Jays' main three position-player acquisitions don't really check any of the boxes on Atkins' general offseason wish list.  Bautista and Pearce are both right-handed bats, while the switch-hitting Morales has better career splits as a left-handed hitter over his career but has posted a better OPS from the right side of the plate in three of the last four seasons.  While Pearce can play multiple positions, Morales is more or less a full-time DH and Bautista's declining defensive numbers of the last two years argue that he too is best deployed as DH or first baseman at this point rather than as a regular right fielder.  Morales taking the bulk of DH at-bats also means a loss of lineup flexibility — there is now less opportunity to give Martin, Troy Tulowitzki, or Josh Donaldson a break from playing the field while still keeping their bats in the lineup.
The Jays at least checked in on a wide range of players (such as Dexter Fowler, Carlos Beltran, Andrew McCutchen, Charlie Blackmon, Josh Reddick, Matt Wieters, Ian Desmond, Curtis Granderson, Jay Bruce, Sean Rodriguez and their own free agent Michael Saunders) who could've potentially been better fits from either a versatility standpoint or by adding more left-handed balance.  Signing the likes of Fowler or Desmond would've cost Toronto a first-round draft pick since both players rejected qualifying offers, though one could argue the Jays essentially surrendered a first-rounder anyway by re-signing Bautista, who also rejected a QO.
Atkins has stated that his "best-case scenario" is to have Pearce as the regular left fielder and Smoak as the regular first baseman.  Counting on Pearce for regular outfield duty on the Rogers Centre's artificial surface is optimistic enough, as beyond his elbow surgery, Pearce has also hit the DL with oblique, hamstring and wrist injuries in the last four seasons.  Believing that Smoak is a late bloomer who can go from being a virtual replacement player (0.3 fWAR in his seven big league seasons) into a viable everyday option at age 30 is perhaps even more questionable.
It remains to be seen if Morales can handle enough first base time to at least spell Smoak against left-handed pitching.  If not, and Pearce or Bautista need to step in at the position, that opens up left or right field for an outfield mix that includes Upton, Carrera, Dalton Pompey, and Darrell Ceciliani.  Until Pearce is fully able to play, at least, the plan for left field appears to be an Upton/Carrera platoon (though the Jays are reportedly also looking around for outfield help).
Upton was a big disappointment after joining the Jays at the trade deadline, and, aside from a brief resurgence with the Padres, has been a below-average offensive producer in three of the last four seasons.  Carrera is a rare left-handed bat on the roster but his career numbers are actually better against southpaws than righties.
Ceciliani is another lefty bat who owns more traditional splits, though he also hasn't shown much at the MLB level.  The switch-hitting Pompey is still an unknown quantity after struggling badly early in the 2015 season and being limited to mostly pinch-running duty in his subsequent time in the majors.  He is also currently being held out of action after suffering a concussion during the World Baseball Classic.
Still, hoping on unproven commodities like Pompey, Ceciliani, or first base prospect Rowdy Tellez underscores the lack of left-handed hitting options on Toronto's roster.  Against a right-handed starter, the Jays' lineup could feature just Morales, Smoak (a modest career .720 OPS against righties) and perhaps the switch-hitting Saltalamacchia as options from the left side, if Martin is on a rest day.  Signing a veteran outfield option like Angel Pagan would be an upgrade, though the Blue Jays are apparently unlikely to land Pagan.
Travis' lingering injury problems create another potential issue at second base.  For the short term, the Jays could platoon Darwin Barney and Ryan Goins at the keystone, a scenario that would help the team keep the out-of-option Goins on the roster.  Pearce could play second in a pinch if Travis faced a lengthy DL stint, though it would seem almost a waste of Pearce's versatility to lock him into his least-ideal position, not to mention the fact that using Pearce at second would also weaken left field and first base.
There were rumors earlier this winter that the Blue Jays would explore stretching Joe Biagini out as a starting pitcher so that the righty could go from being an unexpected bullpen breakout star to rotation depth.  The latest word, however, is that Biagini will remain in the relief corps, so the Jays are still thin on depth beyond their solid starting five of Aaron Sanchez, Marco Estrada, J.A. Happ, Marcus Stroman and Francisco Liriano.  Mike Bolsinger could fill a long relief or swingman role, with MLB veterans Mat Latos and Lucas Harrell also in camp on minor league deals and Gavin Floyd also back on a minors contract as he looks to rebound from another injury-plagued season.
Deal Of Note
This section actually addresses multiple deals of note — namely the one-year, $3MM contracts the Jays handed to Howell and Smith, plus the one-year, $7.5MM contract Benoit signed with the Phillies and the whopping four-year, $30.5MM deal Cecil landed from the Cardinals.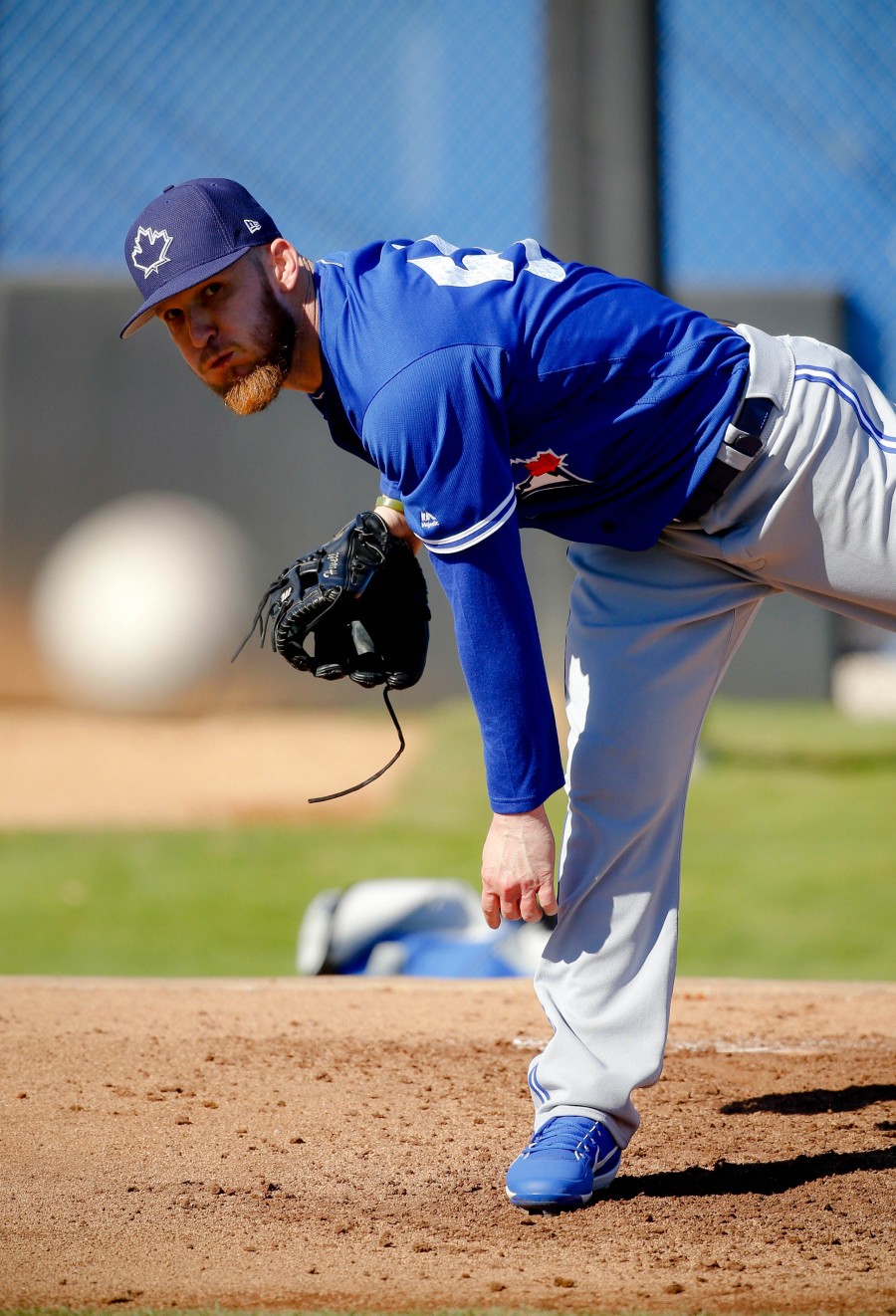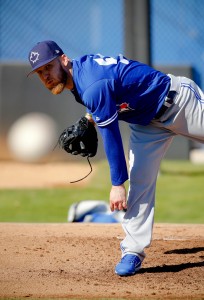 Toronto took a slow-play approach to its bullpen needs, which ended up being a shrewd tactic given the early explosion in relief prices.  Beyond the huge contracts given to star closers Aroldis Chapman, Kenley Jansen and Mark Melancon, you also saw the likes of Cecil, Mike Dunn, Brad Ziegler, Junichi Tazawa, Daniel Hudson and Marc Rzepczynski land multi-year commitments before the end of December.  The market slowed considerably as the winter went on, and thus the Jays landed both Howell and Smith for less than the Phils paid Benoit, let alone the massive outlay that would've been required to re-sign Cecil.
Obviously, several factors beyond just asking prices went into these signings (age, various teams' particular preferences, etc.), including the fact that Howell and Smith are both coming off relative down years by their standards.  Cecil and Benoit were both better pitchers in 2016 than Howell and Smith, though the gap in performance doesn't equal the $9MM gap in salaries the two pairs will earn in 2017.  Given Benoit's age (39), Cecil's rather inconsistent performance last season and the general inherent risk of paying significant money for relief pitching, one could argue the Blue Jays positioned themselves to get more bang for their buck in waiting out the market to sign Howell and Smith in February.
Overview
For the second straight offseason under Atkins and club president Mark Shapiro, the Blue Jays relied more on modest free agent signings rather than trades to upgrade the roster.  (In fact, Toronto was the only team that didn't swing a single trade all winter.)  The Jays clearly didn't want to surrender what it would've taken to acquire the likes of McCutchen, Blackmon or Granderson, be it prospects or young talent on the MLB roster.  Likewise, Atkins and Shapiro preferred to spread the Jays' cash around rather than focus the spending on one big signing like Fowler, or what they thought it would've taken to re-sign Encarnacion.
Two winters of free agent acquisitions, even on non-blockbuster signings, add up; the Jays' estimated payroll of over $162.6MM for 2017 will be the largest in franchise history.  With this big payroll in mind and the fact that the Jays focused their attention on veteran signings, the club is clearly still in win-now mode after consecutive trips to the ALCS.  For a team that has championship aspirations, however, the Jays are taking risks both in their lack of depth, and in apparently counting on underachieving players (i.e. Smoak, Upton, Carrera) to play notable roles.  There isn't much margin for error on this roster if, say, Bautista doesn't have a bounce-back year, or if an unexpected injury fells a cornerstone player like Donaldson.
Still, with some good minor leaguers in the system, the Jays are leaving themselves room for improvement if they need to make a trade or two at the deadline.  There's also the possibility that the front office felt it didn't need to make many changes to what is already a contending team, and that the combined contributions of Morales, Pearce and a revived Bautista will make up for the losses of Encarnacion and (to a lesser extent) Saunders.
What's your take on the Blue Jays' winter?  (Link for app users.)
Photos courtesy of USA Today Sports Images