In recent seasons, the veteran-laden Tigers have frequently headed into the summer as trade deadline buyers, but with a 45-55 record this year and J.D. Martinez already out the door, 2017 looks like a different story. One star who could be on the move is Justin Verlander, who joins a starting pitching market that also includes Sonny Gray and Yu Darvish. The Tigers have a variety of other players potentially available, including Ian Kinsler, Justin Wilson and Alex Avila, and they've reportedly discussed package deals, so if the Tigers trade Verlander, it could be along with one or more of his teammates.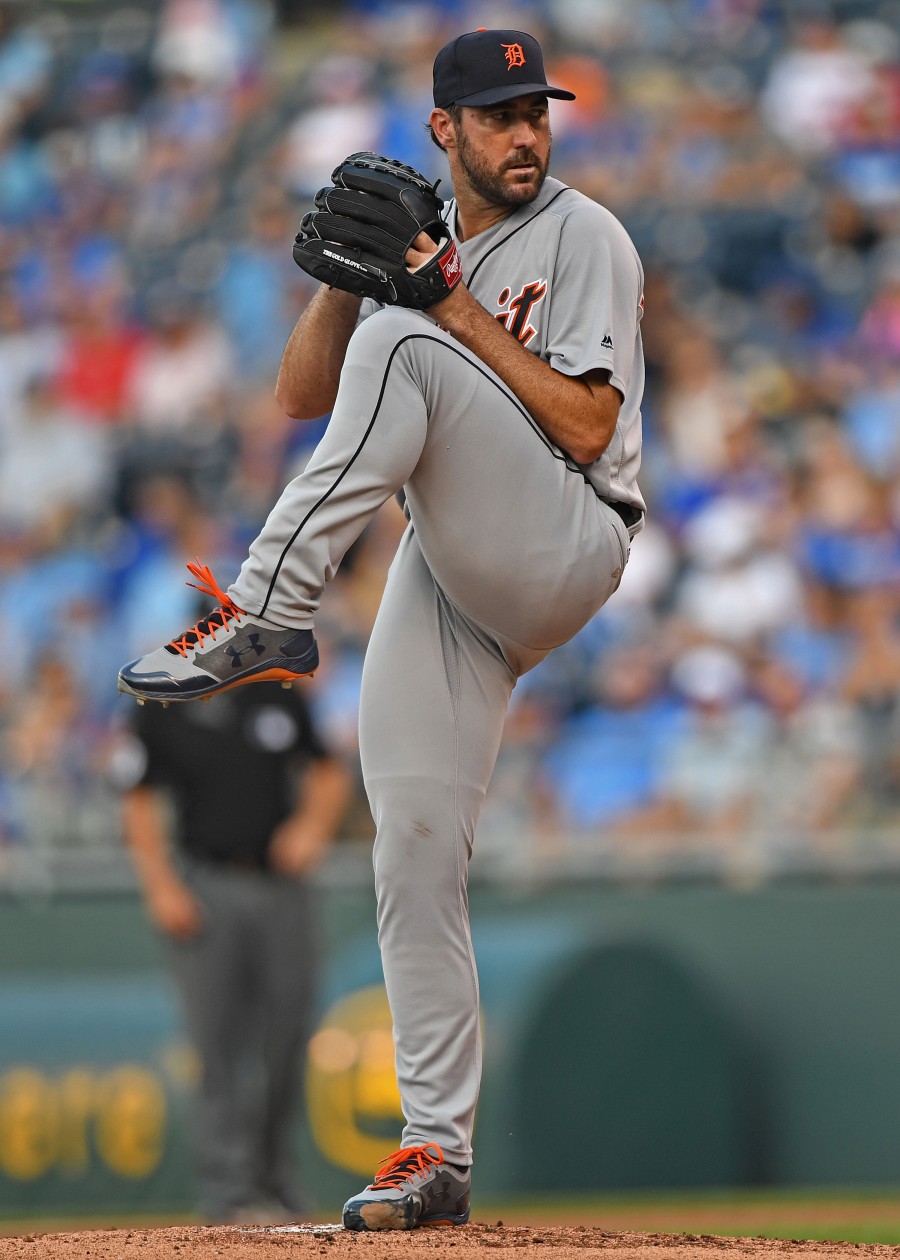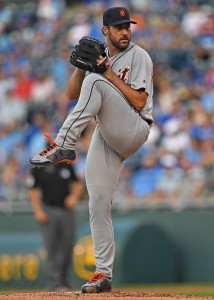 That's not to say a Verlander trade would be easy. It's impossible to discuss the righty's potential market without noting his contract — he's making $28MM per season through 2019, plus a $22MM vesting option for 2020. That option contains no buyout and only vests if Verlander finishes in the top five in Cy Young voting in 2019, but the $66MM or so remaining on Verlander's contract is still a significant obstacle. At last check, the Tigers did not appear willing to take on a significant portion of Verlander's deal, though they reportedly would pay the remainder of his 2017 salary. His full no-trade clause could present another potential problem.
And then there's Verlander's performance — he finished second in AL Cy Young balloting just last season but has taken a big step backwards this year, with a 4.50 ERA and 8.7 K/9 over 124 innings, plus a 4.1 BB/9 that's almost twice as high as it was in 2016. At 34, that's a serious concern, particularly when considered alongside his hefty contract. That means the Tigers might not get much if they trade him. Also, his star status in Detroit might not ordinarily be an impediment, but it might be in this case, since, as MLBTR's Steve Adams recently pointed out, fans might react poorly to a Verlander deal for a limited return.
With all that in mind, here are a few potential landing spots for Verlander.
Cubs: Even after acquiring Jose Quintana, the Cubs are known to have interest in starting pitching, and Verlander would give them another veteran arm to help them manage the possible losses of Jake Arrieta and John Lackey to free agency next winter. They've reportedly scouted Verlander and have discussed him with the Tigers, and they're one of only a handful of teams who clearly could afford him. They're also reportedly interested in acquiring a catcher, so perhaps there could be a deal involving both Verlander and Avila, particularly since Avila makes a mere $2MM and has been productive this season. The intensity of the Cubs' interest in Verlander is unclear, and as with all teams, his contract will be an obstacle.
Astros: Houston has been connected to Verlander, along with Wilson, although the Detroit Free Press' Anthony Fenech characterized the Astros' level of involvement in Verlander trade talks as "minimal." The team's recent return to health, with Collin McHugh returning from injury and Dallas Keuchel set to come back this week, might make the Astros more likely to pursue top-end starters rather than innings eaters, since they currently have enough reliable arms to fill out their rotation. Their interest in Verlander, then, might depend on whether they still see him as an ace-type pitcher. Verlander's contract would of course be a factor as well, although the Astros do appear to have the payroll flexibility to add him, particularly if the Tigers are willing to pay what's left of his 2017 salary.
Yankees: The Yankees have been connected to a variety of rotation possibilities and could potentially afford Verlander, although their luxury-tax bill is a concern. They haven't recently been connected to Verlander in particular, though, and based on published reports, seem to have greater interest in Gray. They also have a clear need for another A's veteran, Yonder Alonso, which might give them further incentive to continue talking with Oakland. Verlander could, however, represent an interesting alternative to Gray whose acquisition likely wouldn't cost the Yankees top prospects.
Dodgers: L.A. has repeatedly been connected to Darvish, while there haven't been many indications they're seriously interested in Verlander. Still, they have an injured ace (Clayton Kershaw), and their seemingly wide-open wallet would give them a big advantage if they decided they had serious interest.
Nationals: The Nats haven't been strongly connected to Verlander, and FOX Sports' Ken Rosenthal recently indicated that they aren't in on Gray or Darvish. Injuries to Stephen Strasburg and Joe Ross have left them with some rotation questions, however, and they generally aren't shy about adding big-name players. They've also been connected to Wilson.
Brewers: Milwaukee has reportedly shown interest in Verlander, along with other rotation options. The Brewers have also been connected to Wilson and Kinsler, again raising the possibility the Tigers could strike some sort of package deal. And the Brewers under owner Mark Attanasio have never been shy about adding big-name pitching as they've prepared for past stretch runs, adding CC Sabathia and Zack Greinke in past seasons in which they contended. All that written, it seems especially unlikely that they would consummate a deal for Verlander. His age and salary could potentially pose big problems for a generally budget-conscious organization (although one with few long-term commitments at the moment). And the Brewers' 2017 run at the NL Central title, while impressive, has if anything been a pleasant surprise from a team that seemed to be rebuilding. They recently fell into second place, behind the Cubs, and their fade might make them less likely to make a big move.
Rockies: Acquiring Verlander would be a break from the Rockies' M.O., but they've shown interest in rotation upgrades and have limited payroll obligations beyond 2017, so Verlander could theoretically be a fit. They have enough interesting young arms to fill out their rotation, but could potentially benefit from a veteran anchor. Of course, it's not clear that Verlander is the right veteran anchor for them, given his contract, fly-ball tendencies and sketchy 2017 performance thus far. It's also unclear whether Verlander would accept a deal that would place him in Coors Field, a stadium that could potentially hurt his future earning power.
Diamondbacks: The Diamondbacks have already swung one big trade with the Tigers, and there have at least been whispers about the possibility they could look to improve their rotation. Most current rumors about the Snakes focus on other areas, however, and all five of their current starters have performed capably this year.
Red Sox: Sox president of baseball operations Dave Dombrowski is no stranger to headline-grabbing trades, and he was general manager of the Tigers when Detroit drafted Verlander in 2004. With Eduardo Rodriguez's recent return to health, though, the Red Sox five healthy starting pitchers who each could potentially pitch well for the remainder of the season, and most rumors about the team since their acquisition of infielder Eduardo Nunez have pertained to relievers, not starters.
Mariners: The M's have been connected to Gray, and the odds that Jerry Dipoto will find a way to insert them into a significant trade can never fully be discounted. They are, however, below .500 at this point and already have big salaries for Felix Hernandez, Robinson Cano, Kyle Seager and Nelson Cruz on the books for 2018.
Royals: Kansas City has been on the lookout for starting pitching, although the Royals have mostly been connected to lower-tier options like Francisco Liriano, Marco Estrada and Jaime Garcia (plus Trevor Cahill, who they already acquired). It would seem extremely unlikely that they'd take on Verlander's contract, given their uncertain future as an organization and the fact that their 2017 payroll is already the highest they've ever had.
Indians: The back of the Indians' rotation has struggled, although Danny Salazar's recent return to health helps them in that regard, and trading for a pitcher with Verlander's salary would be out of character for them.
Braves: The Braves look like longshots at best to acquire Verlander at the deadline, since they aren't contending, and they recently traded a veteran arm in Garcia. It's also unclear whether Verlander would be willing to accept a trade to a below-.500 team. If the Braves do acquire someone of Verlander's ilk, that might be more likely to happen in the offseason. They've been connected to a variety of controllable veteran starters, however, and have enough money coming off the books next year that they could theoretically afford him.
Photo courtesy of USA Today Sports Images.