MLBTR is publishing Offseason Outlooks for all 30 teams.  Click here for the other entries in this series.
A World Series hangover led to a surprising 43-45 record from the Cubs in the first half of the season.  The club rallied to 49-25 in the second half and just barely pulled off an NLDS win over the Nationals.  The Dodgers then dispatched the Cubs fairly easily in the NLCS, marking Chicago's third straight appearance in the second round of the playoffs.  The Cubs are poised for an active winter, with an outfield logjam and major needs in the rotation and bullpen.
Guaranteed Contracts
Arbitration Eligible Players (service time in parentheses; projections via MLB Trade Rumors)
Free Agents
[Chicago Cubs Depth Chart; Chicago Cubs Payroll Overview]
The Cubs swung a huge, surprising trade with their crosstown rivals in July, sending four prospects to the White Sox for lefty starter Jose Quintana.  Since the Cubs control Quintana through 2020, this deal was as much about the future as the present.  Quintana adds innings and stability to a rotation that also includes Jon Lester and Kyle Hendricks.  Lester and Hendricks are controlled through 2020 as well.  Jake Arrieta and John Lackey combined for 60 regular season starts for the Cubs this year, and both are now free agents.  Quintana helped prepare for the possible departure of Arrieta, but the Cubs still need to replace 40% of their rotation.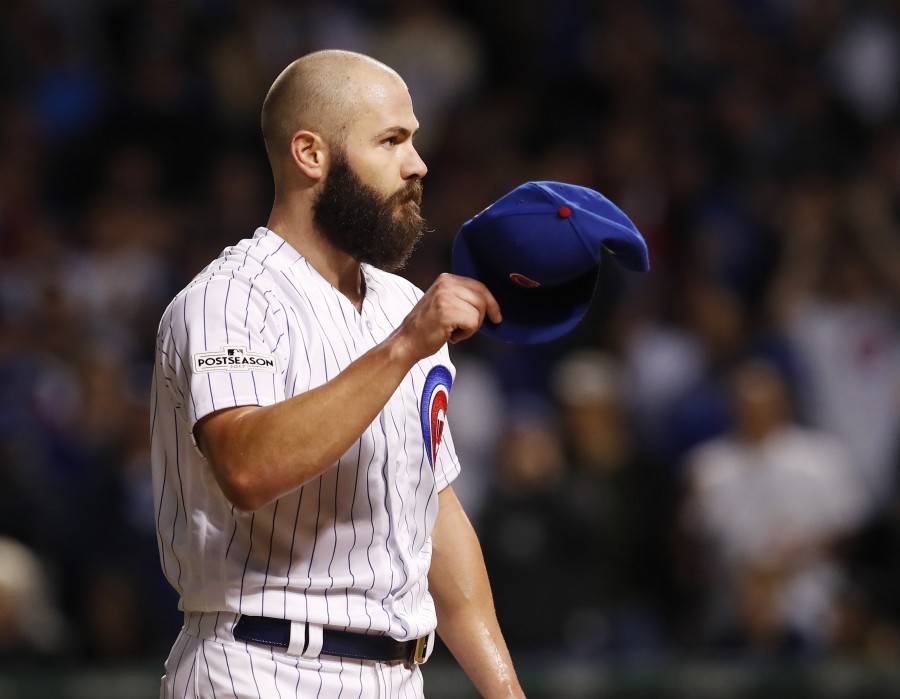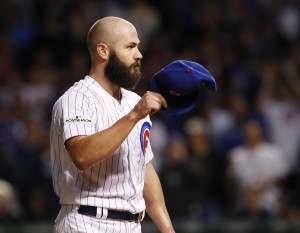 Signing Arrieta is certainly an option.  The righty, 32 in March, famously resurrected his career after a 2013 trade to the Cubs.  Back in March, Jon Heyman of FanRag Sports wrote that "the belief is that [the Cubs] wouldn't go more than four years [on a new contract for Arrieta], if that."  Around that time, the idea was floated by Arrieta and his agent Scott Boras that a six or seven-year deal would be appropriate.  Even then I found five years much more likely.  Arrieta went on to post a decent season, but we've perhaps become the low man on him, projecting a four-year contract.  If we're right, then maybe the Cubs and Arrieta can match up after all.  However, I wouldn't expect Arrieta to sign a four-year deal in November or December.  Given where Boras was at earlier this year, four years seems possible only if Arrieta's market disappoints, and he signs in January or February.  The Cubs may not be able to keep enough powder dry into the new year to pay Arrieta $25MM a year, even if the term comes down to four years.
Free agency offers an alternative in Yu Darvish.  Darvish is only 163 days younger than Arrieta, and he has Tommy John surgery on his résumé.  We're projecting a six-year, $160MM deal for Darvish, a contract similar to the one the Cubs gave Lester three years ago.  I think the Cubs could look past Darvish's pair of World Series bombs, but president Theo Epstein was noncommittal, saying regarding high-priced free agent pitching, "I wouldn't rule it out completely, and I wouldn't rule it in. I would just say it's not our preferred method."  Of course, paying baseball players $25MM+ per year is not the preferred method of any team.  Would the Cubs prefer the devil they know with Arrieta, or would they prefer a megadeal for Darvish?
Quite possibly, it's neither.  The Cubs seem likely to pursue one front-rotation arm and one lesser starting pitcher, and they are expected to explore the trade market.  The only established top of the rotation starting pitcher who projects to be available this winter is Chris Archer of the Rays.  Former Cubs GM Jim Hendry deftly acquired Archer from the Indians in the 2008 Mark DeRosa trade, only to ship him to Tampa Bay two years later in the Matt Garza deal.  Archer, 29, has made 32 starts in each of the last four seasons, displaying a dominant strikeout rate and earning two All-Star nods in that time.  The hard-throwing righty is on a team-friendly contract through 2021, so the Rays have no reason to force a trade this offseason.  The Cubs already spent their best remaining prospects in the Quintana deal, and would have to subtract from the Major League roster to have a shot at Archer.  It remains to be seen how willing the Cubs are to deal from their starting middle infield to acquire someone like Archer, which would lead to a defensive downgrade at second base for Chicago with some combination of Ian Happ and Ben Zobrist.
From the Rays' point of view, would Addison Russell or Javier Baez be enough to lead a package for Archer?  Both players have four years of control remaining, same as Archer, and Russell is already eligible for arbitration.  The Rays might prefer a headliner with six years of control remaining, like Yoan Moncada in the Chris Sale trade.  Russell took a step backward in performance this year, also facing a divorce and a domestic abuse allegation.  Baez seems the more valuable asset, a player with star potential if he can rein in some of the swing-and-miss.  However, the Rays already have Willy Adames, a shortstop who is big league ready and is rated #15 among all prospects by MLB.com.  Russell or Baez might not be enough, and might not be the right fit for the Rays either.  The Cubs have run out of Top 100 prospects to deal, but could complement a trade with 50-grade prospects, including a few with big league experience in Victor Caratini and Mark Zagunis.  While some kind of position player for pitcher swap between the Cubs and Rays has been discussed by fans and executives for years, the Cubs will face stiff competition from other teams if the Rays listen on Archer.
The Cubs also have left fielder Kyle Schwarber as a primary trade chip, whether for a mid-level starting pitcher or a reliever.  Schwarber, 25 in March, is a player the Cubs have always liked more than most since they drafted him fourth overall in 2014.  Finally given a full season in the Majors after last year's ACL tear, Schwarber was used as a platoon bat after a rough April, and even his big league success after a June Triple-A demotion (131 wRC+) has to take into account that he only faced southpaws 16.4% of the time.  With donning catching gear seemingly in the rearview for Schwarber, the pessimistic view is that he's a platoon bat without a position.  Certainly, to trade Schwarber now would be selling low, though opening up left field for Happ full-time would alleviate the logjam and may improve the outfield defense.  Schwarber would be a better fit in the American League, where he could learn first base and spend time at designated hitter.  Danny Salazar, Kendall Graveman, Matt Andriese, Collin McHugh, and Jake Odorizzi are a few speculative trade targets.  These names are not nearly as exciting as they would have been a year ago had the Cubs shopped Schwarber.  The Cubs may well set a price on Schwarber higher than Odorizzi or McHugh, who are only under control for two more years.
The Cubs could also consider putting their faith in Schwarber and trading Happ, who they drafted ninth overall in 2015.  The 23-year-old switch-hitter would be a very valuable trade chip after a promising rookie debut; he's still under team control for six more years.  The Cubs have yet to settle on a position for Happ, who appeared at all three outfield positions as well as second base in 2017.  He seems less likely to be moved than Schwarber.  Albert Almora Jr. also seems unlikely to be traded.  While Epstein won't quite pencil Almora in as next year's starting center fielder, he has at least pledged an increased role.
Free agency offers the Cubs a slew of mid-level or worse options if they don't want to pony up for Darvish.  Alex Cobb is a name to consider, especially since he played under Cubs manager Joe Maddon and his new pitching coach, Jim Hickey.  The Cubs are also intimately familiar with Lance Lynn, who started against them 18 times in his career as a member of the Cardinals.  Last year, the Cubs made a run at Tyson Ross before settling for Brett Anderson as their fifth starter, and they could look to fill out the fifth starter spot again with a one-year bounceback guy like Chris Tillman, Clay Buchholz, or Jeremy Hellickson.
The ideal candidate for the Cubs' rotation, of course, is 23-year-old righty Shohei Otani.  If MLB, the players' union, Nippon Professional Baseball, and the Nippon Ham Fighters are able to reach an agreement, Otani may make the leap to MLB despite being subject to international bonus pool restrictions.  While Cubs fans are surely dreaming of Otani pitching every fifth day and patrolling the Wrigley outfield on some of his off days, the Cubs are one of a dozen teams capped at $300K in the potential bidding.  Many other teams are able to bid more than ten times as much (the theoretical maximum is about $10MM), although Otani would be leaving hundreds of millions of dollars on the table either way.  Like every team, the Cubs will have to do a hell of a marketing job to win Otani's heart if he's posted, and they can't build their offseason around him to any degree.
The Cubs will surely cast a wide net for starting pitching, but they also have ample work to do on their bullpen.  By the end of the postseason, it seemed that Maddon only trusted closer Wade Davis.  The Cubs may make a run at Davis, which would involve holding their noses and giving him a four-year deal.  Having shown no interest in past free agent closers such as Kenley Jansen and David Robertson, I'm guessing this is again not Epstein's "preferred method."  Rather than give Davis or Greg Holland $15MM a year, the Cubs could get two very good relievers for a similar price, in a free agent market featuring Addison Reed, Mike Minor, Brandon Morrow, Jake McGee, and other quality names.  If the Cubs hit the trade market for a late inning reliever, they could pursue Alex Colome, Raisel Iglesias, Brad Hand, Zach Britton, Dellin Betances, Joakim Soria, or Kelvin Herrera.  Aside from Davis, the Cubs could also consider retaining free agent lefty Brian Duensing, who had a resurgent year for them on a $2MM contract and will be seeking a raise.
The holdovers in the Cubs' bullpen include righties Carl Edwards Jr. and Pedro Strop and lefties Mike Montgomery and Justin Wilson.  The Cubs have Hector Rondon and his projected $6.2MM salary as well, but he's fallen far enough out of favor that I expect them to move him in a salary dump trade.  Justin Grimm, with a $2.4MM projection, could also get the boot.  Like Quintana, Wilson was acquired in a summer trade with a partial eye on the future.  The 30-year-old southpaw has a $4.3MM salary projection, and was expected to play a key role in the Cubs' 2018 bullpen at the time of his acquisition.  Wilson was hammered in 17 2/3 innings with the Cubs, allowing 38 baserunners in that span with horrible control.  The Cubs will try to get him back into form, but can hardly count on him.  This bullpen probably needs three or more outside additions this winter.
On the position player side, the Cubs' needs are minimal.  A veteran backup catcher behind Willson Contreras would be helpful, filling the shoes of free agent Alex Avila.  The Cubs already have 24-year-old Victor Caratini as an option for that role, though some teams prefer a veteran presence.  Outfielder Jon Jay is also a free agent.  If Schwarber is dealt, the Cubs can still fill out their outfield with Ian Happ, Albert Almora, Jason Heyward, and Ben Zobrist.  Since Happ and Zobrist will likely play some second base, a veteran backup outfielder could be added to replace Jay.
How much can the Cubs spend to fill these needs?  Assuming Rondon and Grimm are gone, the Cubs will be paying about $106MM to 18 players, eight of whom are pre-arbitration.  The Cubs' biggest pain points are Jason Heyward and Ben Zobrist, a pair that provided 1.2 wins above replacement in 2017 and will be paid $37.5MM in 2018.  There is little to be done with those two, who both have full no-trade protection for 2018 and negative trade value anyway.  Heyward and Zobrist were generally treated as starting players this year, and both should enter 2018 with reduced playing time expectations.  The Cubs seem capable of a $180MM payroll, and despite the large salaries of Jon Lester, Heyward, and Zobrist, might be able to spend as much as $70MM on new 2018 player salaries.
The Cubs remain an immensely talented team.  They've got affordable star position players in Kris Bryant, Anthony Rizzo, and Willson Contreras, none of whom will earn a $10MM salary in 2018.  That core is complemented by some combination of Baez, Russell, Happ, Almora, and Schwarber, depending on who is traded this winter.  While the rotation needs serious work, Hendricks proved his 2016 season was no fluke, Lester continues to provide value, and Quintana is a younger, cheaper version of Lester.  Still, there is significant work to be done this winter, much more than last winter.  "We knew that the 2017-2018 offseason would be one of our most challenging," Epstein told reporters in an October press conference.  For the first time under Epstein, the Cubs enter an offseason with both significant holes to fill and sky-high expectations.
Photo courtesy of USA Today Sports Images.