Check out all the published entries in our Offseason in Review series here.
Fresh off their first World Championship since 1908, the Cubs acquired a top-shelf closer and spent modestly in free agency.
Major League Signings
Trades And Claims
Notable Minor League Signings
Extensions
Pedro Strop, RP: Two years, $11.85MM.  Replaced one-year, $5.5MM arbitration deal for 2017.  Includes $6.25MM club option for 2019 with a $500K buyout.
Notable Losses
Dexter Fowler, Aroldis Chapman, Jorge Soler, David Ross, Jason Hammel, Trevor Cahill, Travis Wood, Clayton Richard, Joe Smith, Chris Coghlan, James Farris, Donnie Dewees, Armando Rivero, Spencer Patton
Cubs Roster; Cubs Payroll Information
Needs Addressed
An MLB front office never rests.  Before the buzz wore off from the Cubs' epic World Series parade, Theo Epstein and company met with starting pitcher Jason Hammel regarding his 2017 club option, according to Patrick Mooney of CSN Chicago.  Earlier this month, Hammel explained to reporters, "I love how people were saying it was a choice, because it really wasn't.  It was either basically pitch out of the bullpen or not have a job."  Hammel told the Cubs to cut him loose, and the team set off searching for rotation depth to complement Mike Montgomery.
It appeared the Cubs' top priority was Tyson Ross, the 29-year-old righty who was non-tendered by the Padres in December.  Ross' lost 2016 culminated in thoracic outlet surgery in mid-October, and the arbitration system would have required the Padres to pay him $7.68MM or more this year.  The Cubs ended up finishing second for Ross, who received a $6MM guarantee from the Rangers in mid-January.
Enter Plan B: 29-year-old southpaw Brett Anderson.  The oft-injured lefty had finally returned to the 30-start milestone with the 2015 Dodgers, and accepted that club's $15.8MM qualifying offer for 2016.  Things quickly went sour for him, as Anderson was diagnosed with a bulging disk in his back that required surgery in March.  Anderson made his 2016 Dodgers debut on August 14th, but then dealt with a wrist sprain and a blister.  Unlike Ross, Anderson is at least MLB-ready at this moment.  Whether he makes five or 25 starts for the Cubs this year, the Cubs haven't risked much.  Manager Joe Maddon has indicated Montgomery and Anderson may share the fifth starter job, or the team could occasionally go to a six-man rotation.
Soon after the Anderson signing, the Cubs added two more depth pieces in Eddie Butler and Alec Mills.  Both had been designated for assignment by their former teams and have an option remaining, meaning they'll likely open the season at Triple-A Iowa.  Butler remains somewhat intriguing, as outlined by Eno Sarris of FanGraphs.
The bottom line: with a returning rotation of Jake Arrieta, Jon Lester, Kyle Hendricks, and John Lackey, the Cubs did not feel the need to go big for their self-created rotation vacancy.  They expressed no reported interest in free agents such as Rich Hill, Ivan Nova, or Charlie Morton, and seemingly were not involved in trade talks for Taijuan Walker, Drew Smyly, Dan Straily, or Jose De Leon.  The assumption is that Chris Sale wasn't a consideration, given the White Sox' likely reluctance to send their ace across town.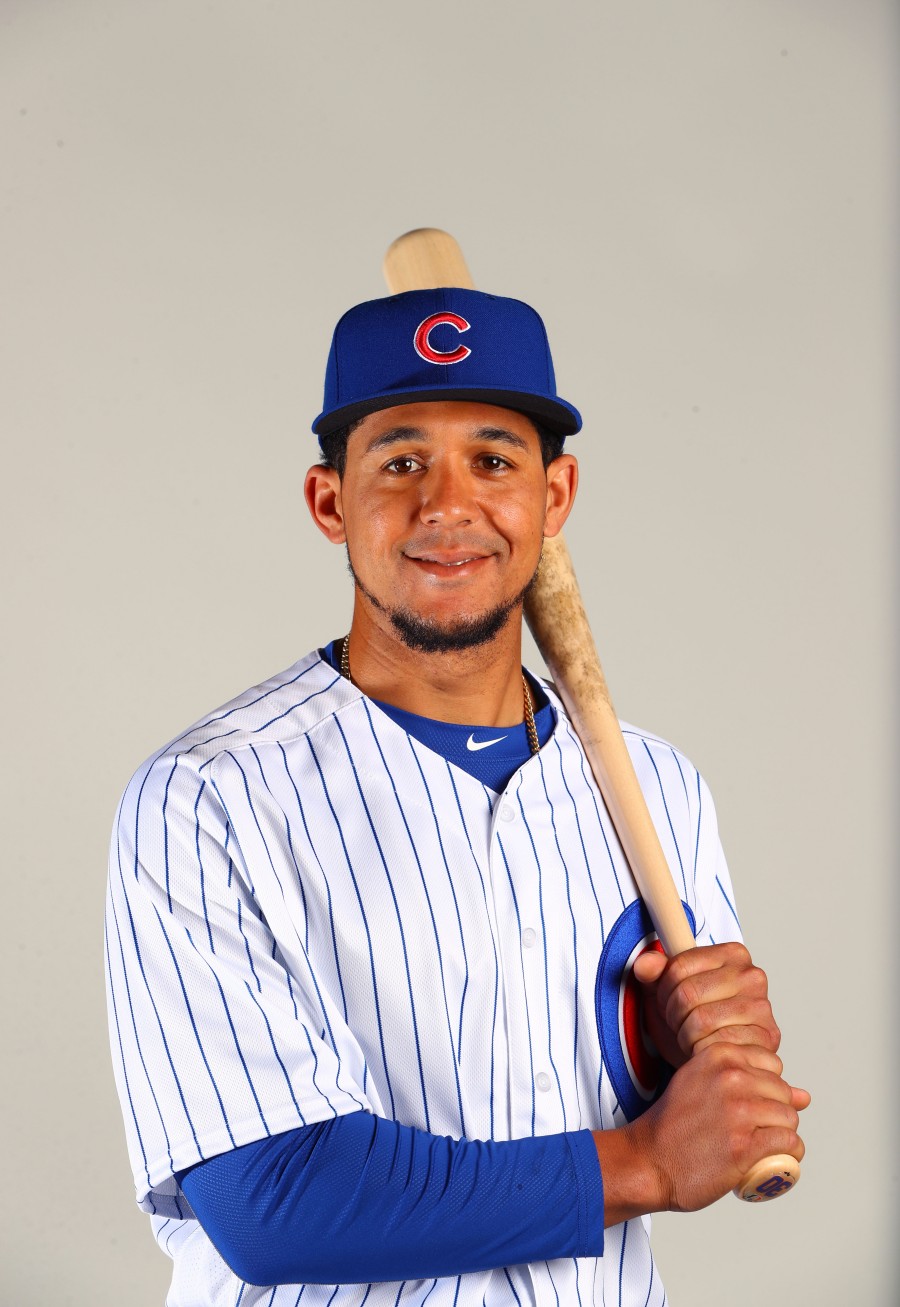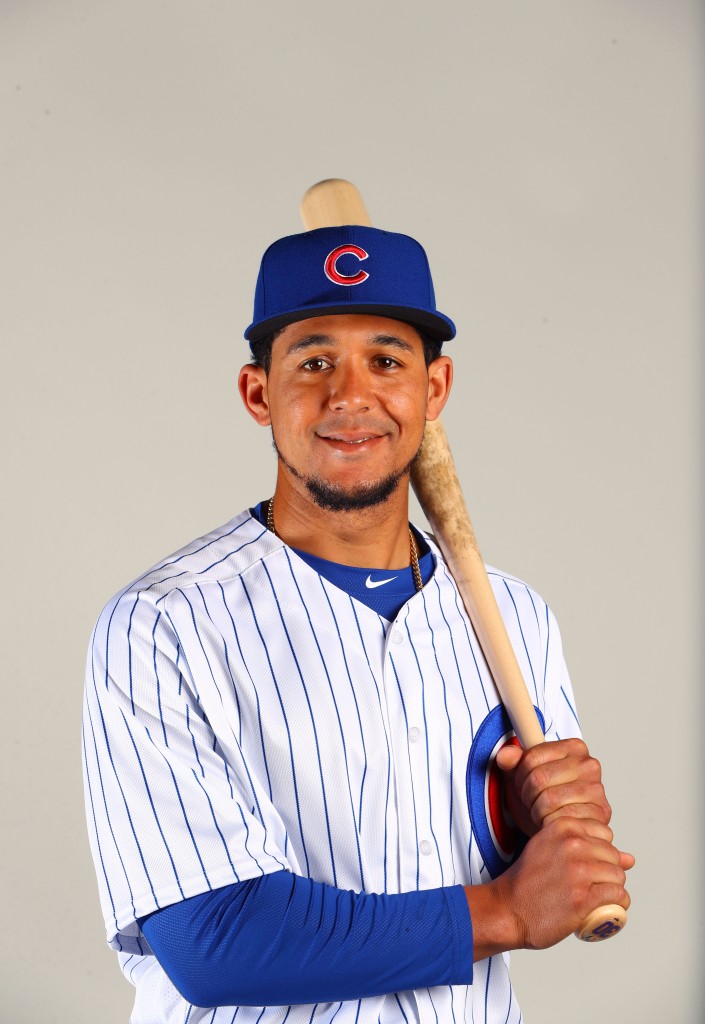 The Cubs also took a measured approach toward center field.  Even with the luxury tax threshold in sight, the Cubs could have afforded to re-sign Dexter Fowler at the $82.5MM he ultimately received from the Cardinals.  But this is a disciplined front office, one that didn't seem interested in giving Fowler a three-year deal during his previous free agency.  So, gone is the two or three-win player Fowler might be this year, replaced by incumbent Albert Almora and free agent signing Jon Jay (pictured).  The Cubs struck quickly to add Jay, a 32-year-old veteran who can hit for average and play an acceptable center field.  Jay will serve as a safety net for Almora, who turns 23 in April and was drafted sixth overall by the Cubs in 2012.  Baseball America describes Almora as "a potential Gold Glove winner in center."  If he can show a tolerable bat at the bottom of the Cubs' order, Almora will have the center field job for years.  Rather than give Fowler a risky long-term deal, the Cubs elected to accept a short-term downgrade and increased risk with center field for 2017.
You may be sensing a trend toward conservatism in the Cubs' offseason.  Indeed, all four free agents they signed received one-year deals.  During the summer, Epstein and company actually did mortgage a piece of the team's future, sending potential star infielder Gleyber Torres to the Yankees to rent flamethrowing reliever Aroldis Chapman.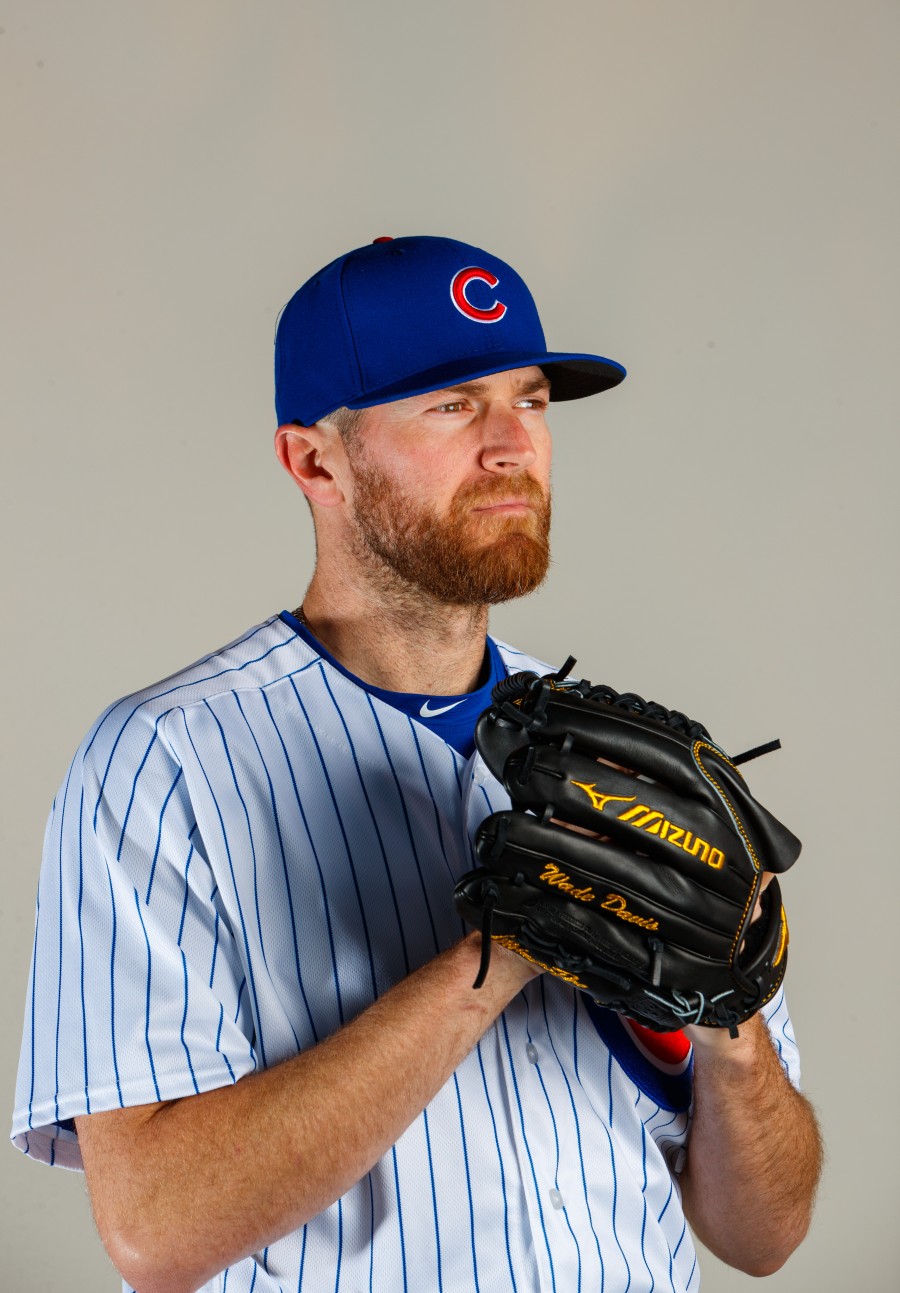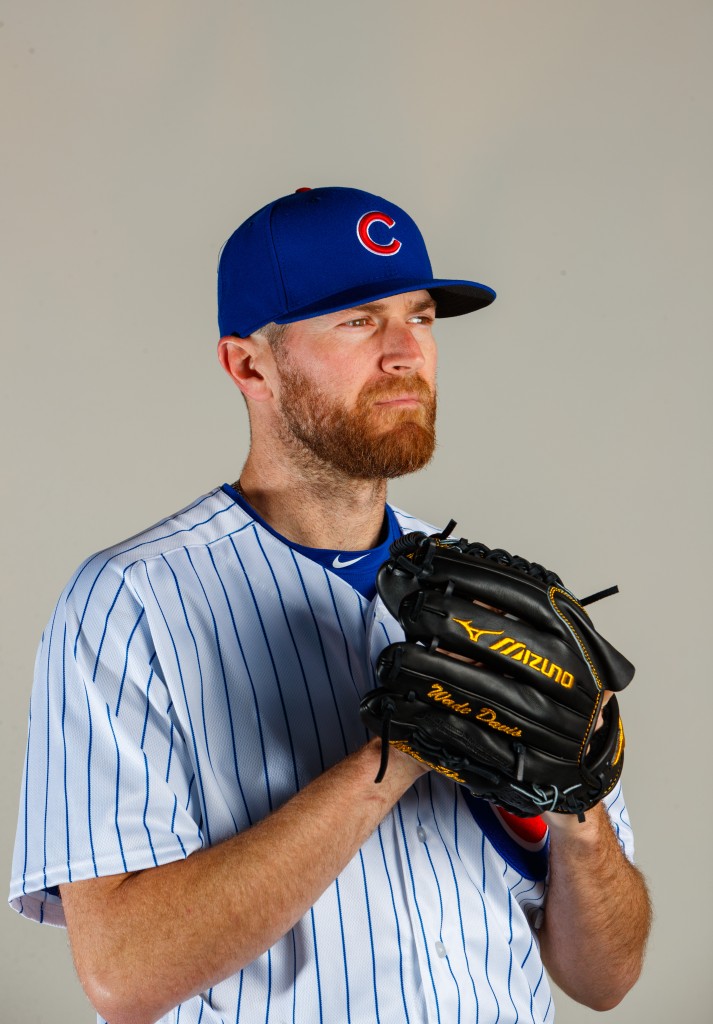 Shortly after the Cubs became World Champions, though, prudence set in.  Record-shattering five-year deals for Chapman or Kenley Jansen didn't interest the Cubs, who instead made a Winter Meetings deal to acquire Wade Davis (pictured) from the Royals for Jorge Soler.  The deal carries its own kind of risk, just not financial.  In Soler, the Cubs traded away four years of control of a 25-year-old with a potential All-Star bat.  However, Soler had no role in the Cubs' crowded outfield, hadn't impressed much in his 765 plate appearances with the team, and had battled injuries throughout his tenure.  His loss has little effect on the 2017 club.  Davis, who the Cubs control for just one year, was among the game's best relievers from 2014-15.  However, he missed 52 days in 2016 with elbow problems.  The Cubs have said they feel confident about Davis' health.
The Cubs also added Koji Uehara, who turns 42 in April.  Uehara is about as dominant as a reliever can be with an 87-MPH fastball, though he is an extreme flyball pitcher.  Like Davis, he's an obvious health risk.  There's a good chance the Cubs' bullpen depth will be tested this year, with righties Hector Rondon, Pedro Strop, Carl Edwards Jr., and Justin Grimm expected to have roles.  Strop, who has a 2.65 ERA over the last three years with the Cubs, signed a team-friendly extension that added only $6.35MM in guaranteed money.
The Cubs entered the offseason without much left-handed relief depth.  After reportedly showing interest in top free agent lefty Brett Cecil in November, the club settled on Brian Duensing as their lone Major League signing for this vacancy.  Duensing, 34, spent the first two months of the 2016 season in Triple-A and later missed over two months to elbow surgery.  His effectiveness against lefties has come and gone over the last few seasons.  The Cubs added more lefty relief depth with Rule 5er Caleb Smith, but he's barely pitched above Double-A and is a long shot to stick in a Major League bullpen all year.  Montgomery may eventually be needed to shore up the Cubs' left-handed relief, if Anderson is able to handle the fifth starter job.
More analysis after the break …
Questions Remaining
Epstein's February comments were telling.  According to Patrick Mooney, the Cubs' president noted, "We really want to be cognizant of leaving some flexibility for in-season moves, leaving a little cushion beneath the CBT (competitive balance tax) threshold for us to be able to operate."  It's easy to picture the Cubs acquiring pitching this summer after their relatively quiet winter, especially with health risks like Davis, Anderson, and Uehara.  When that time comes, the Cubs have higher-caliber prospects like Eloy Jimenez and Ian Happ, as well as lesser, blocked prospects like Mark Zagunis and Jeimer Candelario.
In the more immediate future, the Cubs seem likely to trade outfielder Matt Szczur or infielder Tommy La Stella.  Szczur, who is out of minor league options, has few paths to playing time in a Cubs outfield that includes Almora, Jay, Kyle Schwarber, Jason Heyward, and Ben Zobrist.  La Stella can be optioned, but last year he refused to report when the Cubs attempted to send him to Iowa.  It seems that Cubs fans overwhelmingly prefer to keep Szczur, but La Stella is the better roster fit despite last year's incident.  It's possible an injury could buy the Cubs some time, but everyone is healthy at present.
Maddon's creativity will be needed more than ever in 2017.  On any given day, the Cubs are likely to have a few starting-caliber players on their bench.  The trickiest issue might be Heyward.  The 27-year-old had an abysmal Cubs debut with the bat last year, and spent the winter reworking his swing.  With so much talent on the Cubs' roster as they try to defend their title, a player coming off the season Heyward had would typically need to earn his playing time.  However, Heyward is owed $149MM over the next seven years.  His may be the most untradeable contract in baseball.  Given that guaranteed money, the Cubs badly want to see Heyward become an above-average hitter again.  If Heyward's struggles continue into May or June, the team will have to grapple with the idea of a $21MM bench player.
Jake Arrieta's free agency will continue to loom over the Cubs.  Arrieta topped my recent 2017-18 Free Agent Power Rankings, and there has been little traction between the Cubs and agent Scott Boras.  Most assume Arrieta will be allowed to leave and seek a six or seven-year deal elsewhere.  Even a five-year deal in excess of $150MM may be too risky for the Cubs.  As far as the long-term look of the Cubs' rotation, the team controls both Jon Lester and Kyle Hendricks through 2020.  While they might be able to squeeze another year out of Lackey, the team's front office will surely be on the lookout for young starting pitching that can help in 2018 and beyond.
Overview
Back in November, Epstein said, "We made two offseasons worth of acquisitions last winter, two offseasons worth of spending.  We were very open about that at the time, knowing this winter there wouldn't quite be the same type of talent available to us."  Epstein then went out and validated that comment, making just one significant trade and spending less than $20MM on a quartet of one-year free agent contracts.  Despite the relatively quiet winter, the Cubs again project as the best team in baseball as they look to become the first team to win back-to-back World Championships since the 1999 Yankees.
What's your take on the Cubs' winter?  (Link for app users.)
Photos courtesy of USA Today Sports Images.